Ministering Beyond the Fourth Quarter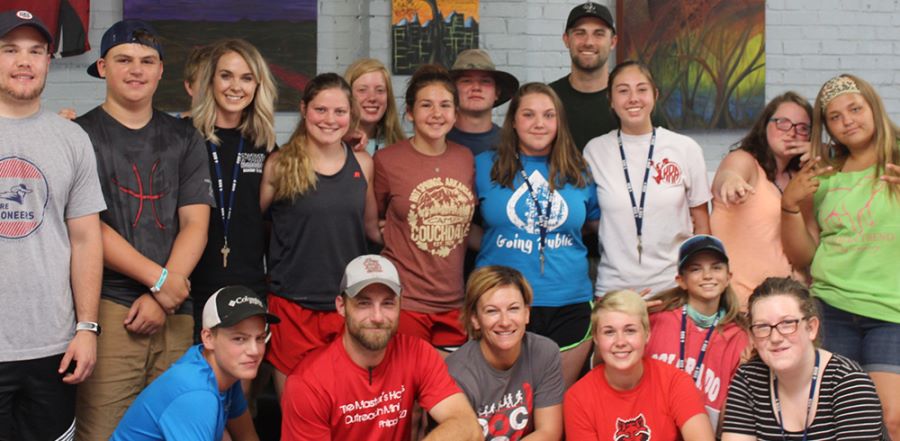 Don't miss any stories. Follow AG News!
At just 20 years old, Austin B. Rains found himself moving from the Dallas area to become a student pastor in rural Highland, Arkansas.
His most recent church experience had been at
The Oaks
in Red Oak, Texas — a megachurch known for creating its own
school of leadership
and operating at a
high level
with the resources of a larger support staff and a myriad of volunteers.
Rains, now 22, and his wife, Taylor, arrived at
Highland Assembly
under the leadership of Chris and Tricia Clem, Taylor's parents. Rains has worked to build up the youth ministry.
Highland Assembly's largest annual event is known as a "Backpack Extravaganza," which is modeled after a carnival atmosphere, where the church provides free backpacks, wellness exams, and haircuts to anyone in need. This year, Highland distributed 900 pairs of shoes and 1,000 backpacks. Highland's population is approximately 1,100, but the event draws residents from around the northeast Arkansas community.
"Some people drove an hour just to get here," Rains says. But beyond such an outreach,
Rains
says he strives to develop outstanding students. And he's had the opportunity to expand youth ministry in some unique ways. He's been invited by the football coach at Highland High School to work out with the students during their off-season practice. With consistent discipleship, some sports drinks, and a devotional, five of Highland's football players are now attending church and bringing their families.
"The biggest thing we're known for is our backpack event, but God keeps opening the doors at the schools for us to be there for students," Rains says. That includes Taylor working as the career coach helping students try to determine what jobs they might be interested in after high school.
"There's a relational connection we have with these students now because Taylor was able to naturally interact with them in their own environment," Austin says.
Chris and Tricia Clem are in full support of this ministry, and Highland's new family life center's first event will be a "fifth quarter" hangout after fall football games.
"Our whole philosophy is very much like a missionary overseas," says Chris Clem, 51. "You walk into an environment, learn the needs, and meet the context of the community."
"Part of our job is really creating a culture of outreach," adds Tricia Clem. "It's not just about what we can do as pastors and leaders of the church, but it's translating that culture to the people who are in the pews. It's using their gifts, talents, and bringing resources to the world God has surrounded them with."