Ministering from Life's Lessons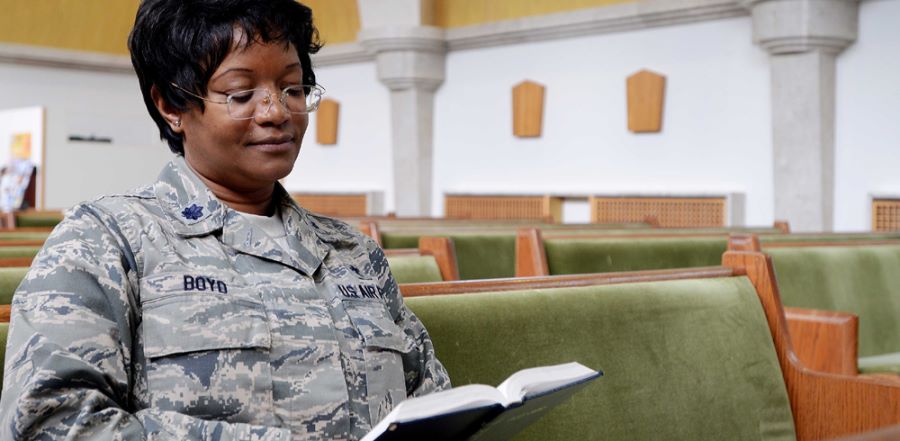 Don't miss any stories. Follow AG News!
Donnette A. Boyd is a senior chaplain at the largest U.S. military base outside the United States. As wing chaplain of the 86th Airlift Wing, Boyd oversees 10 other chaplains as well as 10 chaplain assistants at Ramstein Air Base. Including family members of U.S. Air Force personnel and Department of Defense civilians, the base in Germany has a population of 57,000.
It's an unlikely career achievement for a woman who lived her early years in a home with no running water or electricity.
As a 6-month-old baby, Boyd remained behind in Jamaica when her mother — who had left Donnette's father — immigrated to the roughest part of Cleveland. Donnette didn't join her mother until 1971 at the age of 6. She soon discovered poverty-stricken surroundings of a Caribbean island had been replaced by a drug- and crime-infested inner city neighborhood.
Bullies ostracized the bookworm interested in learning. In addition, Boyd says her mother, who only had an eighth grade education, didn't spare the rod on her.
Although she had no church background, Boyd learned the power of prayer as a 12-year-old girl. Even though she didn't fully understand God, Boyd says He continually protected her on the way to and from school from being attacked by violent girl gangs.
While needing another credit hour at Kent State University, Boyd says she unwittingly signed up for a Reserved Officers' Training Corps class. Even so, she figured the military could provide employment after graduation.
Originally, Boyd joined the Air Force in 1987 as an executive officer in an F-16 fighter squadron. She says she spent most of her time drinking excessively at nightclubs, an attempt to cover the intense loneliness and isolation she felt throughout her childhood, youth, and early adult life.
But Boyd says the Holy Spirit convicted her after a transfer to South Korea. During her next assignment to a base in Valdosta, Georgia, Boyd, the then 26-year-old Boyd went to a base worship service, shared that she needed to get right with God, and accepted Jesus as her Savior.
"I had never felt love in my life until that moment," Boyd says. Up to that point, Boyd says she preferred the company of animals to humans.
"The Lord gave me a love for other people," Boyd says. "That love has sustained me as a chaplain."
Boyd met her husband, Larry, at a squadron officer's school in Montgomery, Alabama. They wed in 1993. She got involved in volunteer ministry and wanted to go full time, but she hesitated leaving the Air Force. Larry suggested she become a chaplain.
"I was already praying with people, preaching at a local church on Sundays, serving Communion, and working on a master's in counseling," she says.
The decision to become a chaplain required resigning her commission, leaving the Air Force, and enrolling in seminary. After being recommissioned as a chaplain in 2000, Boyd joined the staff at the Air Force Chief of Chaplains Office at the Pentagon in 2008. She came under the tutelage of AG Chaplain Cecil R. Richardson, who had overcome similar unfavorable origins.
"Chaplain Richardson was like a father figure to me," Boyd says. "He was such a godly role model and mentor."
After initially being ordained with the Church of God in Christ, a predominantly African-American Pentecostal denomination, Boyd affiliated with the Assemblies of God in 2010.
Richardson, who eventually rose to become Air Force chief of chaplains in 2009, calls Boyd one of the most talented, spiritually minded, and godly women he's ever met.
"Donnette Boyd has an unparalleled record of ministry excellence," says Richardson, who retired in 2012 as a two-star general, the highest-ranking available to chaplains. "She combines to perfection a keen mind, top leadership skills, and deep pastoral concern."
Boyd relishes the chaplaincy role. Her calm demeanor helps her counsel people, often for nonspiritual work and marital issues.
"Chaplains offer hope and a listening ear about struggles people are going through in the home or at work," Boyd says. "They can talk to us about anything in confidence. We sometimes are the first line of defense in suicide prevention. We help sexual assault victims. We help people heal and connect with their faith."
In addition to relating to people because of earlier life traumas, Boyd can empathize with those returning from combat. She served as a chaplain in war zones of Iraq and Afghanistan.
Boyd is the first female African-American chaplain promoted to the rank of colonel. She views potential obstacles — being a naturalized U.S. citizen after immigrating, a female, and an African-American — as ministry opportunities.
A youthful looking 51, Boyd has been married 22 years. She and Larry have a 20-year-old daughter, Verily, and 15-year-old son, Joshua.