Ministry at Her Doorstep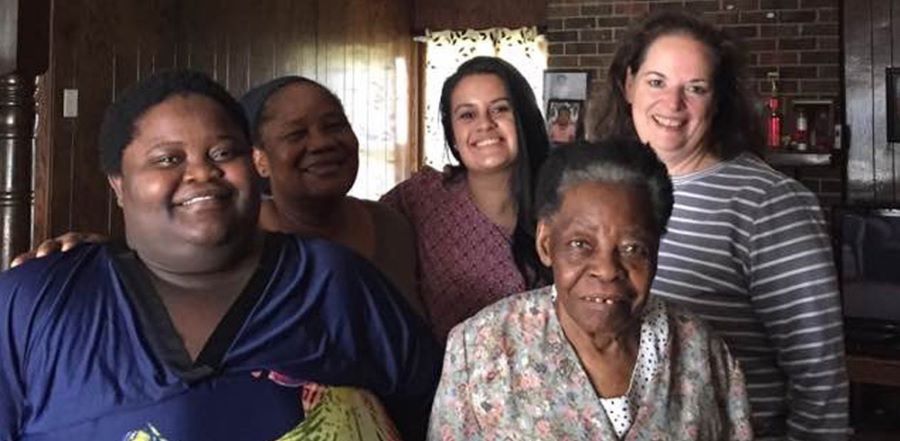 Don't miss any stories. Follow AG News!
In her dozen years as an Assemblies of God U.S. missionary with Intercultural Ministries, Martha Lesperance-Garcia has focused on reaching those the Church rarely makes a priority.
As missionary church plant pastor of First Assembly House of Every Nation in Huntsville, Alabama, Lesperance-Garcia has ample opportunities to minister in her neighborhood, where gang activity, illegal drug deals, prostitution, homelessness, and generational poverty are the norm.
Early on, Lesperance-Garcia focused on immigrants who usually had limited or no understanding of Christianity before arriving in the United States. Huntsville, a city of 200,000, has been a draw for immigrants because of its strong employment opportunities.
That put Lesperance-Garcia in touch with nationals from South Korea, the Marshall Islands, Nigeria, Japan, Brazil, Cameroon, and Vietnam, as well as from nearly all Latin American countries.
"We build relationships with people from all over the world that are untouched by the gospel," she says. The local elementary school has students from 10 nations.
First Assembly House of Every Nation is concentrating this year on a huge nearby apartment complex with both immigrants and generational poverty residents. After an outreach at the location before last Christmas in which more than 200 residents prayed to receive Jesus as their Savior, Lesperance-Garcia convinced the landlord to provide an apartment for six months to be used as a base for ministry.
"The Church becomes the Church once it's outside the church walls," Lesperance-Garcia says. "The Church is kind of like manure; it's no good unless you spread it around."
Subsequently, at the apartment development, 22 residents have made salvation commitments to the Lord and are in the process of being discipled. Church adherents knock on doors, inviting residents to a meal every Thursday night where congregants tell testimonies of how God has helped them through hardships. Churchgoers pray with and encourage residents, many of whom are unemployed because of their immigration status or lack of basic life and employment skills.
In March, the church began the third series of 10 weekly sessions teaching job and life skills to apartment residents, which will be followed up by mentors six months afterward. Human resource personnel from some of the area's most prestigious companies — McDonnell Douglas, Raytheon, NASA — are conducting mock interviews, helping job-seekers to write résumés, and giving residents tips on how to conduct themselves.
Since joining AGUSM 12 years ago, Lesperance-Garcia has facilitated the planting of a dozen sovereign churches, most of them Hispanic, in Alabama, Mississippi, and Louisiana.
Thinking unconventionally has been Lesperance-Garcia's ministry pattern. However, she realizes evangelism and discipleship are lengthy endeavors.
"Is it easy? No," she says. "Is it disappointing at times? Yes. Heart-wrenching? Every day. But we're not quitting on these people."
Initially Lesperance-Garcia had no plans of becoming a missionary, having already obtained degrees in criminology and psychology at Columbia College. But after growing as a Christian through the U.S. Missions Chi Alpha Campus Ministries chapter at the Missouri school and then becoming a Teen Challenge counselor in Indiana, Lesperance-Garcia knew ministry rather than law would be her life's calling. She served as a Missions Abroad Placement Service (MAPS) missionary associate in Ecuador before appointment as a full-time AG World Missions representative in 1990.
As a MAPS worker in Mexico, she developed King's Castle, a ministry that trained youth for evangelical outreaches to children. She also began King's Castle Ministries — a program originally developed by Don Triplett in El Salvador — in Argentina, and developed an aggressive youth-led ministry to disciple peers. She trained local Christians to serve as youth leaders in churches. And she pioneered Speed the Light in Argentina.
Lesperance-Garcia met her future husband, Michael Garcia, while on furlough. She had no intention of sacrificing a missions career for marriage as she wed at the age of 47. Martha sensed the Lord wanted her to implement on U.S. soil what she had learned in two decades of missionary activity in Central and South America, so she and Michael started working with immigrants planting ethnic churches in places without a Pentecostal presence.
"The Lord is greatly using Martha and her husband to reach into the many ethnic cultures that reside in Huntsville," says Wayne Huffman, senior director for U.S. Missions Intercultural Ministries. "Their determination to remain faithful to the task is admirable."

At the age of 51, Lesperance-Garcia became a mother. Daughter Grace is now 8 and home-schooled, playing cello and violin with the local youth orchestra.