Miraculous Faith Journey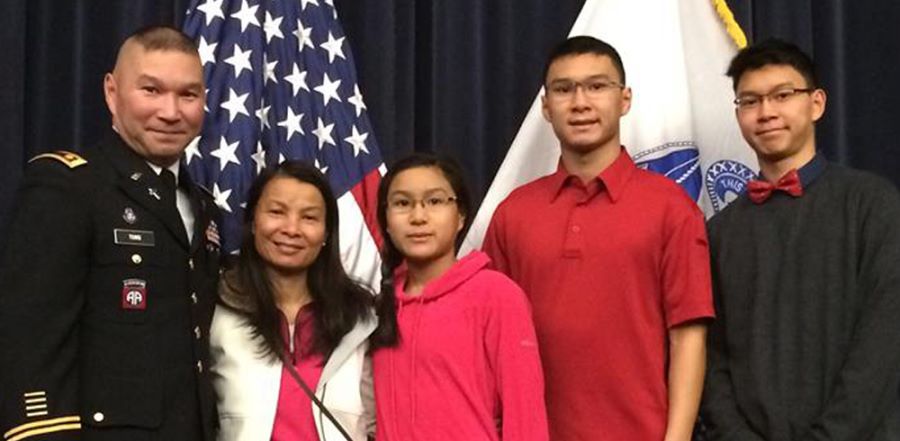 Don't miss any stories. Follow AG News!
Waterlily Tung is a petite, confident, and well-spoken woman whose broad smile and expressive voice hide a childhood of pain. She grew up in Cu Xa and Cam Ranh Bay, site of a U.S. Army-Air Force base during the Vietnam War. After Communists took over in 1975, her father, who had been working in a pharmacy, was reassigned to cultivate a collective plot of land.
Soon Waterlily's parents determined that their daughter needed to flee the country to have a better future. In 1980, they allowed their 11-year-old girl to escape, with Waterlily's aunt and grandmother.
Finally, after hefty payoffs and months of waiting, a smuggler agreed to transport Waterlily safely out of the country. Along with 29 other people, Waterlily scrunched in the cramped hold of a fishing boat, with stowaways packed like sardines in a compartment designed to haul caught fish.
But en route to Malaysia, the craft suddenly stopped when a ship pulled up alongside. These weren't Vietnamese officials coming to reclaim escapees. That would have been merciful. It turned out to be a pirate boat from Thailand.
As if in a nightmare, knife-wielding marauders searched the ship and uncovered the hidden human cargo. They confiscated the jewelry and bars of gold passengers had carried on as their only valued goods. The raiders tossed any other possessions the refugees had into the Gulf of Thailand.
After the traumatic experience, escapees thought the danger had passed. However, the next day, four more menacing pirate ships simultaneously commandeered the fishing vessel.
Although she had lived through war as a child, Waterlily had never seen such violence perpetuated against other people. And she never had experienced such unbelievable brutality at close range.
Pirates shot the captain and began pushing crewmen from the fishing boat into the water, with the expectation they would drown. One young man refused to budge, and a bandit struck him in the forehead with an anchor, popping out one of his eyeballs.
"I could see the thrill these men received from the intense wickedness they inflicted," a tearful Waterlily remembers.
A pirate, while laughing, began stabbing a crewman two feet in front of Waterlily, splattering blood over her. A few feet away, Waterlily heard — and saw — women being raped.
As the melee continued, Waterlily sat motionless, expecting to be the next torture or assault victim. But by the end of the siege, neither Waterlily, her aunt, nor her grandmother had been touched.
"This forever changed my life," Waterlily says, struggling to recount the wrenching scenes. "God used that experience to establish my faith in Him. I didn't even know God at the time. Yet He was merciful to me. He rescued me physically, and later spiritually."
The immediate situation looked bleak, however. The pirates yanked out the fishing boat's engine. An emotionally exhausted Waterlily had only the clothes on her back, no prospect of food, and shark-infested waters surrounding her.
Thirty grains of rice and a lemon discovered in the hole where the engine had been removed were divided 26 ways for those still surviving on board.
For four days, Waterlily waited to die, blistered by the hot sun during the day and chilled by cold winds at night.
Then the heavily fortified pirate ship returned to the schooner. When the crew demanded that the ragtag inhabitants board their vessel, Waterlily felt like a sheep going to slaughter.
But then an odd thing happened. The crew that attacked the passengers days earlier provided meals to the refugees. Waterlily suspected the sustenance served merely to provide strength before tormenting. But she received fresh fish every day for a week.
"They were pirates, too, but they took pity on us," Waterlily recalls. "God moved upon their hearts."
Waterlily finally arrived in Thailand, and she stayed in refugee camps behind barbed wire fences for nearly a year.

AMERICAN TRANSFORMATION
In 1980, she reached the United States, living with her Buddhist aunt and grandmother as guardians. At 13, Waterlily learned about Jesus through an acquaintance of a family friend. In high school, a substitute teacher further explained about the Savior. After being evangelized at the College of William and Mary, Waterlily made a commitment to seek God.

In 1998, Waterlily married Brian Tung, a West Point graduate serving in the U.S. Army as an aviation company commander. Brian, a third generation Chinese-American, then sensed a ministry calling. By faith, Brian moved his family to Springfield, Missouri, in 2003 and enrolled in the Assemblies of God Theological Seminary.
During seminary, Brian gained essential experience in volunteer ministry by preaching weekly at Maranatha Village retirement community; heading up children's ministry teams at Central Assembly of God; and preaching and leading worship at Victory Mission.
Brian, 47, graduated in 2007 with a Master of Divinity degree from AGTS and became an endorsed U.S. Missions chaplain. He then embarked on a chaplain career that has taken him to Fort Wainwright, Alaska; Illesheim, Germany; Scott Air Force Base in Illinois; and Fort Bragg, North Carolina. He has deployed to Iraq, Kuwait, and Saudi Arabia, as well as in support of Combined Joint Forces in Operation Inherent Resolve.

For the past two years, Brian has been at Fort Jackson, South Carolina, where he molds the spiritual and character development of incoming chaplains. He serves as instructor and course manager for the Chaplain Basic Officer Leader Course (CHBOLC) at the U.S. Army Chaplain Center and School (USACHCS). In three courses spanning 90 days each year, Tung trains over 200 chaplains to nurture the living, care for casualties, and honor the dead.

Waterlily, 48, home-schooled their two boys, Daniel, now 20, and Elijah, 19, through high school and is still teaching daughter, Shekinah, 15. Waterlily also is a coordinator for the CHBOLC spouses seminar at USACHCS.

Waterlily says God has continued to reshape her in the midst of her husband's multiple military reassignments.

"At times, I feel like I'm in a wrestling match with God," Waterlily says. "Where He is taking us is not always my first choice of ministry, but I accept His calling. In recent months, I've learned not only to accept it, but embrace it. God has brought me on an adventurous journey of trust — and surrender — to Him."