Mission Accomplished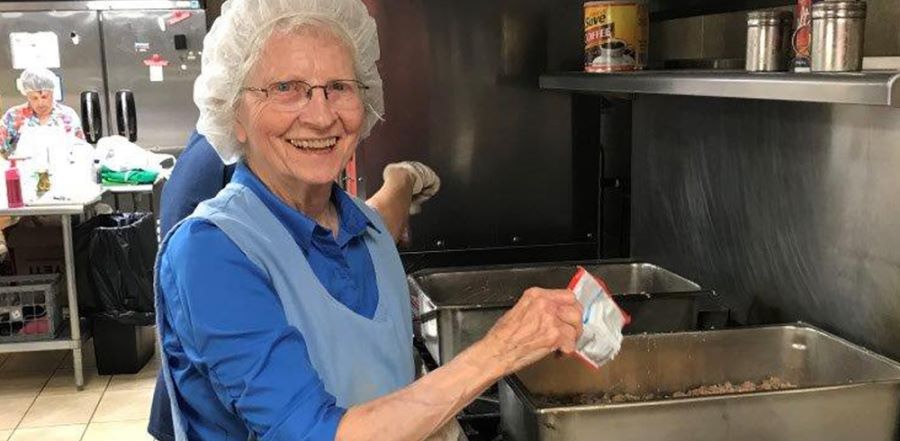 Don't miss any stories. Follow AG News!
Seventy years ago, Phyllis Harper's parents were charter members of
Bethel Church
in Rapid City, South Dakota. Her mother taught Sunday School until age 84.
In 1952, Phyllis married Jack Harper, son of founding pastor Earl Harper. Except for deployments during Jack's Air Force career, they raised their three sons in Rapid City. Phyllis taught Sunday School and
Girls Ministries
and sang in the choir. When Bethel began providing a monthly dinner at
Cornerstone Rescue Mission
— which serves Rapid City's homeless and marginalized populations with daily meals, veterans' services, and affordable housing — Phyllis helped. When the volunteer team leader stepped down, Harper took the job. That was 32 years ago.
Harper, now 88, has served faithfully at the mission, finally retiring in August. During that more than three-decade stretch, she rarely missed the monthly commitment to call dozens of volunteers, coordinate donations of food supplies and homemade desserts, and lead the team that actually prepares and serves the meal.
"I've been blessed in that I'm almost never ill," says Harper. One of her few absences occurred when Jack had surgery at an out-of-state cancer facility. He died in 2002.
"There's a sense of commitment in people Phyllis's age that you don't see as much anymore," says Deb Berg, volunteer coordinator at Cornerstone.
It's a big job: the Bethel team prepares sloppy joes with 30 pounds of ground beef, huge bags of frozen onions, and cans of sauce, plus salad, vegetables, and desserts.
"We average 150 people in line daily," says Berg. "That's thousands of people Phyllis has helped to experience God's love."
Harper is looking forward to spending more time with her sons and their families. Jim is in Rapid City, Jack in Colorado, and Joe in Minnesota. She doesn't intend to quit serving, though. She attends women's prayer and Bible study, visits church members who are in poor health, and provides rides to doctor appointments and church services. And she still will bake her popular brownies for the Cornerstone meal every other month.
"If you want to be a blessing and be blessed yourself, you've got to get involved," Harper says. Besides church, she serves in her condominium community, where her gardening experience comes in handy on the grounds committee.
Harper considered retiring a year ago, but couldn't find a replacement. "Families are so busy these days, and more women work," she says. Over the summer, though, Angie Langstaff agreed to lead the Cornerstone team at Bethel Church.
Langstaff, a 40-year-old mom and full-time radiation therapist, wanted to find a way her family could minister together. Now husband Shawn and daughters Hadli, 17, Gracee, 16, and Marcela, 5, all help, although Angie does most of the organizing. Because some other volunteers also are approaching retirement, Langstaff has focused on getting new people involved.
Langstaff, who has taught Girls Ministries classes with Harper, says Harper's faithfulness is inspirational.
"Women her age offer so much wisdom when mentoring younger women," Langstaff says. "Phyllis is a quiet person, but when she does speak up, it's worth listening."
Bethel Church now has an official campus at Cornerstone Rescue Mission, with a worship service and streaming of the Sunday message. Harper is thrilled that teaching and fellowship are available for people who find Christ through the mission.
Lead pastor Gerad G. Strong says Harper is a reminder of the right perspective to have in life.
"Every time I see her, I ask, 'How are you?'" Strong says. "Regardless of her circumstances at the moment, her answer is simply, 'I am well and blessed!'"