More Hurricane Damages Discovered, Convoy Efforts Continue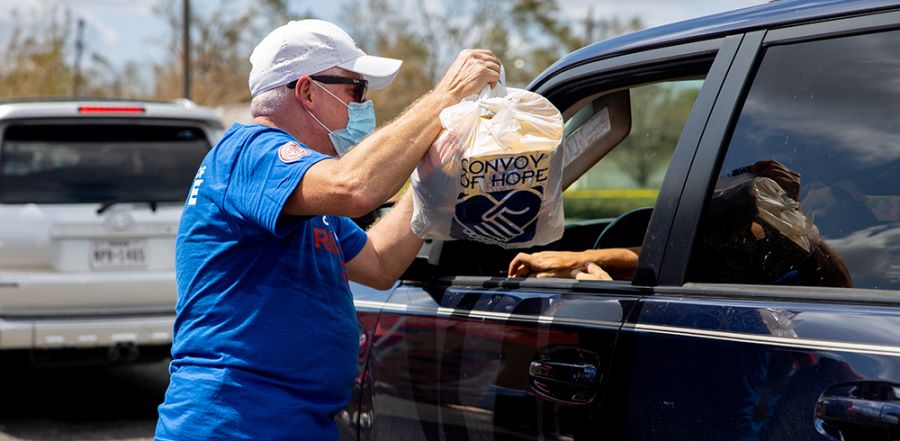 Don't miss any stories. Follow AG News!
As Louisiana pastors have been able to reach their churches following the devastation from Hurricane Laura last week, more AG churches and ministries have reported suffering damages from the Category 4 storm.

According to the Louisiana Network Ministry in Alexandria, in addition to Glad Tidings suffering extensive damage in Lake Charles, Celebration Church in nearby Sulphur also experienced heavy damage. Other churches and ministries reporting damage include The Sanctuary in Moss Bluff, Westlake AG in Westlake, The Assembly in West Monroe, and the Adult & Teen Challenge Center in Dodson.

Convoy of Hope has set up a hub of operation at Glad Tidings (AG) in Lake Charles, operating daily drive-thru distribution from the parking lot.

Jessica Blake, Convoy of Hope's Public Relations director, reports more than 70 tractor trailers of aid for the area have been delivered or are en route. Goods provided include food, water, hygiene kits, baby care kits, clean-up supplies, tarps, ice, and other items through drive-thru distribution.

"In less than one week, we've delivered more than 1.1 million pounds of disaster relief supplies to Lake Charles and surrounding communities impacted by Hurricane Laura," Blake says. "We've served nearly 27,000 people with relief supplies. We're also resourcing multiple other churches with disaster relief supplies."

According to the police jury of Calcasieu Parish, which includes the cities of Lake Charles, Moss Bluff, Sulphur, and Westlake, although water service has been restored for many residents in the parish, a boil advisory is in place and power is still unavailable to thousands.

Officials with Entergy and Beauregard Electric say damage is extensive and widespread and that residents should expect to be out of electricity for several weeks. Entergy finished its assessments and found there were 6,500 damaged poles, 300 miles of downed wires, and 2,890 damaged transformers. A 7 p.m. to 6 a.m. curfew is currently in effect within the parish.

The police jury also reported that 51,000 parish residents have already registered for FEMA federal disaster assistance. As of last year, approximately 200,000 people lived in Calcasieu Parish.

For those interested in assisting, consult the Louisiana Network Ministry website and the Convoy of Hope website.