NU Student Takes First at World Universities Debating Championships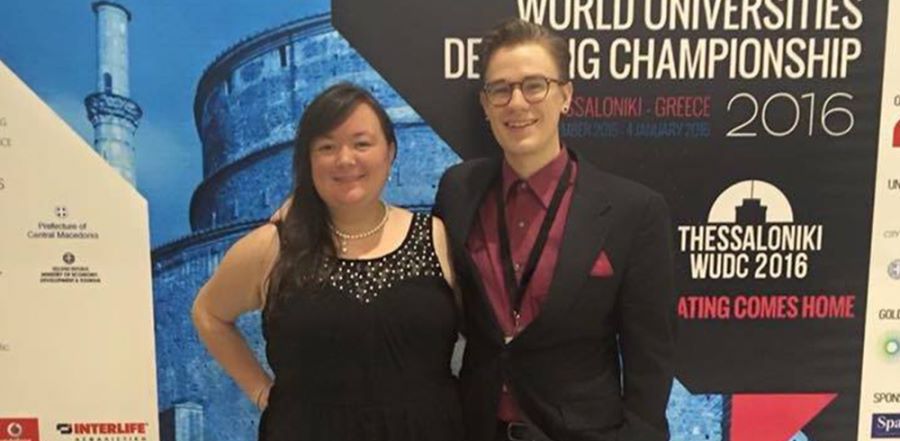 Don't miss any stories. Follow AG News!
Northwest University (AG) students, Marlene Pierce and John Swayne, traveled to Thessaloniki, Greece, to take part in the 2016 World Universities Debating Championships (WUDC), Dec. 27, 2015 – Jan. 4, 2016. By the end of the tournament, Pierce was awarded first place in the Public Speaking competition.
The WUDC, the largest debate competition in the world, brings together nearly 400 university teams from around the globe to compete. Pierce competed against nearly 100 of the top speakers who were given their topics just six minutes before delivering a three-minute speech.
Pierce's theater, improv, and clear debate skills led her to compete in the final round of the Public Speaking event, where she delivered a humorous speech in response to the topic: Where would you be without debate? Drawing from awkward high school experiences and the inspirational role debate has played in her life at Northwest University (NU) in Kirkland, Washington, Pierce was awarded the highest honor for her excellence — first place.
NU debate coach, Professor Jacob Witt, was delighted with the outcome, though he was not surprised. "Marlene is an exceptional student and debater. As the team captain, she sets the tone for our whole team, and I'm excited to see her hard work culminate at the WUDC tournament."
NU President Joseph Castleberry could not have been more proud. "It is wonderful to see Marlene recognized for something we've known all along. She is a great example of how exceptional our students are." He went on to say, "Winning at this level is also a testament to our outstanding faculty. Our professors aren't just academically gifted; they have a real love for education and are wholly committed to their students' success."