National KidMin17 Conference Makes a Strong Impact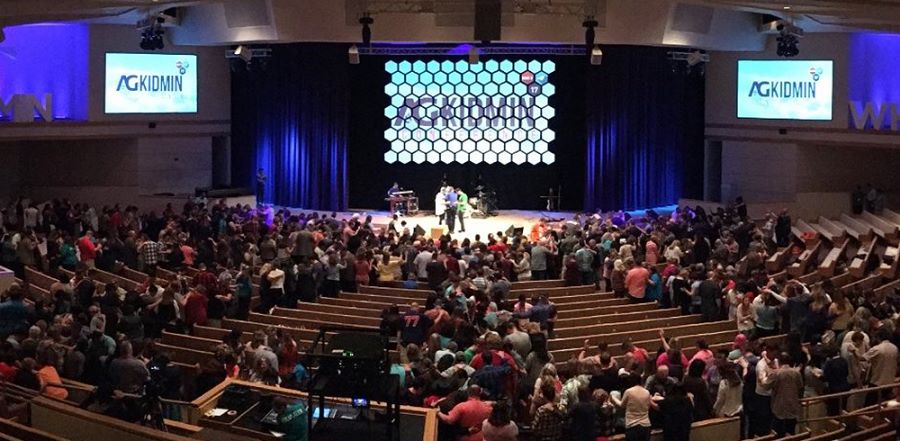 Don't miss any stories. Follow AG News!
More than 1,000 kids pastors and children's leaders found what they were looking for and more at the national KidMin17 conference held April 19-21 at First Assembly of God in Ft. Wayne, Indiana.
The conference was highlighted by 120 workshops — including preconference workshops — with tracks focusing on subjects such as: Ministry & Relationships, Evangelism & Missions, KidMin Essentials, Family Ministry, Special Needs, Creative Communications, Volunteers, and many more.
In addition to the workshops and the choice of 10 super sessions, attendees participated in three general sessions with featured speakers Rod Loy, lead pastor at First Assembly in Little Rock, Arkansas; Steve Adamson, children's pastor at Saddleback Church; and Mark Entzminger, senior director of AG Children's Ministries. They also helped recognize several outstanding children's ministry leaders and at least 600 took part in the Boys and Girls Missionary Challenge (BGMC) banquet.
Each attendee had the chance to participate in six workshops and two super sessions, and to glean from speakers from across the country.
Although attendees were unified in giving KidMin17 high marks, perhaps it was the third general session that touched the most hearts.
During that session, Abby Anderson, a children's pastor at a revitalization church in Iowa City, Iowa, was presented the "Big Impact" award. The award is given to an individual, recommended by his or her peers, who sees obstacles as opportunities for God to do big things.
"Abby and her husband, Kyle, minister to some of the most marginalized children in their community," says Mark Entzminger, senior director of AG Children's Ministries. "They routinely cook meals for children with food that has been donated or purchased with their own funds. They take kids into their home as their own on a regular basis."
Yet, the award was more than recognition. Entzminger recruited the help of several organizations to take the moment from appreciative recognition to disbelief. Anderson and the church received:
• $5,000 for materials and supplies to assist with the makeover of the church's children and kitchen areas
• A free consultation from PlainJoe Studios to help maximize the makeover space
• Donated labor from U.S. MAPS RVers to remodel the spaces
• Food for the upcoming year from Convoy of Hope
• $5,000 from AGTrust to help reduce the Anderson's college debt
Entzminger says that he's grateful for the generosity shown towards the Andersons and the church, and is believing that God will continue to provide as the church makes the journey to full restoration.
Other children's leaders were also recognized for their contributions. Patsy Dennis, the children's ministries director for the Kentucky District, and Dick Gruber, a professor with the University of Valley Forge, were each presented the Lifetime Achievement award. Josh Dryer, a children's pastor in Alaska, was recognized with the Young Leader award.
A truly unique aspect of KidMin17 was the prayer room, set up with eight prayer stations as it might be for a children's church.
"Each station offered an opportunity to connect with God in a unique and tangible way," says Danielle Christy, a longtime children's ministries worker from Phoenixville, Pennsylvania. "At one station, you could read a story from Royal Rangers in Africa and write a blessing back to those kids; at another you could use Scrabble-type tiles on magnets to describe God; while at another you could find a country on a giant globe that you wanted to pray for, and add a sticker with your initials to that country. It was a sacred space to creatively connect with God."
With the strong response and overwhelming recommendations, Entzminger says that the KidMin conference will return in 2018.
Currently, My Healthy Church is offering an audio bundle, available by download, of nearly all the KidMin17 conference workshops and speaking events.