Native American Evangelists Honored in New Exhibit at Heritage Center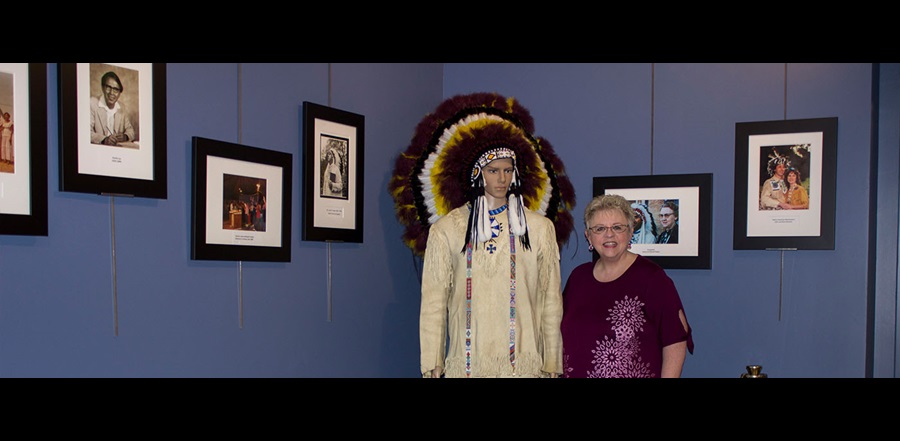 Don't miss any stories. Follow AG News!
A tall, silent Native American in traditional Cherokee garb is greeting visitors for the month of April at the Flower Pentecostal Heritage Center museum, located in the Assemblies of God national offices in Springfield, Missouri.
The Native American is actually a mannequin, and he is attired in the leather and bead outfit that Cherokee evangelist James F. Pepper (1905-1996) occasionally wore during his lengthy ministry in the Assemblies of God.
The display is part of a new exhibit honoring Native American Assemblies of God evangelists. Featured photographs, revival posters, and other artifacts come from the ministries of Rodger Cree, George G. Effman, Charlie Lee, Montana Locklear, Andrew and Lillian Maracle, John and Rana Maracle, James and Beulah Pepper, and others.
Rev. Becky Fischer, the granddaughter of James Pepper, deposited his personal papers and outfit at the Heritage Center in 2015. "I am so deeply thankful for the godly heritage left to me by my grandparents," states Fischer. "They were gentle and kind. They both worked tirelessly for the Gospel, and were an inspiration to many, especially me. When I was child, I did not realize the contribution my grandfather was making to the role of the Native Americans in our denomination. As too often happens, it was after his death I began to investigate more fully and was amazed that he was more than just a representative of the Pentecostal Native Americans — he was actually a part of a movement to elevate their role, dignity, and potential in the church."
An unpublished autobiography (circa 1934) by Pepper is part of the exhibit. In pages from the manuscript on display, Pepper wrote about his call to ministry:
"Lord, why call me to preach? I'm only a despised Indian." But Jesus said, "I want you." Then I said, "Lord, I will go if you will go with me." I took my Bible and my suitcase and the first place I went I had to walk fifteen miles across the mountains and carry my old suitcase. But for almost eight years I have been following where the Lord may lead."
Pepper's testimony illustrates how early Native American Assemblies of God evangelists overcame great disadvantages to share the Gospel in the communities, laying the foundation for what has become a thriving Pentecostal movement among Native Americans.
The exhibit honoring Native American Assemblies of God evangelists is the first in a series of rotating exhibits planned to be featured in the E. N. Bell Chapel in the Flower Pentecostal Heritage Center museum. It is open to the public and there is no entrance fee.
IMAGE: Becky Fischer, granddaughter of Evangelist James Pepper, stands next to his buckskin outfit that she donated to the Flower Pentecostal Heritage Center.