Network211 Celebrates 1,000,000 Responses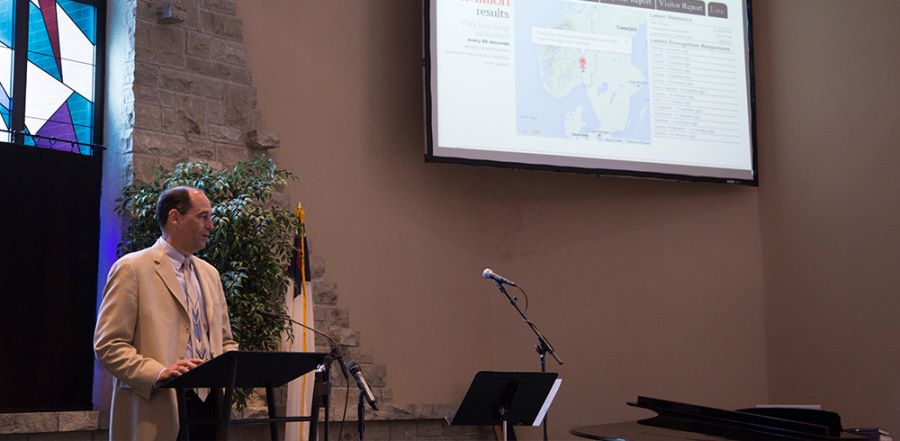 Don't miss any stories. Follow AG News!
Network211 hosted "Celebrate 1,000,000" on March 24, 2016, in Springfield, Missouri, and rejoiced for the millionth evangelism response to their websites since October 2008. Dr. George O. Wood, Assemblies of God general superintendent; Dr. Greg Mundis, AG World Missions executive director; Dr. George M. Flattery, Network211 founder; and Dr. Mark Flattery, Network211 president, were the speakers at the event.
It was on March 2, 2016, at 1:53 pm (Central) that a person from Kenya made the millionth evangelism response to the gospel. This comes just one month after Network211 celebrated the 20 millionth visitor to an evangelism website in that same time period. Visitors have come from 242 countries and territories, as tracked by Google analytics.
Celebrate 1,000,000 praised God for what He is doing to reach the lost worldwide. Mark Flattery started by presenting the list of the top 10 nations that had people make evangelism responses: USA, Philippines, India, China, Nigeria, South Africa, Kenya, Indonesia, Ghana, and Pakistan. He also noted that evangelism responses came from nations open to the gospel, nations where US missionaries cannot enter, nations with large populations, and nations in remote locations (for example, Sri Lanka, Russia, Nepal, Kuwait, Iraq, Japan, Afghanistan, Yemen, Azerbaijan, Palestine Occupied Territory, Somalia, Iran, and Nauru).
Two testimonies of lives coming to Christ were shared as examples of the impact the Good News has on people worldwide. The first story was of a young girl in India who was determined to take her life but looked for hope on the Internet one last time. It was by the grace of God and the moving of the Holy Spirit that she found Network211's www.JourneyAnswers.com. She visited the site, made an evangelism response, and wrote to Network211. Through the Network211 1-2-1 Connector team in India, she was directed to a local Assemblies of God church. She was so excited that she told her mother of her new faith and she also accepted Christ.
A second story, in India as well, was shared how a simple Google search connected a man to Journey Answers. He made an evangelism response and then was directed to a local church. He shared Christ with his family, and now there are 15 family members worshipping the Lord together.
George M. Flattery, thanked the Lord and presented a challenge. "Wait until it reaches 100 million, who is going to be the first to put up his hand and say, `What about one billion?' Maybe that has already been said, but we do not have any stopping point until every man has heard. And so for that I want to thank God."
Mundis, a vital supporter of Network211 since its beginning, commented, "My heart has always been in it because I know that it is one of the great tools of evangelism that God can use to reach into the world." Mundis, who also serves on the Network211 Board of Directors, thanked Light for the Lost, BGMC, and Speed the Light for their giving. These ministries are the backbone of prayer and financial support for Network211 as they equip the ministry to use the Internet as a tool of the gospel.
Wood concluded the celebration with a prayer that captured the moment: "We think, Lord, of what the Apostle Paul said about the immeasurable work that you do. We measure so many things. We measure the one million and the 10 million and the 20 million and the 100 million, but unto Him who is able to do immeasurably more than all we can ask or imagine, to Him be the glory in the church forever and ever."
Network211 is an AGWM ministry that exists to "use 21st century technology to communicate the 1st century gospel." To learn more, visit www.Network211.com and the four mission strategies: evangelism, discipleship, equipping ministry partners, and relationship.