New Four19 Church Focuses on Discipleship and Outreach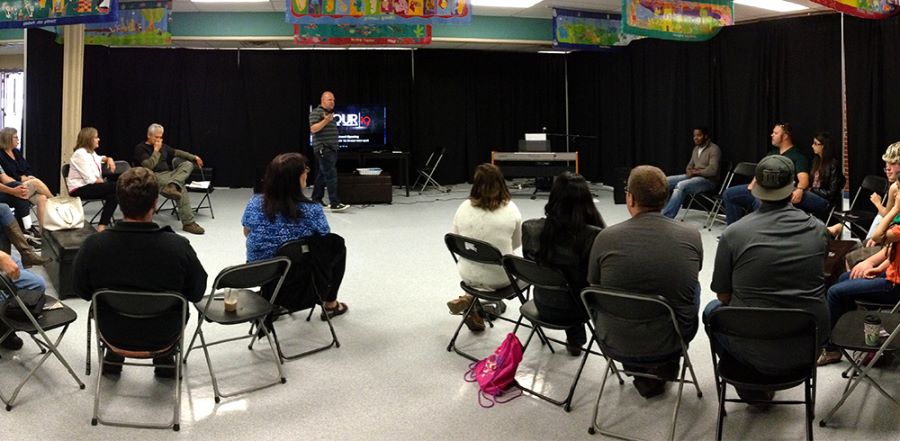 Don't miss any stories. Follow AG News!
Four19 Church launched on Sept. 11, 2016, in Bellingham, Washington, a city of 80,000 people. Lead Pastor Joe Barth and wife Donneta had moved to the city nearly a year earlier, accompanied by a few team members.
The Barths and their team gathered regularly in homes and began building relationships with people in the city and community and with local pastors, prior to renting a small outreach building. The launch was held at a local elementary school one block from their building, and 97 people and team members were present.
"We chose the name Four19 Church based on Matthew 4:19 (NIV), where Jesus called His disciples: 'Come, follow me (discipleship) . . . and I will make you fishers of men (outreach),'" Joe Barth says. "From that two-part calling, we chose the two purposes that guide everything we do as a church: discipleship and outreach."
According to Barth, 79 percent of Bellingham's population has little or no religious affiliation.
"We are developing a dialogue-based, multiplying, micro-church," Barth says. "We now have two services on Sunday nights at 4:19 and 6:30. These are dedicated to outreach, where we hold gatherings that start with appetizers and table discussions guided by leaders."
Barth explains that they encourage people to respond to the dialogue and message through things such as prayer, writing, worship, and other non-threatening opportunities. Team members also provide Four19 Kids ministry in conjunction with the outreach gathering.
Less than a month after Four19 Church launched, five people came forward to participate in the first water baptism at a local lake. One of those, a young man named Tyler, had grown up in a broken home and didn't know God. He had been invited by a friend to Four19 prior to the official launch, but he just watched the church's progress for a month or two before coming.
Today, Tyler is growing in his faith and involved in outreach at the church. The church has been most effective in reaching young people in their 20s, one of the fastest-growing segments of the population in Bellingham.
The Barths, graduates of Christ for the Nations Institute in Dallas, Texas, have served in full-time ministry since 1995. Prior to planting Four19 Church, they served on staff at Meadowbrook Community Church in Champaign, Illinois, for 15 years. Meadowbrook has partnered with the Barths in this journey of church planting through prayer and finances and lending team members to help. Other partners include the Northwest Ministry Network and Family Life Assembly, Joe Barth's home church in Anacortes, Washington.
Barth says he's thankful for AGTrust and the Matching Fund, which helped supply the church with needed resources and financial strength. "Your support gave me a sense of confidence that my Assemblies of God family has my back in this mission," Barth says. "In one word, you gave me assurance."
Currently, 454 church plants, including Four19 Church, have received AGTrust Matching Funds to help them get started. Here are the results:
• 1,091,023 contacts with unchurched people
• 6,667 water baptisms
• 3,513 Holy Spirit baptisms
• 29,589 decisions for Christ
• 85 average attendance
• $7.8 million given to missions