New Mexico Impact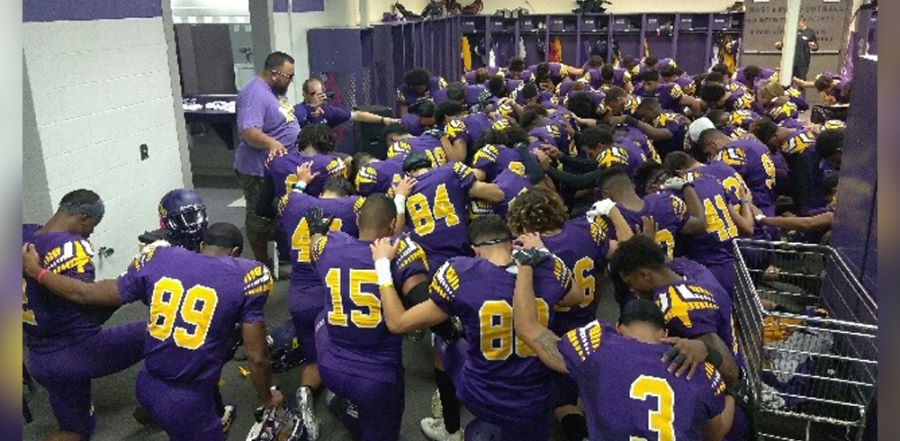 Don't miss any stories. Follow AG News!
Clyde R. Woods could still be bearing a crushing load of shame, guilt, and depression for an unintentional fatal shooting 16 years ago. Yet as lead pastor of Harvest Church in Silver City, New Mexico, he exudes compassion for the lost, hurting and broken, having received God's forgiveness himself.
"I praise God for His mercy and grace," says Woods, 41.
Silver City looms high at 5,900 feet above sea level in a valley by the Continental Divide in southwestern New Mexico. Slightly more than one-third of its 9,400 residents live in poverty. The redemptive testimony of Woods resonates loudly in the community.
Working as a rookie state park ranger in 2005, he accepted a plea deal for voluntary manslaughter, resulting from a fight with an intoxicated man who attacked him. After prison time, Woods was rearrested in 2011 for violating parole.
Drugs and alcohol had controlled his messy life, until he attended a jail chapel service.
"I had no real faith or desire to come, except for the pizza and soda served," he admits.
Instead of the three dozen inmates who normally turned up, Woods sat alone with a prison chaplain, who shared the gospel. After reading Romans 10:9 with the chaplain, Woods responded to the Holy Spirit, confessed his sins, and accepted Jesus as Savior.
"It was like someone suddenly turned on a blazing spiritual light," he says.
Following his conversion and release, Woods attended a Pentecostal church. Growing spiritually, he helped the youth group before being appointed youth pastor. Within four months, the group increased from 15 to 120 teenagers.
Woods married in 2012. Shortly thereafter, during a revival meeting, he says God called him and his wife, Ashley, into full-time ministry. He earned Assemblies of God ministerial credentials with the New Mexico Ministry Network and joined Calvary Assembly of God in Carlsbad as youth pastor.
In 2015, Network Executive Director Micheal E. Dickenson appointed Woods as his assistant. Soon, a new opportunity surfaced.
"While doing devotions, the Lord dropped the thought of Silver City into my heart," Woods says. "Ashley and I began praying for the community, even though we didn't know much about it."
Then unexpectedly, Woods learned that Harvest Church needed a pastor. The previous minister had retired, and his replacement had left after serving only nine months. Although Woods' inexperience and criminal history caused some blips surrounding his appointment, he started leading Harvest Church in October 2017. The congregation has increased from 50 to almost 400 attending Sunday mornings.
Early on, Woods took note of the 83-acre hilly campus of Western New Mexico University (WNMU) less than a mile from the church. He saw WNMU's 3,500 students as a ripe mission field. His vision sprouted wings when two WNMU female varsity basketball players showed up at a midweek service two weeks later. They urged him to plug into the university by meeting their coach, a Christian.
Woods seized on their suggestion. He slowly built baby-step relationships by mowing the football field grass and praying at team practices. His 360-pound linebacker frame, standing tall at 6 feet 2 inches, impressed the players.
In 2018, Woods connected with new WNMU athletic director Scott Noble, who oversees 240 student athletes in 11 sports. The school competes in the NCAA Division II Lone Star Conference. Noble shares Woods' faith-building vision.
"I joined the university to help change the culture and put moral values into our program," Noble says. "Clyde is a blessing for us at team practices, pregame chapel services, prayer times, and Bible studies."
Chi Alpha Campus Ministries launched a campus ministry at WNMU in 2020.
"Fifty campus members attend Harvest Church now," says U.S. missionary Eli Gautreaux, New Mexico Chi Alpha director. "We appreciate the church's open-door loving attitude to our students."
Harvest Church sponsors numerous outreaches to the university and the community. Mustang Day before each fall semester honors WNMU athletes. The Aug. 22, 2021, meeting attracted 250 students, with football jersey and T-shirt giveaways. Dickenson delivered a salvation message.
Church outreaches will continue this year, including Summerfest, a vacation Bible school, a Halloween Light the Night alternative, a tailgate food party outside the local high school, and feeding the homeless. Foster Family Appreciation Day took place in December, providing a Christmas shopping time for foster kids.