No Loss for Words — or Music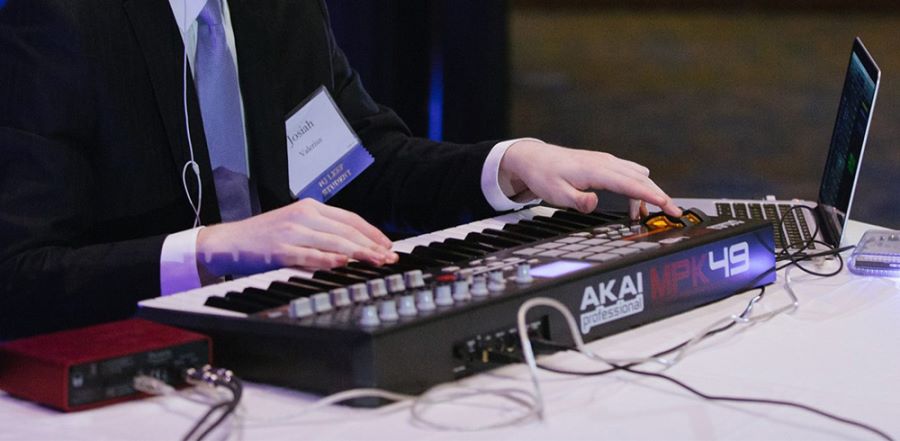 Don't miss any stories. Follow AG News!
Editor's note: This is one in a series of PE News articles on people in the Assemblies of God under the age of 20 who are making an impact in their communities.
A hearing-impaired teenager who wants to be a music producer is on his way to achieving that goal after receiving a full scholarship from a prestigious music school.
Josiah Valerius, the 18-year-old son of an Assemblies of God U.S. missionary, was born with inner ear hearing loss in both ears. Despite the condition, Josiah taught himself how to play drums, guitar, and piano. He has trained himself to know how music should sound, although his hearing is only at about 60 percent.
"God's hand is definitely on Josiah," says his father Paul Valerius, an AG U.S. Church Planters and Developers missionary who in the past 18 years has started three churches in Newark, New Jersey. "Despite his hearing impairment, God has used Josiah for His glory."
Josiah has led worship in two congregations as well as taught young churchgoers how to play drums, keyboard, and bass guitar.
While still in high school, Josiah applied to attend several music schools to pursue his passion. He received a full four-year ride from the New York University Tisch School of the Arts, where his unassisted tuition would have been $66,000 annually.
"NYU was his first choice, but there was no way we could afford it," says Paul, whose family attends Central Assembly of God in Newark — the first church he planted. NYU was the last school to respond from the 10 applications Josiah submitted.
Josiah is enrolled at NYU's prestigious Clive Davis Institute of Recorded Music.
"It is everything I could have ever envisioned and more," Josiah says. "I'm learning so much valuable information from the leading professionals in the industry. I am just so blessed to have this opportunity to mature in my gifts."
Josiah considers his hearing impairment a blessing.
"It has forced me to not be complacent in my pursuit of music production," he says. "Because it does set me back, I have to make a conscious effort to work everyday to better my craft."
He notes that his hearing loss allows him to process sound in a unique way.
"Even though I have to still train my ears to hear frequencies, I also rely on physically feeling to know how I want the music to sound," Josiah says.
Josiah loves hip-hop, rap, and gospel music. He wants to present a positive, uplifting, God-glorifying message to his generation.
"You don't need to talk about sex and cursing in every song just because that's what the music label tells you to do," says Josiah, who has been involved in inner city outreach. "You can be a successful artist in the music industry by simply making great music in a clean way."
He believes God has called him to be a producer who brings excellence to the forefront of popular music.
"I want to push artists to always challenge their lyrical content to be as comprehensive and thought out as possible, including uplifting and introspective conversations in the music," Josiah says.
Josiah and his good friend, Jonathan Stamper, released a digital album on SoundCloud.com recently titled Summertime Vibes. The two teens formed Dominant Collective, a musical group on a mission to bring integrity to music through word play, alliteration, and allegories.
"Josiah doesn't do anything halfway," Stamper says. "When he commits to something, he commits all the way."