No One Is Beyond Redemption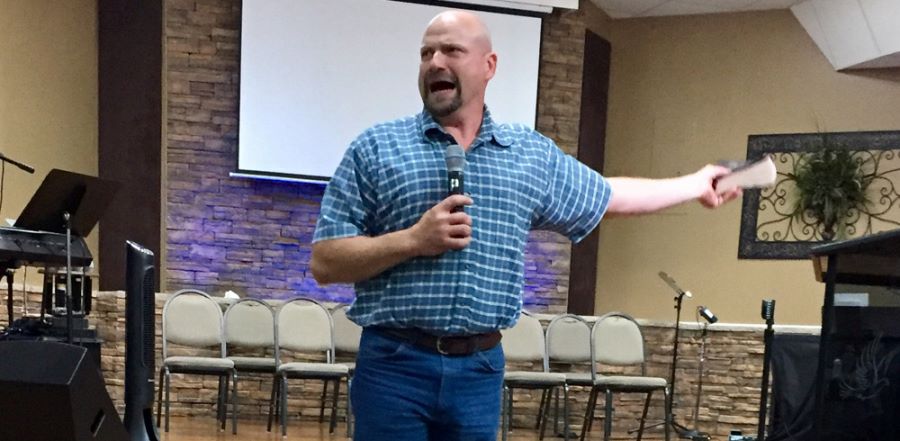 Don't miss any stories. Follow AG News!
A Conway County court declared Paul Pennebaker's drug days over in 2002. Because of a recently enacted law in Arkansas, Pennebaker faced 20 years of incarceration at Varner Unit, a high-security prison, for manufacturing methamphetamine.
"That broke me," says Pennebaker, 48, who admits the sentence forced a change in his life.
He grew up attending church multiple times a week under his mother's tutelage. Nevertheless, he says God had less influence on him than the alcohol drinking and illegal drug use lifestyles of male relatives. At age 12, Pennebaker discovered meth in his father's truck and quickly became addicted.
For the next two decades, Pennebaker continued his meth use, but because of the expense of the habit he decided to make his own. He ended up paying a much heavier price, however, when his wife divorced him, he lost custody of his two children (13-year-old Chris and 11-year-old Kayla Jo), and he went to prison.
"It cost me all that because of my rebellion against God," says Pennebaker. "I was my own god."
As the prison bars slammed shut, he finally wanted to face the truth when his mother brought him a Bible. He began to search the Scriptures for hope, starting with Genesis. He read every day, for hours at a time. When he reached Nehemiah 9:28 he sensed God telling him, If you will return to Me, I will hear your cry and deliver you from your enemies.
From that moment, Pennebaker read and memorized as many Scriptures as he could. In 2003, the prison chaplain announced life principles seminars, a series that uses materials paid for by Light for the Lost. Intrigued, Pennebaker signed up. As he listened to Little Rock-based U.S. missionary and chaplain Bob C. Holyfield share about faith, Pennebaker realized his childhood experiences in church didn't affect a life change. He made a new commitment to serve Jesus.

With his new life came the understanding that he needed to be a model prisoner, doing everything as unto the Lord.
"Whatever job you have in prison, you do it as though you are doing it for Jesus," he says, citing Colossians 3:23-24. He began volunteering as an inmate counselor. Soon he garnered the warden's notice, who went so far as to offer Pennebaker a position at his home: gardening, cleaning, and doing miscellaneous chores.
"It was as much freedom as I could possibly have being a prisoner," he says. Proving his trustworthiness, Pennebaker soon gained more liberty through work release furloughs.
During one of those furloughs, in October 2016, Holyfield invited Pennebaker to speak at Hattieville Family Worship Center, where Holyfield also pastored, more than two hours from Varner Unit.
"He has such a humble heart," says Holyfield. "He's like a walking Bible. He really knows God's Word."
On May 23, 2017, after serving 15 years of his 20-year sentence, Pennebaker was released from prison because of being a model inmate. As soon as he left Varner Unit, he moved to Hattieville to spend more time with his spiritual mentor, Holyfield, and to make Hattieville Family Worship Center his church home.
Once again God showed His faithfulness to Pennebaker. A church member, Edward Hamilton, owner of Hamilton Aggregates, offered Pennebaker a job at the local rock quarry. Pennebaker has kept up his unto-the-Lord work ethic he adopted in the penitentiary. After less than two years, he is now a supervisor at the quarry.
Life outside prison today is much different from before. Completely drug free, he has re-established a solid relationship with his two children, now in their 20s; he fills in teaching Sunday School and even preaching during weeks when new pastor Randall Ramsey is absent; and he occasionally travels with Holyfield, who is now a full-time U.S. missionary chaplain to prisons.
Pennebaker is also a newlywed. He married Rose Pennebaker, 38, whom he met at a service in 2016 when he first spoke at the church. They married in October 2017.
"The way he explains the Bible makes it click with me," says Rose, who also is a former meth addict. "I wanted what he had."
In January 2019, Pennebaker returned to prison to share the good news with the inmates at Tucker Unit, a medium-security facility. He's adamant that no inmate is irredeemable.
"If God can't change everybody, He can't change anybody," Pennebaker says. "I'm living proof that there is no such thing as a lost cause."