No-Punches-Pulled Gospel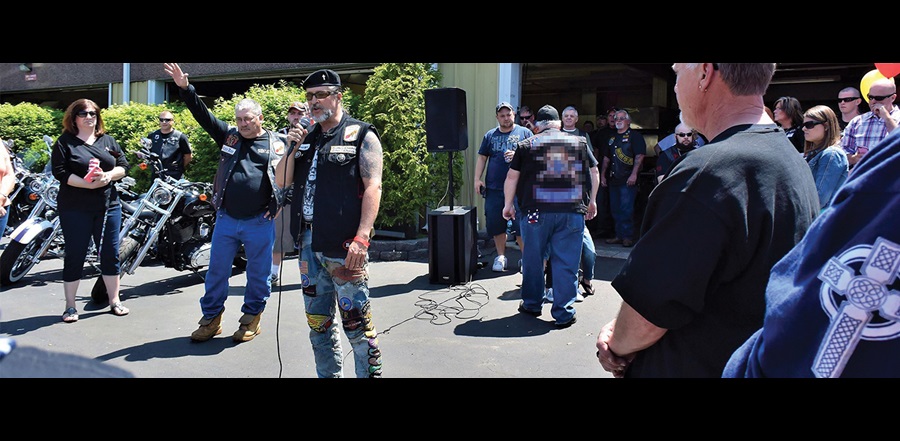 Don't miss any stories. Follow AG News!
A well-known motorcycle axiom says four wheels move the body and two wheels move the soul. But an atypical biker church in Holbrook, Massachusetts, is moving with the Holy Spirit.
Assemblies of God U.S. missionary associates with Missionary Church Planters & Developers since December 2016, Tom "Flathead" Iddings and his wife, "Chopper Deb Iddings," launched Broken Chains Biker Church (BCBC) in 2011 after 18 months of preparation. They had been active in a motorcycle ministry since 2001. In 2013, the couple became licensed AG ministers, with Tom as lead pastor and Deb as associate pastor.
"We gather in our jeans, T-shirts, long hair, and tattoos — celebrating our victorious life in Christ," says Iddings. "We accept people no matter who they are or what condition they are in — just like Jesus did in the Bible and still does today. We want everyone to experience Jesus Christ."
During the church's "First Fridays" services, which can draw as many as 250 people, the parking lot typically is filled with Harleys, with a few guys standing around talking about bikes. Eating together is vital during those gatherings. After the service is finished, BCBC serves dinner.
Currently meeting in a former 200-year-old factory, Broken Chains has a weekly attendance on non-First Fridays of about 70 people. The inside vibe is different than typical churches. It's dimly lit and furnished with Harley posters, advertisements, and a lot of chrome.
A wall of vinyl records serves as the stage backdrop. The worship team, which plays familiar blues and rock 'n roll tunes that are rewritten to honor Christ, is called the Broken Chain Gang. BCBC also has a YouTube channel to stream its services.
Broken Chains, which would fit right in on a Travel Channel reality show about interesting roadside places, has a casual atmosphere, except when it comes to preaching the gospel.
"It's a full-on, no punches-pulled gospel, no sugar coating," says Iddings, who started riding motorcycles at age 11. "The gospel is presented in a way bikers and normal folks can hear and understand. We meet folks where they are, speak their language, and bring them the love of Christ with love and truth."
Iddings, who was 36 when the Lord saved him from a life of destruction, says there are multitudes of broken and marginalized people who need to hear the gospel.
"Some are deep in the biker culture or party scene, and not noticed by everyday Christians," he says. Drug addict, alcoholic, gang member, post-traumatic stress disorder sufferer, prostitute, and relationship hopper are some of the former labels of BCBC attendees. BCBC also spends a significant amount of time building relationships, Iddings adds.
Robert Wise Jr., superintendent for the Southern New England Ministry Network (SNEMN), says BCBC is one of the most creative moves of the Holy Spirit he has witnessed in 46 years of ministry.
"Tom and Deb live out the Word of God every day," Wise says. "Bikers see them as authentic and genuine. Our network sees Tom and Deb as missionaries to sheep, those that have no shepherd!"
Louis Zinnanti, pastor of Victory Church , an AG congregation in Sharon, Massachusetts, met the Iddings two years ago at a SNEMN event. He has become the regular bass player for the Broken Chain Gang.
"I love these brothers and sisters as if they were my own sheep," says Zinnanti, who serves as a network presbyter. "Many of these folks come from addiction and incredible brokenness, yet Tom and Deb have done an amazing job winning and discipling these dear people for Jesus."