No Safe Bet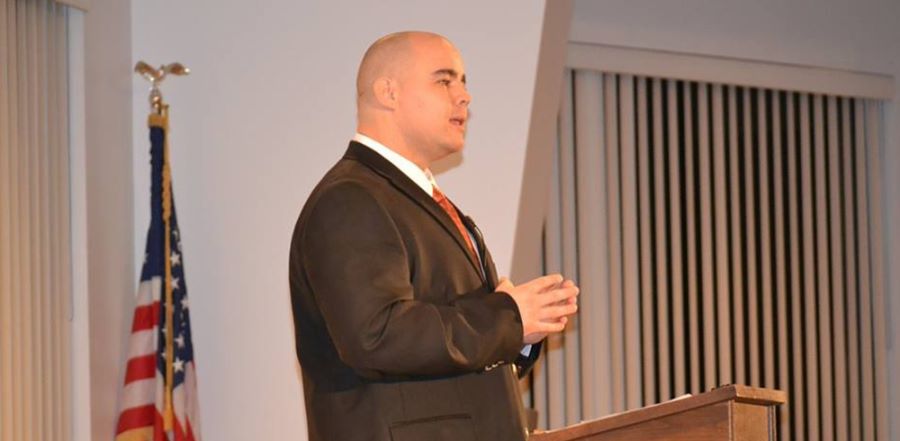 Don't miss any stories. Follow AG News!
As a young teenager, Jim Goins would bet friends that he could achieve the highest score in a video game or shoot the most baskets in a friendly hoops contest. The competitive-minded Goins viewed wagering a few bucks as harmless fun.
But by the time he entered college in Fredericksburg, Virginia, the betting accelerated and the stakes shot higher. Goins took money earmarked for rent and groceries to gamble on sports. He set up multiple accounts to risk funds that grew increasingly scarce. An anxious Goins surreptitiously took money from family and friends to cover his losses. 
Struggling with depression, Goins began stealing from his employer. As a bouncer at a bar, Goins had access to a storage area with blank checks. Police didn't arrest Goins until after the thievery reached five figures. He faced charges of forgery, fraud, and theft by deception.
After spending a night in jail and being released on bail, Goins quit college and went back home to live with his father in Chambersburg, Pennsylvania. Yet with the addiction untreated, Goins found another job -- but again stole from the proprietor. Nabbed a second time, a judge lumped the two sets of charges together.
In 1999, Goins, facing a possible 16 years in prison, instead received probation. The judge ordered the 22-year-old college dropout to repay the $40,000 he had taken from his unsuspecting bosses.
Goins severed his lifeline with his parents in 2002 when they discovered him gambling with the remainder of his paycheck that hadn't been garnished. His father suggested Goins try a recovery program called Teen Challenge that he had heard about at church.
"I only went to Teen Challenge because I needed a place to live," Goins says. "Otherwise I would have been homeless. I had burned all my bridges."
Early into his yearlong stay, Goins accepted Jesus as his Savior.
"I learned what the Bible says about forgiveness," Goins says. "Before, I felt a lot of self-condemnation, and I sabotaged myself over and over again."
Goins spent a combined year at Teen Challenge centers in Harrisburg and Rehrersburg, Pennsylvania. While there, Teen Challenge summer intern Tim Czaja, who had graduated from the live-in treatment center for life-controlling issues a year earlier, befriended Goins.
"Studying God's Word at Teen Challenge and being exposed to many preachers and counselors opened Jim's eyes," Czaja says.
Czaja, who had just finished his first semester at the University of Valley Forge (UVF), suggested that Goins complete his education at the Assemblies of God school in Phoenixville, Pennsylvania. In 2003, immediately upon graduating from Teen Challenge, Goins enrolled at UVF and became Czaja's roommate. Czaja says weekday chapel services and biblically minded professors further shaped Goins in his Christian growth.
Goins received a degree in psychology and counseling from UVF in 2006 and went to work as an addictions counselor at the Malvern Institute, a substance abuse rehabilitation center. He also is an adjunct UVF professor, teaching psychology courses.
In 2009, Goins married Emily Jerzak, whom he met at UVF. The couple has a two-year-old son, Josiah.
"On our first date he told me everything," Emily remembers. "His transparency and integrity has carried on through our relationship."
Goins credits the Financial Peace University program instituted by Dave Ramsey for impacting his life regarding tithing and budgeting. By 2014, Goins had paid back in restitution the entire $40,000 he stole from the two businesses. Emily is in charge of the family's money.
"God changed my heart, mind, and attitude toward money," says Goins, now 38. "I've learned to be a good steward of God's resources rather than using money for happiness and immediate gratification."
Goins attended night classes at Immaculata University for four years to obtain a master's degree in psychology and counseling. Subsequently he became a clinical supervisor at the Malvern Institute, overseeing the counselors who provide treatment.
Last week, Goins ended his nine years of employment at the Malvern Institute. He is in the process of moving to Las Vegas, where as a licensed professional counselor he will be the clinic director for A Better Today Recovery Services.
Emily, 33, has no trepidation about the pending move to "Sin City."
"I don't worry about him falling," says Emily who just wrapped up working eight years at UVF, lastly as director of academic advising. "He is open and honest as we talk everything out. We balance each other out managing stress. He's worked so hard to get where he is. I'm incredibly proud of him."
The 38-year-old Czaja, whose friendship with Goins remains strong, concurs.
"His passion is helping people who walked in the shoes he walked in as a gambling addict," says Czaja, who is a substance abuse specialist based in Martinsburg, West Virginia. "He was set free through Christ while at Teen Challenge. He has no craving to go gamble anymore."
Goins sees moving to the epicenter of wagering as an ideal ministry opportunity.
"God has prepared me to share my story with those who are struggling the most," he says. "I want to let people know they don't have to be stuck in a self-defeating, self-sabotaging cycle of gambling."