No Small Achievements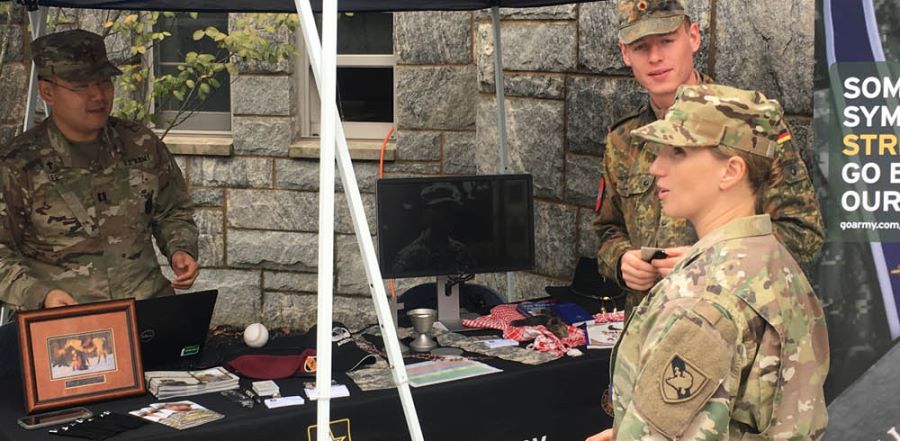 Don't miss any stories. Follow AG News!
When she sensed a ministry calling at age 15, Delana Ingram Small already knew she would become a U.S. Army chaplain.
"I didn't know the implications of being an Army chaplain," Delana recalls. "I just knew that God had called me for something significant."
She enrolled at Evangel University, in part because the AG school in Springfield, Missouri, had an Army Reserve Officers' Training Corps program. As an assistant young adult pastor at Evangel Temple in Springfield for five years, Delana gained practical ministry experience by managing a hospitality team for college students, learned how to delegate tasks, and had opportunities to teach and preach.
In addition to the ministry training, Delana received military instruction, doing everything from field training exercises to becoming a reserve lieutenant, serving as a chaplain candidate at Missouri's Fort Leonard Wood. She also gained hands-on chaplain experience by leading worship services and counseling soldiers as she traveled for the U.S. Army Reserve.
In 2010, Delana married her husband, Lucas Small, while both took classes at Assemblies of God Theological Seminary in Springfield. After graduating with a Master of Divinity degree in 2011, she became an endorsed chaplain with Chaplaincy Ministries, a department of U.S. Missions.
Small fulfilled her Army dream in style. At age 26, she became the first female chaplain in the nation to report to an Army combat arms unit — just as the military lifted its ban on women in selected combat roles.
As a new chaplain, Small had to prove herself to be physically fit for combat arms. She attended Air Assault School in 2012 and Airborne School in 2014, learning to jump "static line" out of both fixed wing and rotary aircraft as a prerequisite to her Special Operations assignment. Small became a member of the until-then all-male field artillery battalion within the 101st Airborne Division, known as the "Screaming Eagles."
After transferring to Fort Campbell, Kentucky, Small spent most of 2013 in Afghanistan. As an artillery chaplain, she went to visit soldiers in scattered areas of operations at particular gun lines. She also served as the officer in charge of chapels at two far-flung locations, traveling by helicopter each week to coordinate church services.
Then came a transfer to the 5th Special Forces Group, which involved multiple short trips with special operations throughout the Middle East in support of Operation Inherent Resolve. She worked alongside coalition forces and allies in various nations in the direct fight against ISIS.

MINISTERING TO CADETS
During the first half of 2018, Small completed the Chaplain Captains' Career Course at the U.S. Army Chaplain Center and School at Fort Jackson, South Carolina. The six-month program prepared Small to become a chaplain supervisor. Since July 2018, Small, 33, has been a chaplain at the U.S. Military Academy at West Point, New York.
Scott McChrystal has served as Chaplaincy Ministries military representative/endorser since 2005 — when he retired after seven years as senior chaplain at the U.S. Military Academy at West Point. McChrystal says Small has advanced in her various chaplain roles because of her intellect and attentive detail in fulfilling goal-oriented missions. He says Small has run into occasional obstacles and injustices, but that hasn't clouded her ability to succeed in assigned tasks. Small is academically capable and thinks at a strategic level despite her relative youthfulness, according to McChrystal.
"Delana has been a catalyst to raise the perception of Army female chaplains," says McChrystal, 70.
Small, a regimental captain, now is one of five chaplains directly supporting 4,400 West Point cadets, faculty, staff, and their families. She also conducts chapel services, plus weddings and funerals (for alumni). Although one-quarter of the cadets are women, Small is the only female chaplain.
"There really aren't enough female chaplains in the Army to have two female chaplains here," Small says. She finds many females confide in her because she is the only woman chaplain assigned to cadets.
Women personnel remain a minority in the military, particularly in the chaplain corps. Small notes that multiple denominations don't authorize women in such ministry roles, and her primary opposition over the years has been from an occasional male chaplain who doesn't believe women are theologically qualified to serve in the role.
"I don't perceive myself as a female chaplain," Small says. "I want to be viewed as a chaplain. Gender doesn't matter. Women aren't in a special category."
"Delana is not out to prove anything as a female in what has been a male-dominated profession," McChrystal says. "She is comfortable in her own skin."
Small expects to make the most of her three-year assignment at West Point.
"Here I have the opportunity to influence future military leaders," Small says. "Odds are a good majority of these cadets will be in senior leadership. I have opportunity to help young people at a vital time in their lives and help them get on track with God, faith, relationships, and healthy boundaries."
"She is going to have a huge impact on the cadets at West Point," McChrystal says. "They seek her out."
Small's husband, Lucas, previously served as an enlisted soldier for eight years. He now is a Reserve chaplain ministering to military police in New York City. He also has occasion to minister alongside his wife at West Point on a weekly basis.
Delana's father, Robert Ingram, a retired airline pilot, is pastor of LifeGate Assembly of God in Burlington, New Jersey.
IMAGE: Chaplain Delana Small (foreground) of West Point at a 2018 education and recruiting event.