Not Stopped by 32 Surgeries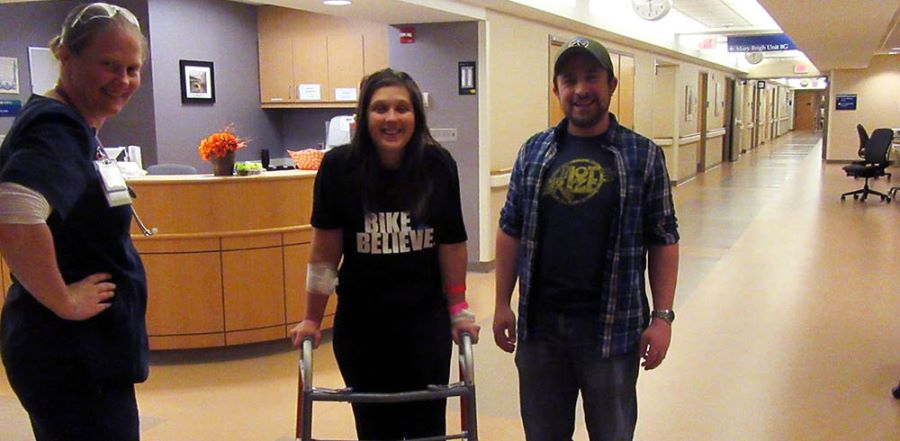 Don't miss any stories. Follow AG News!
Kayla Buckley, a licensed Assemblies of God minister and a graduate from North Central University, has many interesting chapters in her 24-year-old story. A circuit-riding preacher serving five North Dakota congregations, Buckley has endured 32 major surgeries. Instead of giving up, Buckley has chosen to focus on serving Christ and other people.
Born with VATER syndrome, spina bifida, and only one kidney, Buckley's operations have included removal of the upper half of one kidney, one leg lengthened twice, and a back surgery to fuse her sacroiliac joint. She lives with chronic pain, yet her severe physical problems cannot stop her from believing in a deeper healing.
Buckley writes, speaks, and ministers with her husband, Reid.
"I have been called the circuit-riding preacher because every Sunday I drive the circuit to two of the five churches while my senior pastor does the other two," she says. "We cover the fifth church on Thursday evenings, and the next Sunday I preach where he preached the previous Sunday and he does the same." The churches all are within a 45-mile radius.
She attended North Central after her youth pastor Terry Parkman, then at Evangel Assembly of God in Bismarck, encouraged her to go to the AG university in Minneapolis. She received a bachelor's degree in youth ministry. As a mentor to youth, Buckley has built a leadership team of nine, equipping them to preach, lead small groups, and mentor teens outside of Wednesday evenings.
"We learn so much about what it's really like to have an in-depth conversation with God," says Gracie Anderson, a teen in one of the youth groups Buckley leads. "He has given Kayla a gift to have passion to help everyone see how much God loves them."
Buckley's friend Brittany Carson believes overlooked areas in North Dakota are going to be a beacon of light and hope because of Buckley.
Buckley says her Pentecostal beliefs have helped her to listen to God closer and trust Him deeper.
"The strength God has given her to cope with years of pain shines through in everything she does for our home and in every person she touches," her husband, Reid, says.
"Spending so much of my life in a wheelchair, missing school, being on crutches, surgery after surgery, all really taught me that this is my life," Buckley says. "God has such amazing plans, no matter if I'm struggling with chronic pain. To doubt is OK, and I've learned to be real with God and pray through my struggles! He is with me in every single one."