Not Too Late to Foster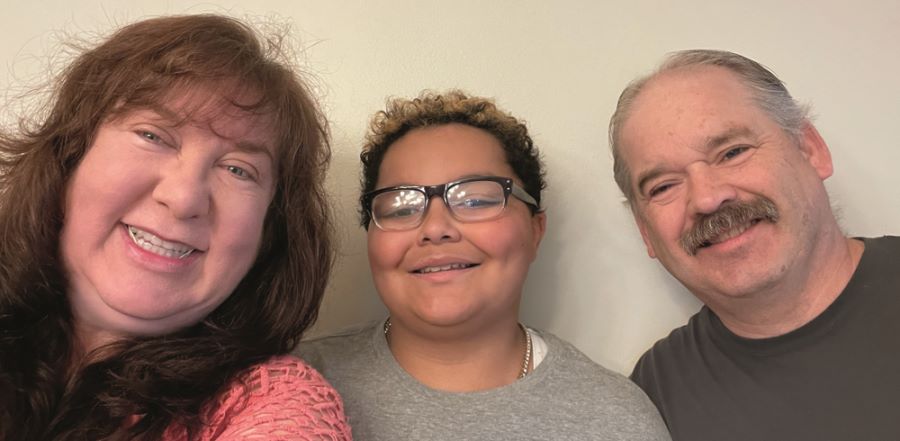 Don't miss any stories. Follow AG News!
The sound of laughter and pattering feet fills the Ann Arbor, Michigan, home of Elaine C. Swanberg and her husband Mike L. Johnson daily as their foster grandchildren learn the true meaning of family.
Elaine, 53, and Mike, 61, met while working at a department store and married in 1997. After raising four now-grown children, both felt an interest in foster care and decided to go to an informational meeting.
But the couple dropped their pursuit of foster care and took on the challenge of helping to raise a new grandbaby. They spent the next few years navigating the foster system to first gain custody of and eventually adopt their grandson. Austin is now 13.
Elaine and Mike heard about Brighton Assembly of God through a foster kids backpack giveaway hosted by Hearts CRI, an outreach of the church. They subsequently began attending Brighton AG. But due to Austin's trauma from his foster journey, he struggled in situations outside the home. Elaine and Mike left him unaccompanied for the initial time in kid's church.
"Those in the kids' center were the first ones who knew how to help him," Elaine says.

Elaine says they wanted to finalize Austin's adoption before their foster care license needed renewal, but she felt God nudging them to open their home to more children.

"I just knew in my heart we were supposed to do it, but I was not willing," she says. Then pastor Bradley Trask preached a sermon on how Christians should bring strangers into their home.

"Suddenly, I'm crying, and everything was lifted from me," Elaine says. "It turned our lives around."

The next day, a foster worker came to renew their license and Mike and Elaine told her they would be willing to take a child into their home. The foster worker had an immediate need for a placement.

Currently, Mike and Elaine foster one sibling set, ages 2 and 4, and a second sibling set, ages 4 and 6, about to return to their family of origin after nearly three years in their care.

Elaine says taking in emergency children — those who need immediate care — can be stressful, but the Michigan Foster Care Closet has brought great relief in providing needed household items.

Jennie L. Sharp, 41, directs the Michigan Foster Care Closet in Ann Arbor. She first met Elaine and Mike when the couple dropped off donations. The closet allows foster parents to take home car seats, clothing, toys, diapers, and other necessities at no charge.

Sharp says Elaine and Mike don't exhibit the customary stress many foster parents show when expecting an emergency placement.

"It's as if they just get news that a child had been born," Sharp says. "They are so excited."

Filling their cart with supplies such as socks, underwear, and toys saved the couple hundreds of dollars.

The children in foster care typically call Elaine and Mike "Grandma" and "Grandpa." Mike has retired as operations manager for a vending machine company, while Elaine works full time remotely as a research grants accountant for the University of Michigan. The children often need to work through severe trauma in order to trust anyone, including the couple. Initially, the children often are full of anxiety and trauma.

"They are quiet, withdrawn, and afraid," Mike says. "Then one day, we'll be sitting on the couch and a little one comes up and gives us a snuggle. They don't say anything, just kind of lean in. We know they let go a little."

While some people her age may think they aren't capable of fostering because of their age, Elaine says God wouldn't let her off the hook.

Mike says many people have a list of reasons they can't foster, whether time or money, but God can overcome all those obstacles.

"We have laughter in our house again," Mike says. "We have yelling and jumping and running, which we haven't had in a long time."