Not Your Typical Baptism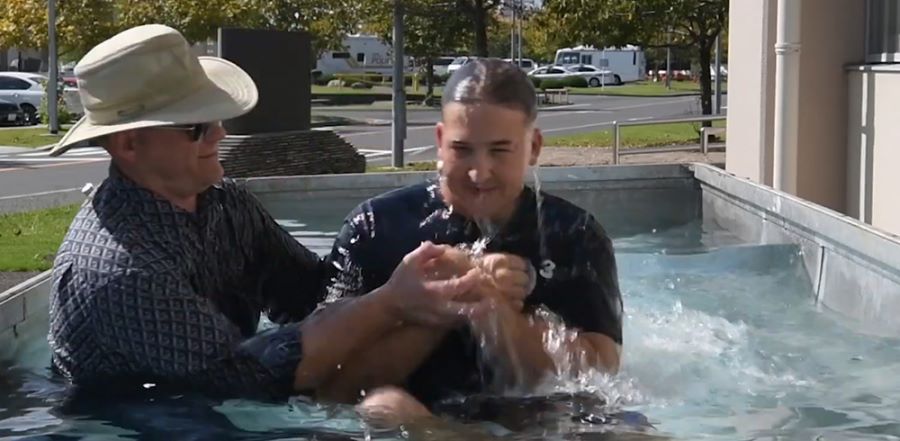 Don't miss any stories. Follow AG News!
When Ch. Jon Neil learned that two of the marines stationed at the Iwakuni Marine Corps Air Station (MCAS) in Japan had rededicated their lives to Christ and wanted to be water baptized to demonstrate their commitment, he had just one problem — the MCAS chapel did not have a baptismal tank.
Although the MCAS has a swimming pool, the pool was being repaired, and the open ocean is about a 30-minute drive away.
However, Neil, a
U.S. Missions
military chaplain, had previously served with Destroyer Squadron 23 based out of San Diego. As the destroyers accompany aircraft carriers, Neil learned that on the carriers, jet and helicopter engine containers sometimes double as baptismals.
"I asked one of the marines if he would like that option, and he told me that it would be really cool because he works on jet engines," Neil recalls. So, that's what they used.
In addition to the two marines being baptized, Neil says the 11-year-old daughter of the station's provost marshal operations chief also wanted to be baptized.
"What was really unique about this is that I learned she actually was born here," Neil says. "Her mother told me how fitting it was that her natural birth was in Iwakuni and now she was also baptized in water here, representing her spiritual birth."
It took Neil about 8 hours to fill the container with water, which was then allowed to warm up a few days before the service.
"The provost even put a special guard on the container," Neil says with a laugh. "He wanted to make sure the water stayed clean for the baptism."
During the baptism, which was attended by several service and family members, Neil says that in addition to the three making a public confession of faith, he also asked those in attendance to commit to support the trio in their walks of faith. The event was also covered by Armed Forces Network and
posted on YouTube
.
"There are so many different denominations and religions represented on this station and wherever I've served," Neil says. "But in 11 years, only once or twice has someone come up to me to disagree with something I said. I've really felt that God has always encouraged me to preach the Word, preach Jesus, and keep it simple."
Neil, who has his affiliation with the AG noted on every chapel bulletin, says he enjoys ministering in the military because so much of it is done outside of the church.
"Most of the people I see during the week don't come to services; they come to me because they need help with something," Neil explains. "Although there are restrictions and challenges, the opportunities [to minister] outweigh the challenges. I am honored to represent Christ as a chaplain."