Opening Prejudicial Eyes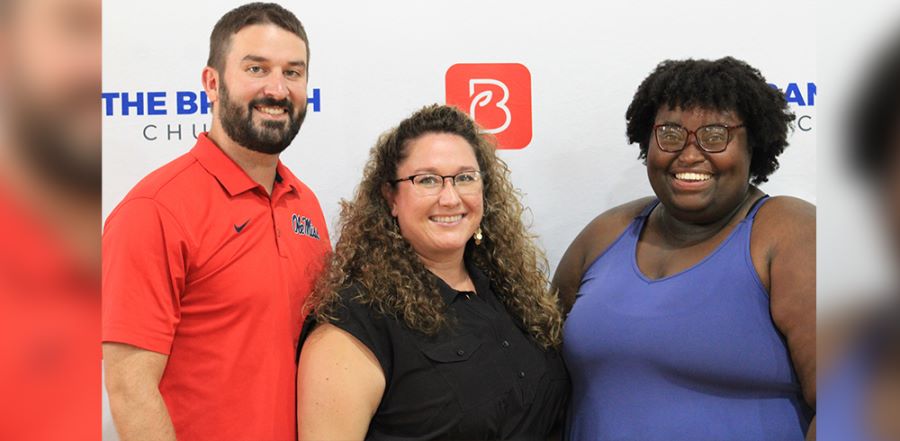 Don't miss any stories. Follow AG News!
U.S. Missions career associate Shadoria "Shay" Anderson had a rude awakening in 2014 as the first African-American Chi Alpha staff member at the University of Mississippi when members of the Ku Klux Klan (KKK) visited campus in full garb carrying signs that read "Black lives don't matter."

Subsequently, U.S. missionary Mack D. Clements, who started the Chi Alpha chapter at Ole Miss in 2014 with his wife, Courtney, facilitated discussions about racism among staff and students involved with the campus ministry. Anderson, among others, stood at the ready for students wanting to vent their anger and confusion.

The white supremacy group returned to the University of Mississippi the next year in the midst of overt racism acts that occurred during Anderson's time as student. Racists placed a noose around a statue dedicated to James Howard Meredith, the school's first Black student. After the election of the school's first Black student body president, clandestine dissenters hung bananas in a tree, leaving remarks that the tree was large enough to lynch all African-American students on campus.

The incidents at Oxford hardly shocked the 27-year-old Anderson, a native of Shaw, in Mississippi's Delta. She says she learned about the reality of being Black in Mississippi as a youth, including admonitions not to be on the back roads after dark lest the KKK showed up.

"The Mississippi Delta is a poor, racially charged area," Anderson says. "I grew up with obvious discrimination and underlying tensions."

Anderson attended the University of Mississippi and earned a bachelor's degree in psychology. She planned for a profession in criminal justice — wanting to unravel why serial killers commit murders — but says involvement in Chi Alpha her junior year redirected her path. She says the Lord confirmed a career in ministry during her Chi Alpha Campus Missionary-in-Training internship after graduation.

Although the Chi Alpha group on campus is roughly half nonwhite, three out of four Ole Miss students are white. In recent years, after racist acts have occurred, there have been demonstrations and sit-ins by frustrated ethnic minorities.

DIVERSITY CHALLENGES
The fact that Ole Miss isn't the bastion of integration is no surprise. The school operated as a Confederate hospital during the Civil War and a Confederate cemetery still is located on campus. A race riot erupted in 1962 when segregationists attempted to prevent Meredith from enrolling.

The school's sports team still have the nickname "Rebels," a nod to the roots of the Civil War that still run deep. Until 2020, a marble statue of a saluting Confederate soldier held a prominent spot on campus.

Mack and his U.S. missionary wife Courtney, who are white, have been intentional about incorporating different ethnicities into the ministry, which this semester includes nine staff members. Courtney's father, U.S. missionary Ronnie Hoover, has been Chi Alpha director at the University of Arkansas for 30 years.

The 36-year-old Mack Clements grew up in Malvern, Arkansas. After serving an internship at Stanford University, he sought to plant a Chi Alpha chapter at a flagship school that didn't have one. He and Courtney knew to make racial justice a priority when they walked into the Ole Miss student union and saw a wall of promotional photos depicting 18 existing campus ministries. All the faces were white.

"We knew we had to be intentional," Clements says. "We use openness and vulnerability as a way to build relationships in small groups."

By the end of the first year, 60 students attended regularly, half of them Black — including Anderson who showed up at the last gathering. The next year, Anderson rededicated her life to Christ, was water baptized, baptized in the Holy Spirit, and started leading Bible studies. As a senior, she became a small group leader.

"Right off the bat, we saw Shay makes friends wherever she goes," Clements says. "I can't imagine our team without her. She brings so much life, she is so much fun."

Anderson has assisted Clements in navigating cultural landmines.

"Shay brings wisdom to the table that helps us to be willing to address the incidents that have happened on campus," Clements says. "She is a dynamic leader, preacher, and discipler who is able to lead people to Christ."

Anderson officially serves as "pipeline director," handling everything dealing with the Chi Alpha leadership team.

"Mack is willing to have hard conversations with students about past prejudices," says the bubbly Anderson, an AG credentialed minister since 2020. "He wants to reconcile students to each other, but he realizes students must be reconciled to Christ first."

OPENING EYES
With sermons about racial reconciliation, Anderson says Clements is changing prejudicial attitudes, bringing Revelation 7:9 to life.

"I've seen the eyes of students opened when they become a follower of Jesus," says Anderson, a career missionary associate. She believes her life has been enriched by relationships formed with students from different ethnicities.

"People miss out if they only have friends who look like themselves," Anderson says. "I get to teach and pray for people who don't look like the color of my skin."

Kaitlin Wilkerson is a 2020 Ole Miss alumnus who shares the sentiment. Like members of her family before her, Wilkerson, 24, attended the school in oxford. Wilkerson sought out a Christian organization on campus as soon as she arrived because she had attended church all her life. But once the vivacious Anderson befriended her, Wilkerson realized growing up in an overwhelmingly white environment had insulated her from the realities of racism.

"I had a 'take-the-blinders-off moment' at a Black culture night my freshman year," Wilkerson recalls. "No one had explained to me before how Black people in the United States had been treated."

Now, as a human resources representative for a government contractor in Washington, D.C., Wilkerson says she calls out racism when she sees it and makes room for Black people to express the experiences they've had.

Meanwhile, Anderson is no longer the only Black Chi Alpha team member serving in the Magnolia State. U.S. missionary associate A'Keeriyanna "Keeri" Jones is preparing to launch a chapter at Mississippi State.
IMAGE: Shay Anderson (right) is helping to change outlooks at Ole Miss with Mack (left) and Courtney Clements.