Operation Christmas Stocking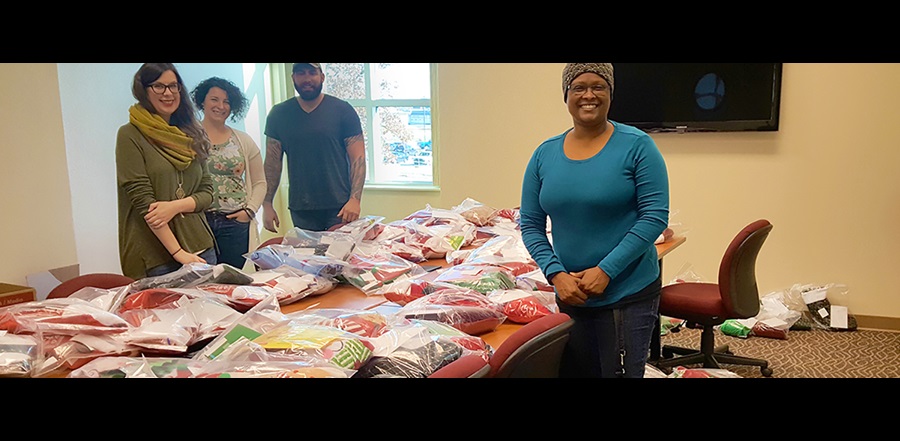 Don't miss any stories. Follow AG News!
Students, faculty, and staff from
Evangel University
recently donated enough food and gifts to fill 136 stockings and cards for the deployed men and women of the 935th Aviation Support Unit of the Missouri National Guard.
There are 135 local soldiers in that unit who deployed last summer to the Middle East.
"We just wanted to express appreciation for our soldiers. Each one will receive a filled Christmas stocking from the Evangel community reminding him or her that we are thankful for their sacrifice and their service," said Dr. Sheri Phillips, vice president for Student Development at Evangel.
Nine boxes full of snacks, games, books, puzzles, and other gifts were packaged by staff and veterans affiliated with Evangel. The packages have been shipped and are scheduled to arrive on Dec. 14.
Chaplain Joe Pence, a graduate of
Assemblies of God Theological Seminary
at Evangel University, is deployed there and will distribute the stockings to members of the 935th, according to Veteran Center Coordinator Stormy Davis, who also went through the chaplaincy program with Pence. Chaplaincy Ministries is a department of U.S. Missions.
"Although we were not fortunate enough to recruit Joe Pence as one of our chaplains, I have the highest amount of admiration and respect for his ministry as a military chaplain," states Scott McChrystal, military representative and endorser for U.S. Missions Chaplaincy Ministries. "Having been deployed myself in distant lands over the Christmas season, I can tell you firsthand how this effort brings joy to the mind, hearts, and faces of our military men and women who are away from home during Christmas."
The project was a partnership with the Evangel University
Veteran's Center
, the EU
Center for Compassion
, and the school's Student Development office.
In June 2018, Evangel University hosted the deployment ceremony for more than 2,000 National Guard soldiers from the tri-state area who were deployed on a 13-month assignment.
Of those, 135 men and women deployed from the Missouri National Guard. The unit is literally in Evangel's backyard — behind the campus.
"We started thinking about what we could do for our soldiers. When we learned that about 60-percent of these soldiers deployed for the first time, and many are the ages of our college students, the idea about filling Christmas stockings grew," said Phillips.
This was a community effort as students, faculty and staff all got involved writing notes, filling stockings, and donating funds to assure that the soldiers would have a little taste of home.
"Particularly around the holidays, our soldiers feel the isolation from their families and friends, and long for reminders of home," said Phillips. "Reading a card or letter from a grateful community could be life changing!"