Operation Renovate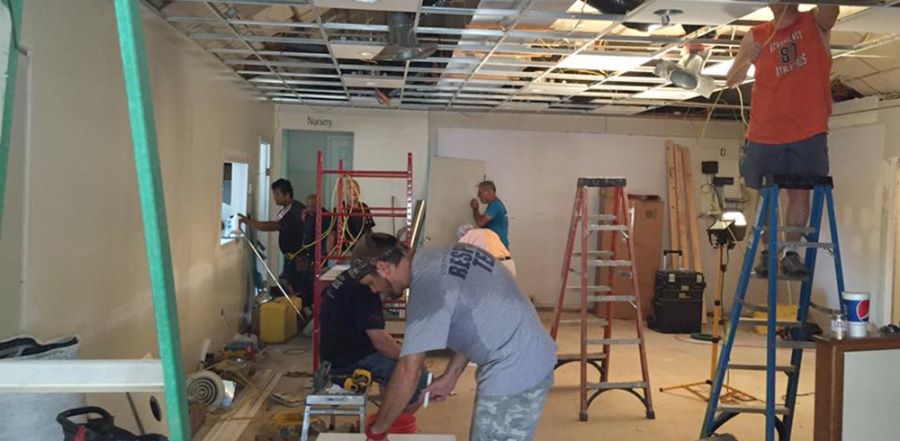 Don't miss any stories. Follow AG News!
To the members of a rural Illinois church, the many renovations their aging building needed seemed like a daunting ongoing task that could take years to finish. But for a church team on an assignment from God, it only took six days and a 40-person crew.
A missions team from Calvary Church, a 7,000-person megachurch in Naperville, spent the first week in August renovating LifePoint Church of Carrollton from top to bottom.
Volunteers helped with various tasks, including installing new carpeting, painting walls, doing electrical work, hanging ceiling tiles, constructing a welcome center for the foyer, power washing the building, landscaping, mounting new lighting and a new sink, purchasing furniture for the foyer, and sprucing up the nursery with some new toys.
"It was like walking out of one church on Sunday and then walking into a brand new church the next Sunday," says Scott Wade, LifePoint's lead pastor.
In addition to providing volunteer labor, Calvary Church also supplied funds to cover some of the project costs, with the exception of the carpeting, which LifePoint purchased.
Wade says the building facilities needed updating and had developed a somewhat sterile feeling. He envisioned a warmer welcoming environment where people wouldn't feel so confined. The old nursery and Sunday School rooms were too small, so part of the renovation involved tearing down walls to make two rooms. Walls also came down to make the foyer larger.
Recently the rural church's Sunday morning attendance has climbed into the 90s. Wade attributes some of the growth to community outreaches the church has conducted. The revamping comfortably allows for additional attendees.
"We need to be flexible to do that and this renovation is a step in that direction," Wade says.
Fixing up rural churches is not new to the members of Calvary Church. This marked the eighth time the congregation has paired up with Rural Compassion, a ministry of Convoy of Hope.
The efforts began nine years ago when leaders of the mission-minded suburban Chicago congregation decided to provide an alternative to those who wanted to go on an overseas missions trip, but couldn't afford the travel costs, according to Ron Markese, pastoral care and senior adults pastor at Calvary.
After talking to Kent D. Anderson, an Assemblies of God U.S. Missions Missionary Church Planters and Developers Rural Compassion missionary, Calvary leaders decided to devote time and attention to assisting rural churches in need.
Since then, a group has spent a week annually serving churches in Illinois, West Virginia, Missouri, Indiana and Ohio.
"I don't think we can stop doing them," says Anderson, who has served at all the makeovers with the rest of the volunteers and his wife, Judy. "The people have loved doing them so much."
In addition to a willingness to work hard — sometimes putting in as many as 12 hours a day — some of the volunteers came equipped with carpentry experience or had done professional electrical work in the past.
Markese says although Calvary members pay their way and work hard, they always feel a sense of accomplishment at the end.
"It's really cool to bless rural churches and rural pastors," Markese says. "It's a wonderful experience for our team."
At the end of the renovation week, Calvary Church volunteers usually join a community outreach event hosted by the individual church. This year, they helped with LifePoint's annual "Pack to School," to distribute backpacks filled with school supplies. Food and games for children and their families also were provided.
The distribution has grown since it started in 2011 from 65 backpacks distributed to 150 bags this year. In addition, a member of Calvary offered free haircuts. Twenty-five coupons were given out for free school physicals in partnership with a local physician.