Out of the Ashes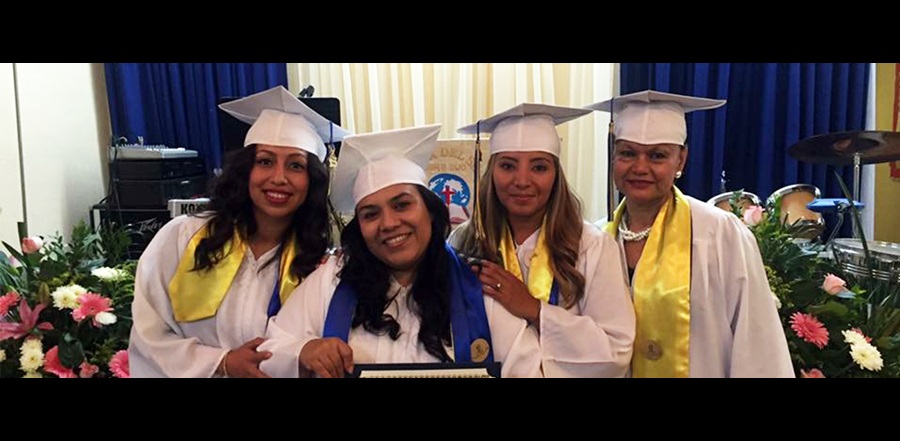 Don't miss any stories. Follow AG News!
Kenelma Salamanca's Maestras del Bien ("teachers of good") ministry in violent gang-infested Southern California neighborhoods near Los Angeles reached the backbone of the community: single moms and widows. As a ministry of Ministerio a la Luz de la Palabra, the Compton, California, Assemblies of God congregation she co-pastors with her husband, Mario, Kenelma witnessed phenomenal results.
The church of 200, which meets in an old theater, opened a food bank. The Salamancas preached the Word of God to the largely blue-collar immigrant community, most of whom are from their native El Salvador. In the areas the church reaches, the average household income is $20,000. Even though many of those within the congregation themselves qualify for public assistance, the church launched a food bank to help others in the needy neighborhood, especially women.
"These are the moms of gang members," says Mario Salamanca, 44. "Many are also members of the church. It's open to everybody."
While pastoring the church and raising two sons, Mario worked on a doctorate at Fuller Theological Seminary, while Kenelma studied for a master's in social work. Many received help from the church food bank, but Kenelma realized that provided only temporary relief.
"You give them a bag of food, but you don't solve their problems," she says. "You help them that day, and two days later they're once more needing assistance."
In social work classes, Salamanca says she heard about the need to not just supply fish, but also to provide the tools for fishing.
But fishing poles cost money.
"We have no money," Salamanca, 43, says of the church comprised of domestic servants, construction and factory workers, and scrap-metal collectors. But she knew the power of the Holy Spirit could accomplish what money couldn't.
"We just need willingness," she says.
So, Salamanca gathered a group of women and shared her vision to provide the women with more.
"We can't do that unless we empower them," she says. One way involved offering microloans to start small businesses. Those in the church made pupusas (thick Salvadoran tortillas) to sell, held yard sales, and accepted monthly pledges.
When the fund reached $2,000, the church decided to start looking for recipients. That turned out to be difficult, as it entailed interviews, home visits, and prayerful consideration. Salamanca says that the choice entailed determining "who really wants to get out of their cycle of I don't have enough to buy food or pay the rent?"
In the early 2010s, the Maestras del Bien program guided the microloan recipients in opening bank accounts, basic money management, and other business skills. The results proved phenomenal. One $500 microloan recipient founded a jewelry business so successful she bought a house. Maestras del Bien also helped women by teaching them the Bible, providing self-esteem-boosting emotional support, and teaching crafts and vocational skills.
A DIRE DIAGNOSIS
But as the church and ministry flourished, in 2012 Salamanca began to feel ill. The shocking diagnosis: advanced acute lymphoblastic leukemia with the dreaded Philadelphia chromosome, which makes this blood cancer especially resistant to treatment.
Salamanca's case appeared to be so severe that upon being admitted for a 30-day hospitalization, doctors told her she had a maximum of two weeks to live.
"They wouldn't give me any hope," she says, adding that doctors initially said that a bone marrow transplant wouldn't help her.
The Lord began to minister to her.
"I was broken, but that's when the vision started," Salamanca says. "Deep down, God aligned a lot of things in me I needed to resolve. I go back to that night and it gives me the strength to move forward."
After eight months of intense chemotherapy, doctors opened the door to a transplant.
"I know God was in the midst of it," Salamanca says. During her treatment, she gained a quiet confidence that the Lord wanted her to continue ministering to women.
"I'm in a hospital bed — do you think I'm going to negotiate with God?" Salamanca asks.
In the end, Salamanca didn't ask God to heal her. She simply surrendered her future to Him. That marked her turning point, as well as a change in the Maestras del Bien ministry.
"He turned me back to the women," Salamanca says.
In 2013, Salamanca received a bone marrow transplant.
A NEW FOCUS
She returned to ministry and revamped the outreach. First, she ended the microloan program in favor of expanding rigorous Bible-based classes. An example is the "Who am I?" class based on Ephesians 1. She talks about personality types, character formation, and past experiences.
"My priority is for them to see where they're coming from genetically and spiritually, how they are emotionally, and why they're there," Salamanca says. Additionally, each student learns a craft. Salamanca believes the classes have been more productive than the microloans.
"I see how the women have grown in their ministries, and in their homes with their kids," she says. Many in the program never graduated from high school because they had to leave their home countries, or never even attended school because they had to work.
Salamanca says God showed her that many women failed to realize their potential.
"We all get stuck sometimes," Salamanca says. "Our classes focus on intellectual development. We're showing them that if they want to learn, they can learn."
After the women take around 10 classes, the church holds a graduation ceremony with caps and gowns.
"The graduations of our classes are empowering emotionally for the women," she says. "The women accomplish something." Salamanca encourages graduates to launch their own outreaches to other women, and some have opened businesses.
Maestras del Bien has expanded throughout the AG Southern Pacific District, and to Mexico and El Salvador. District Superintendent Sergio Navarrete first met Salamanca as an energetic Bible student, then struck by leukemia.
"God has prepared her to minister in a higher way," Navarrete says. "At first it was very sad, but now we are seeing the power of healing and prayer in her life."
Navarrete has asked Salamanca to train other women in the district's 343 churches.
Salamanca, cancer free and fully healed, regularly returns to City of Hope, the Los Angeles hospital where she received her transplant, to minister to those undergoing treatment.