Overcoming Beantown Objections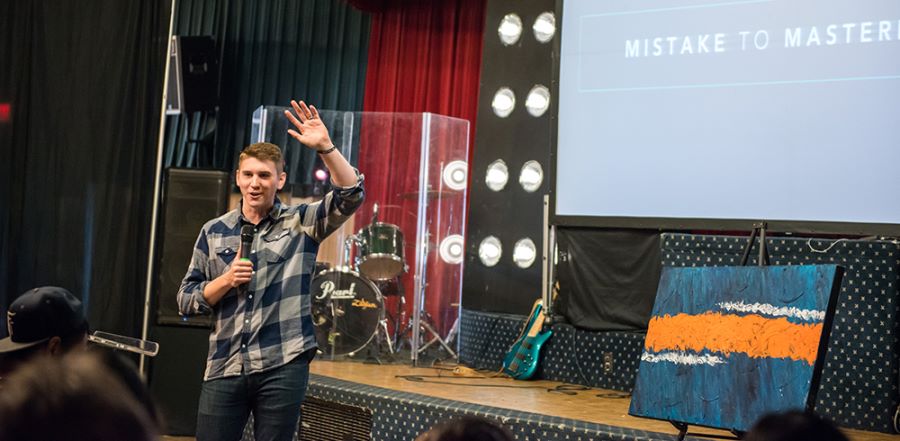 Don't miss any stories. Follow AG News!
(Second of two parts).
Caleb McNaughton says he felt called to the Boston area — ranked the next to last Bible-minded city by the Barna Group's annual rankings — after watching his father, AG pastor Dave McNaughton, plant Abundant Life Church in Braintree, Massachusetts in 1991.
With help from his father, who is with Assemblies of God U.S. Missionary Church Planters & Developers, McNaughton launched The Link Boston in Dedham in February 2013, as part of the Reach Northeast church planting movement.
Training and funding came through the Church Multiplication Network's Launch program. McNaughton says many longtime residents have a faith based on works, and they have never experienced the gospel on a personal level.
"Even if they have dark areas of their life, they perceive themselves as good people," he says. "Even if they don't follow Jesus, they still pray in times of need."
Sports are a major part of the Boston culture, so church members connect with people by viewing and attending sporting events together and hosting sports-themed parties in their homes.
McNaughton coaches Pee Wee football. A weeklong football and cheer camp, which draws about 250 kids each summer, is hosted at the church. McNaughton says it's rewarding to see perceptions about church mellow.
"When God's love becomes real and personal to them it changes everything," he says. "Their outlook and perspectives change from not just being a good person, but to a person who loves God."
Anchor Church, planted by Randal Quackenbush in February 2013 with help from the CMN Matching Fund, in the heart of downtown Boston, is about five miles away from The Link.
Southern New England Ministry Network Superintendent Bob Wise Jr. asked Quackenbush to consider planting a church in the Berklee College of Music/Symphony Hall area of the city. At the time, Quackenbush served on staff at James River Church in Ozark, Missouri.
Quackenbush says he fell in love with Boston while in a doctoral program at Gordon-Conwell Theological Seminary. He and his wife, Shelly, moved back to the area in 2012 and received CMN Matching Fund money to lay the groundwork for the church, located a few blocks from the prestigious Berklee College of Music.
While the greater Boston area is home to over 8.1 million people, less than three percent of the population is evangelical Christian.
Often referred to as "Beantown," Boston has a reputation as a graveyard for church plants. Quackenbush equates the difficulty to a mix of intellectualism, apathy, and angst toward the church. Over 250,000 college students attend one of the over 80 colleges and universities in the Boston metro region.
"The intellectual community is all about reason and doesn't leave much room, if any, for faith," he says. "We feel like we're missionaries to a European city where the vast majority need the Lord."
A focus on community, music, and the teachings of Christ has drawn various college students and young professionals with an interest in authentic Christianity.
However, Quackenbush says the biggest challenge is engaging long-term residents in discussions about faith.
"You have to commit to investing in building relationships with people in the community," he says. "It's only through friendships that they start trusting you and you have the opportunity to share the gospel."
During the past two years, Anchor Church has grown to an average weekly attendance of 100. More than 180 people have made salvation decisions for Christ.
"Whether it's Boston or another city, there's a drastic need for cities to come alive with the hope that's in Christ alone," Quackenbush says.
Pictured: Caleb McNaughton, The Link Boston