Overcoming Childhood Insecurities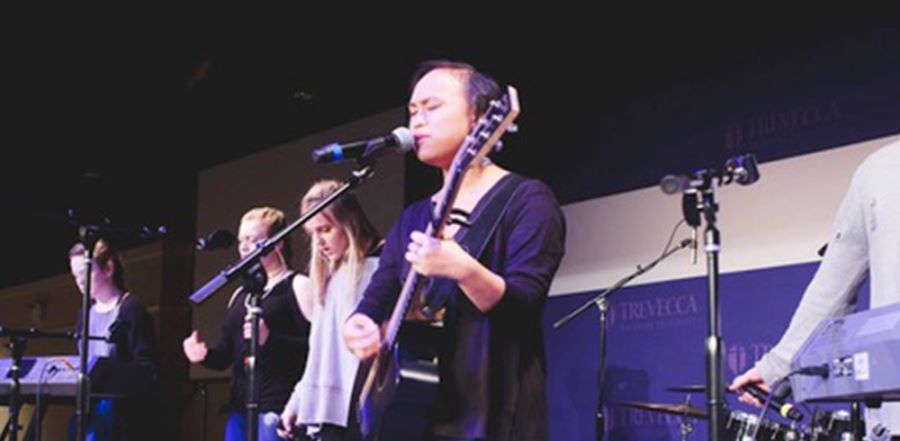 Don't miss any stories. Follow AG News!
When 17-year-old Tabitha Carmen Acang of Memphis, Tennessee, stands behind a microphone and begins strumming her guitar and singing, a tangible sense of God's presence fills the room, even bringing people to tears.
But a few years ago, the girl who now is so alive with God's Spirit, self-harmed and considered suicide because of insecurities. Tabitha battled alopecia, an autoimmune disease that causes partial or complete hair loss.
Diagnosed at 3 years old, Tabitha struggled throughout her childhood to fit in. Her parents, Greg and Sharon Acang, hoping to ease her emotional pain, bought her a wig. But the wig fell off when Tabitha participated in certain activities, isolating her further.
The low point came in 5th grade when a boy on her school bus asked, "Do you have a boyfriend?"
Not thinking anything of it, Tabitha replied, "No."
"Go figure," said the boy. "You're the ugliest girl in the world."
Crushed, Tabitha went home in tears. Concerned about the constant bullying and teasing Tabitha endured at school, her parents began educating her at home.
Still, Tabitha had begun a downward spiral. She cut her wrists and the inside of her thighs.
"I would check on her all the time because I was afraid of suicide," says Tabitha's mom, Sharon, now 54. "All we could really do was get down on our knees and pray."
Concerned, Brent A. Parker, 34, Tabitha's youth pastor from Living Oaks in Memphis, the church plant she attended, reached out. He urged Tabitha to attend Tennessee Youth Camp in Nashville that summer. Parker assured Tabitha that camp would be a safe place and it could change her life.
At Parker's recommendation, and with her parents' approval, Tabitha decided to give it a try. She attended camp at 11 years old, going with an expectant heart of what God would do in her life.
But things didn't go as planned.
One afternoon at camp, Tabitha slid down a makeshift waterslide, a massive tarp going down a hill into a pit of water. As she went down the slide, her wig flew off, exposing her alopecia. Mortified, she picked up her wig and ran into the girl's restroom to cry.
"Why did you choose me, God?" Tabitha asked. "I came expecting a greater level of intimacy with You, and I just got made fun of."
When her youth pastor found Tabitha, he assured her of God's love and tried to comfort her. Tabitha would have none of it. She shut down, vowing never to return to camp.
But when the next year rolled around, Parker, undaunted, asked Tabitha, then 12, to give camp another try.
"I know I promised you last year that camp was going to be a safe place, and it wasn't," Parker told Tabitha. "Please give it one more chance."
After consulting with her parents, Tabitha agreed.
Little did she realize her life was about to change forever.
As Tabitha pressed into God during service one night, she had an encounter that would change the trajectory of her life. During worship, she received God's call to become a worship leader. She had only begun playing guitar that year, yet she sensed God leading her into ministry.
A few months after attending camp for the second time, she joined the worship team at her church, growing in her gifting and confidence. Invitations to lead worship in other churches and at women's retreats poured in.
That didn't surprise Jeremy Austill, youth director of the Tennessee Ministry Network.
"When Tabitha leads worship, there is a sincere move of the Holy Spirit," Austill says. "It's effortless. No cajoling, no working up, just a sweetness and tenderness in the room."
The following year, Tabitha, still hampered at times by low self-worth, returned to camp again.
"I went ready to let it all go," said Tabitha. "I knew it didn't make sense to step into God's calling and hold onto these things."
During worship, she completely surrendered. Instantly, Tabitha felt set free from suicidal thoughts and any desire to harm herself. It felt so liberating she stopped wearing her wig.
Not long afterwards, however, the church plant Tabitha loved closed and the worship team disbanded. Her path to National Fine Arts appeared blocked.
In 2014, her first year at the festival, Tabitha placed first at district in worship leading solo (all ages) and first in female junior vocal at the age of 12 (ages 12-15). Fine arts had boosted her confidence and matured her gifting. She hated to give it up.
Parker, Tabitha's former youth pastor, suggested she attend First Assembly of God Milan, which would allow her to continue participating in Fine Arts.
In 2017, Tabitha received an Award of Merit for Worship Leading Solo at the National Fine Arts Festival. She also accepted an invitation to lead a short worship set at the Tennessee General Council. As Tabitha stepped to the microphone and began worshipping, the atmosphere in the room shifted. Pastors from across the state started weeping at the sweetness of God's presence.
"There is a tangible anointing on her life that makes her different," Austill says.
Parker points out another essential call on Tabitha's life.
"With her testimony and the insecurities she's been able to overcome, she is able to speak to so many people, especially young girls," he says.
Tabitha is embracing the journey and looking with expectancy to the future.