Passing the Torch Internally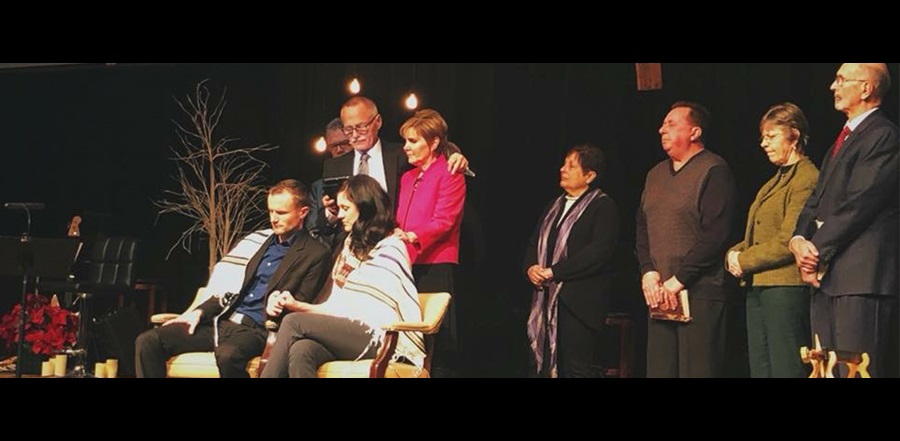 Don't miss any stories. Follow AG News!
When Rock of Grace Family Ministries launched a search for a new pastor, the northeastern Ohio congregation didn't have to look far. Jordan M. Biel had been sitting in the pew for 26 years.
On the last day of December 2017, the AG church commissioned its former youth pastor and worship leader for the office formerly occupied by his father, Mark L. Biel, 68.
"It's incredibly gratifying to see my son in my place," says Mark, who came to the Kinsman Township congregation in 1992. Five years ago, church leaders began a concerted effort to begin mentoring young leaders, including Jordan.
Rock of Grace isn't the only Ohio Ministry Network congregation following a family-transition model to a new pastor. In late January, David A. Yarbrough, 41, became pastor at New Life AG in Geneva, replacing his father-in-law, Harry J. Pishcura, 65.
Superintendent John R. Wootton, 51, says several other Ohio churches are preparing for similar moves. While not every situation lends itself to this kind of change, Wootton admires outgoing pastors who chose to initiate the transition before their retirement years.
"It's a much smarter move to step down before these senior pastors start to lose their passion," Wootton says. "They made the proactive decision to hand over the baton when they still have the resources of health and vitality to help the new pastors."
To allow his son to get established, for the first six weeks of 2018 Mark Biel took a sabbatical. He returned as a part-time associate with the title of pastor emeritus. His new role includes premarital counseling, teaching on Wednesday nights, and contact with families during the week. In one of his first duties back at the church in mid-February, Mark preached the funeral of a longtime church member.
Mark Biel says the transition to his son is part of an orderly, mentoring-style process that the church follows in general, whether that involves pastors, deacons, trustees, or other offices.
Ironically, when Mark first proposed the idea of Jordan succeeding him, the younger Biel had just departed as the church's youth pastor to launch Innovate Records. The worship label kept him busy writing and producing music and leading weekend concerts.
"I kept telling my dad, 'I know I'll pastor one day, but I think I'll be 45,'" says Jordan, who beat that prediction by 11 years. "I felt fulfilled in what I was doing, so I knew it would have to be God talking to me."
After Jordan told his father he sensed God's leading to accept the pastorate, the two arranged for a yearlong transition period, starting with informing the staff, then the board, and finally the congregation.
Another key step occurred before Jordan officially became pastor; in 2016 he asked Ben Rosser to become family pastor so the church didn't have to become acclimated to two new key leaders at the same time.
Despite his longtime membership at Rock of Grace, Jordan says the obvious elephant in the room is to avoid trying to replicate his father.
"Through my father and mentors, I've had many encourage me to not feel I have to preach like him," Jordan says. "They've told me, 'Just be yourself. Don't be like David and try to put on Saul's armor.'"
Judging by the reactions of congregants, the new pastor is succeeding. Every week Jordan says someone remarks how grateful he or she is for the way the changeover has gone.
Wootton says the primary advantage of generational transfers is continuity for the church's sake.
"When approached with humility and intentionality, it's a win-win for the church and its mission," Wootton says. "The relative youth of these outgoing pastors is critical. They'll be able to offer support others may have found difficult to provide due to declining health."