Passion for World Evangelization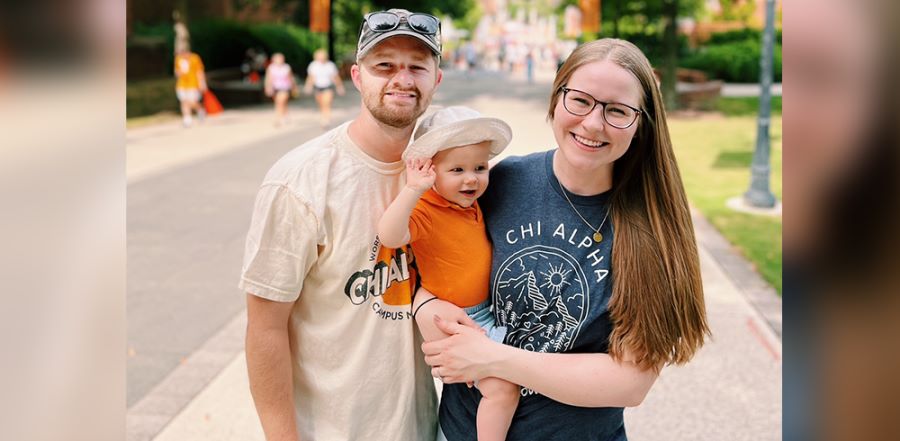 Don't miss any stories. Follow AG News!
Born and raised in Arkansas, Tyler and Brooke Martin never figured they would move away from the Natural State. Both grew up in Christian families, with Tyler's father
Kenny E. Martin
serving as a pastor and Brooke's dad Billy Warren as a longtime deacon.
Although Brooke left Arkansas briefly to attend Central Bible College and
Evangel University
in Springfield, Missouri, Tyler went to the University of the Ozarks in Clarksville, Arkansas. Upon marrying in 2015, they already had decided on careers as U.S. missionaries serving with Chi Alpha.
They both served
internships
at the
University of Central Arkansas
in Conway, which has one of the most robust Chi Alpha chapters in the U.S., and they spent another year as missionary associates at
Arkansas State University
.
The Martins asked the Lord for direction in leading them to be directors of a Chi Alpha chapter. God pointed them eastward to the
University of Tennessee
. The picturesque campus in Knoxville is bordered by the Great Smoky Mountains.
The change came at just the right time.
U.S. missionary
Chuck W. Lester pioneered the Chi Alpha group at Tennessee in 1997. Although two dozen other ministries existed on campus, none emphasized Holy Spirit-filled living. Lester in 2016 sought the Lord about handing off the Chi Alpha at Tennessee at the same time God talked to the Martins about branching out to a new location.
"Brooke and Tyler came to Tennessee with great faith, making a tremendous sacrifice to leave their families in Arkansas," Lester says.
The Martins went about implementing the DNA Lester had implanted.
"What we emphasize in Chi Alpha is small group discipleship: encouraging, equipping, and empowering students to share Jesus with other students," says the reflective Tyler, 30. "We invite students to follow us as we follow Jesus so they can make Him known here, there, and everywhere, regardless of the cost."
The Martins are accentuating the importance of global missions — going to the ends of the earth to make Jesus known. In all, 16 people connected with the University of Tennessee Chi Alpha have become full-time missionaries during the couple's six years at the school.
"We want to continue to have them leave us," says Brooke, 29. "We gather them for a season, but they serve God for a lifetime."
Tyler relates well to athletes at the school. He received a degree in physical education from the University of the Ozarks. Despite being only 5 feet, 5 inches tall, Tyler excelled on the school's basketball team as an excellent shooter. He also proved to be a spiritual leader, starting a Chi Alpha chapter on campus his junior year. By the time he graduated, 60 students — 10% of the enrollment — usually attended meetings. These days, he regularly is spotted playing ping pong or pool in the University of Tennessee student union.
Brooke, who earned a biblical studies degree at Evangel, says reading Robert E. Coleman's "The Master Plan of Evangelism" revolutionized her ministry thinking.
"Why had I been in church my whole life and never understood the vastness and severity of the Great Commission?" the articulate Brooke asks. "It's not just for when I get out of college, it's not just for when I get a job, it's not just for when I get older. We are God's soldiers who must urgently share the gospel. The Holy Spirit convinces students that they are the only way."
Ironically, in Tennessee and Arkansas — both considered part of the Bible Belt — Christianity is often culturally assumed rather than practically realized.
"Many students profess to be Christian when asked what religion they belong to, but in conversation it's evident they don't know what it is to follow Jesus," Tyler says.
"They're checking a box, but in reality their god is self," Brooke says.
However, at Chi Alpha, many such students have their eyes spiritually opened.
"When they are exposed to the gospel, they see the deficiency in themselves and realize they need a Savior," Tyler says.
Tyler notes that students in the group have a heart for world missions. Earlier this year, 200 students donated $25,500 in a single offering to split between two staff couples being sent out as
world missionaries
.
One of the couples, Kyle and Porscha Coffman, also originally from Arkansas before joining the staff at the University of Tennessee four years ago, will spend a year in Mozambique training before pioneering somewhere on the African continent. The generosity of the collegiate donors overwhelmed them.
"I thought it would be one-tenth of that amount at most," says Kyle, 27. "The students are obedient to the Word of God."
The Coffmans believe they have been well trained by the Martins, who have an 11-month son, Beniah.
"Brooke and Tyler modeled discipleship, showed they would stick with us, and gave us a launch pad into our next season of life," says Porscha, 27. "It is their desire and belief that if every person will disciple one student and multiply, all of the University of Tennessee will be reached with the gospel."
Lester, who now is Chi Alpha director for five universities in the Assemblies of God
Tennessee Ministry Network
, is an affirming supporter of the Martins.
"Brooke and Tyler are incredible disciplers and builders in the kingdom of God," says the enthusiastic Lester, 61. "God has brought quality students to them."