Pastor Coach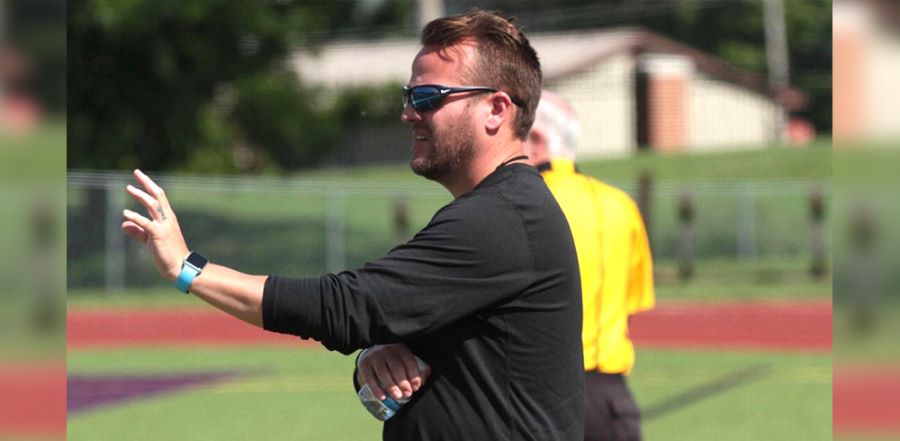 Don't miss any stories. Follow AG News!
When Pastor Jamey Bridges in 2011 planted Life Community Church in Columbia, Illinois, he made it his mission to be involved in the community. Bridges worked part time for a local roofing company, joined a group of local nonprofit leaders for monthly meetings with the mayor, and sought ways for those in the church to serve the local schools.
When the head coach of the boys' and girls' soccer programs at Columbia High School left in 2012, school representatives invited Bridges to assume the posts on the condition that he become an employee of the district. The coaching role also enabled Bridges to assume leadership of the high school's Fellowship of Christian Athletes chapter.
What began as Bridges' vision to partner with local schools in the city of 10,200, just south of St. Louis, led to his being handed the keys to the high school campus.
"Several families in the church know me as 'coach' before they know me as 'pastor,'" says Bridges, who spent 15 years in youth ministry before embarking on his first lead pastorate six years ago. As a Parent Affiliated Church of Cornerstone Assembly of God in Bethalto, Illinois, Bridges from the beginning prioritized his bivocational role and built it into the structure of other staff members' positions.
Coaching soccer and leading the church leave Bridges with little free time during the competitive season. However, Bridges is convinced that the benefits of getting to interact with non-Christians far outweigh the drawbacks.
While Bridges' approach to ministry bears fruit at Life Community Church as more and more families with students attend, other bivocational pastors work additional jobs out of financial necessity and experience anxiety as a result.
During 2015 and 2016, more than 6,800 credentialed Assemblies of God ministers participated in a survey on ministerial compensation and personal finance. Nearly 40 percent of those who completed the survey identified themselves as bivocational.
The results also indicated that more than half of AG ministers felt stress about their compensation and retirement savings, which has led many to leave ministry altogether.
Shaun Williamson, who serves as associate pastor at Life Community Church alongside Bridges, once sensed the strain of inadequate ministerial compensation. Williamson planted a church in the St. Louis area where, in addition to serving as lead pastor, he worked another full-time job.
"Our situation wasn't sustainable," Williamson says. "I was dependent on both salaries, my time with my wife and kids was limited — I felt like I was barely surviving."
Within three years, the church closed. Bridges, who had maintained contact with Williamson during their parallel journeys from youth ministry to church planting, spoke with him about joining the staff while maintaining a second job. The stipulation: the moonlighting could amount to no more than 15 hours a week.
At the invitation of a church member, Williamson began work as a substitute bus driver for the school district. A family of one of the bus garage crew staff soon began attending Life Community Church.
"We're committed to being in the community so that we can reach people, not so that we can have extra income," Williamson says.
In addition to the financial benefits his bivocational role affords him, Williamson says his presence in the community has added to his relatability from the pulpit and has helped him to better understand how to share his faith.
"What we do won't work for everyone," Bridges says. "But it makes it easier because we know it is the door God has opened up for us to reach the community."