Pentecostal Unity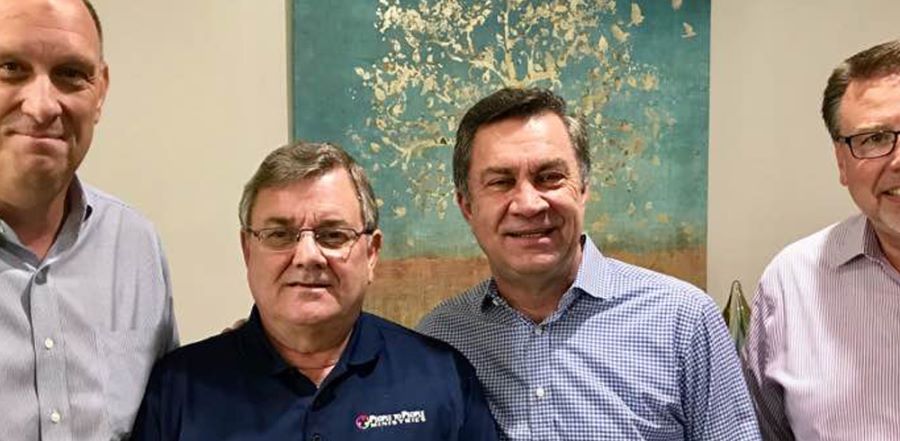 Don't miss any stories. Follow AG News!
Meeting regularly with leaders of three other Pentecostal denominations has raised the awareness of D. Rick Ross — superintendent of the
North Carolina District
of the Assemblies of God — of how God is at work in the Tar Heel State. It's also deepened his appreciation of the value of the body of Christ coming together.
"Our slice of the pie called church is more overlapping than many people understand," says Ross, who took office in 2016. "There are few differences. It's the desire of all of us to preach the gospel and to see people avoid going to hell. One day, if we link together, we could see some great results."
In terms of building unity among the four denominations, that has already happened. In May 2018, the
International Pentecostal Holiness Church
(IPHC) of Eastern North Carolina hosted a statewide, two-day prayer meeting at its headquarters in Falcon.
Representatives came from churches in the IPHC, AG, the
Pentecostal Free Will Baptist Church
(PFWB), and the
Eastern North Carolina Church of God
(Cleveland, Tennessee), thanks to encouragement from denominational leaders.
Last July, Ross was a guest speaker at the PFWB's annual camp meeting the night it honored four general superintendents as part of a 60th anniversary celebration. His wife, Susan, also addressed a pastor's wives dinner that evening. The following week, the PFWB's newest leader,
H. Randy Carter
, was a fraternal delegate to the annual AG General Council in Orlando, Florida.
This interdenominational cooperation started with Ross inviting his three counterparts in the region to lunch. In addition to Carter, the group includes Danny Nelson, bishop of the IPHC's North Carolina Conference, and Dennis Page, administrative bishop of the Eastern North Carolina COG.
After the one-on-one sessions, Ross asked if everyone would be open to meeting as a group to share ideas and for mutual encouragement. All agreed, setting off a series of meetings that rotate among each leader's office. They convene at least quarterly.
Carter credits Ross as the catalyst for bringing the group together.
"I'm a better person for the time I spend with these men of God," Carter says. "If you want to be a better leader, you surround yourself with good leaders. I glean ideas from them."
Ross says the forums have proven to be a great asset for sharing ideas, helping each other navigate tough situations, praying together, and bringing unity in the body of Christ. One leader asked if the AG could use an empty building for a church plant.
"As we go down the road, we'll discover an area where we have a struggling church and they will be combined into one Pentecostal church," Ross says. "It's in our heart to start looking for opportunities."
In addition, last year the four added a dinner fellowship that included their wives; they will meet again in December.
Ross says the meetings with the other leaders have altered his outlook and made him less judgmental toward other groups.
"I have become more thankful of who we are in the AG and what we have," Ross says. "But I'm more aware there are many groups who are preaching the same message and have the same desire to win people for Christ that we do."