Planting in the Heart of the City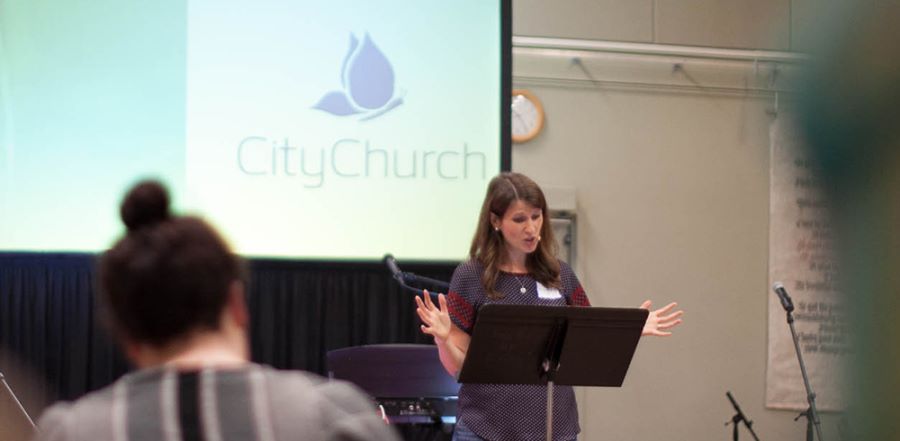 Don't miss any stories. Follow AG News!
In the shadow of one of the nation's top party schools and in a city where two-thirds of the population claim no religious affiliation, a new church plant has entered its second year seeking to increase its influence.
For the past 12 months, CityChurch has held services in downtown Iowa City, which has nearly 75,000 residents. The church sets up each Sunday in a senior citizen's center a block away from the campus of the University of Iowa, a Big 10 school with an enrollment of more than 33,000 students.
Lead pastor Heather W. Weber originally didn't see herself as a church planter. Weber, a published author who holds a master's degree in creative writing, felt the tug in 2014 while serving on the pastoral staff at LIFEChurch, a rapidly growing Assemblies of God congregation in the nearby community of Coralville.
"I had this experience when I was alone at home," she says. "I felt like the Holy Spirit came down in this tangible way and said, 'Iowa City: church plant.'"
With the support of LIFEChurch, Weber began the process. CityChurch launched on Sept. 11, 2016, with a core group of 15 — five being Weber, her husband, Mark, and their three children.
In its first year, the congregation doubled to 30. Due to its downtown location, Weber says a variety of people walk by — and through — the doors. In addition to college students, attendees have ranged from physicians to lodgers at a nearby homeless shelter.
Weber says many in Iowa City are turned off by their perceptions of previous encounters with Christianity. Most locals lack an active involvement in a community of any faith, she says.
"People have been hurt or offended because of the judgmentalism that they've experienced," she says. "I have a heart for those people."
The result has been a church that welcomes those of all walks of life. It's an atmosphere Siya Mali, who moved with Weber from LIFEchurch to CityChurch when it began, says combines relevance with a refreshingly down-to-earth approach.
"Any student who walks in and stays for coffee and bagels and chats with any of the members for five minutes will stay," he says.
While some may find it out of the ordinary to see a woman pastor planting a church, Weber says she's been well-received. She has been looking for ways to minister in the community that her male counterparts cannot, such as seeking to assist female sexual assault victims at the university.
"In this context, being female is a bonus," she says. "Iowa Citians appreciate diversity."
Weber's goal is for CityChurch to be outwardly focused, building bridges with local organizations and reaching out to those in need. The church has partnered with the nearby organization United Action for Youth to support teen parents and their families through food drives and donations.
That focus will continue to grow in year two, she says, building on the progress the church has experienced so far.
"Whether they are artists or bartenders or students or educators or some other kind of professional, I see God is working through the networks of people coming to CityChurch," Weber says. "Their friends are coming and there are conversations, and that's really encouraging."