Prestigious Leadership Forum Offered Gratis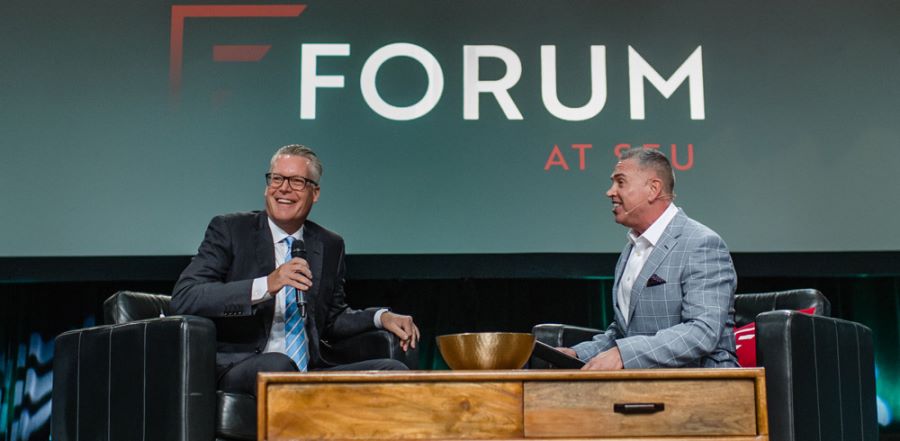 Don't miss any stories. Follow AG News!
Registration is still open for
Southeastern University's
annual leadership
Forum at SEU
to be held from 12 p.m. to 3 p.m. (EST) on March 11. For the first time, the event will be held virtually and made completely free for all participants.
Featured speakers will include
New York Times
best-selling author and Love Does founder Bob Goff, Facebook's head of Faith Partnerships Nona Jones and former NFL coach Tony Dungy. There will also be a discussion panel of local business professionals moderated by Tyler Reagin, founder and CEO of The Life-Giving Company.
Keeping the tradition of investing in today's brightest and most dedicated leaders, the event will be three hours full of experienced business professionals sharing the best tools and strategies to jumpstart innovation, especially during times of uncertainty.
"For the past 14 years, Southeastern has invested into our leaders in the community through the Forum, and we want to take that investment to the next level," said SEU President Kent Ingle. "We want to give participants the tools to create new curves of growth within their organizations."
Goff is a well-traveled speaker, attorney and
New York Times
best-selling author of
Love Does
and
Everybody Always.
He is currently the honorary consul to the Republic of Uganda, and the founder of Love Does, a nonprofit organization that provides education to children in conflict zones and fights for human rights in Uganda, India, Nepal, Iraq, and Somalia.
As a successful business executive, entrepreneur, media personality, and preacher, Jones serves as the head of Faith Partnerships at Facebook where she leads the company's work with faith-based organizations around the world. She is a
New York Times
best-selling author of two books,
Success from the Inside Out
and
From Social Media to Social Ministry
. She also hosts
The Nona Jones Show
, a Facebook Live talk show that reaches almost 40 million people each week. Jones leads Open Door Ministries in Gainesville, Florida, with her husband.
Dungy is best known for his successful career within the NFL, as the first head coach to lead his teams to the playoffs for 10 consecutive years, as well as being the first African American head coach to lead his team to a Super Bowl victory. Dungy has coached for the Indianapolis Colts, the Tampa Bay Buccaneers, the Pittsburgh Steelers, and many more teams. He is also a
New York Times
best-selling author who's written
Quiet Strength, Uncommon, The Mentor Leader,
and
Uncommon Marriage
. He has worked with numerous charitable organizations and currently serves as a studio analyst for NBC's
Football Night in America
.
The local panelists include Cory Petcoff, president and CEO of Baron Realty; Jessica Zivkovich and Tiffany Thenor, founders and co-owners of WonderHere; and Chris Owen, executive vice president of Southeastern University.
Register for The Forum at SEU by
clicking here
.