Puerto Rico District Suffers Dramatic Losses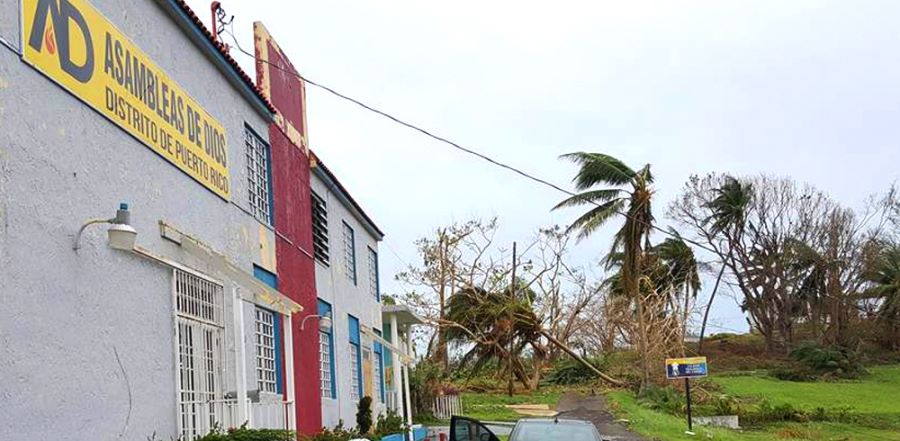 Don't miss any stories. Follow AG News!
No water, no lights, no power, and devastation everywhere — that's the reality for much of Puerto Rico following Hurricane Maria, a deadly category 4 hurricane that struck the island Wednesday and has been called the most powerful to strike Puerto Rico in more than 80 years.
The AG Puerto Rico district has suffered significant confirmed material losses at the district offices and highly likely at local churches, but as communications are down for the majority of the island, the extent of those damages have not yet been reported. Iván De la Torre, the district superintendent, posted to the district Facebook page Wednesday evening — noting in a text message sent to the AG national office that he had miraculously found a location with Internet access:
"Today I was able to get to our district offices and the Caribbean Theological College of the Assemblies of God and found a large part of the trees on the floor. Broken doors and windows. In different areas, gates were destroyed. The water flooded much of it and ruined much of the equipment. Thank God we are well, which is the most important thing. In the name of our Lord Jesus Christ, we will rise."
Manuel Cordero, director of U.S. Missions Chaplaincy Ministries, says that 461 Response, a U.S. Missions Chaplaincy-affiliated ministry, has joined with FEMA and the Red Cross to provide assistance. "The district has a well-organized 461 Response ministry team," Cordero says. "My understanding is that one of their responsibilities is to escort rescue workers to the district camp, which is being used as a staging area."
Convoy of Hope is also prepped to respond. A team with supplies is ready to fly in as soon as the airport is re-opened.
Puerto Rico was clipped by Hurricane Irma about two weeks ago, but left nearly one-third of the nation without power. Hurricane Maria centered the island on Wednesday causing massive damage and outages. Officials believe that many residents will be without power for months. The damage from Maria is expected to be compounded by heavy rains as forecasts predict a total of two to three feet of rain through today.
For those who would like to financially assist in the ongoing hurricane relief and recovery efforts, the Assemblies of God national office has established a giving link: click here to give to AG Disaster Relief.