Put Down That Phone!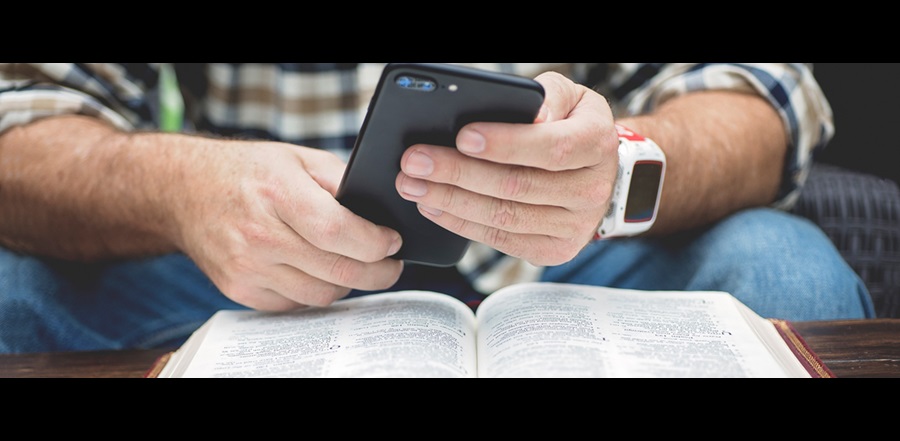 Don't miss any stories. Follow AG News!
The digital age is supposed to make life easier, but for many church leaders, modern technology seems to be adding to their workload and stress.
A new National Association of Evangelicals (NAE) poll of its 100-member Board of Directors found that 57 percent take a Sabbath rest from electronic communication devices. Many of the remaining 43 percent of denominational leaders said they wished they could take a break, but they don't.
Undisciplined overdependence on a smartphone or tablet isn't physically or spiritually healthy, according to Assemblies of God General Superintendent Doug Clay.

"I love technology, and I even love how technology can enhance spiritual formation and Scripture searching," Clay says. "But the 'platform' in which technology is brought to us can be both spiritually and recreationally damaging."

That's especially true now that instantaneous messages are as close as a wrist, such as the wearable Apple Watch.
"I would hate for my digital devices to distract me from maximizing being in the presence of God," says Clay, 55. "Furthermore I would hate for my electronic devices to make me miss some divine appointments God may send my way simply because I was not focused on the other person."

Clay says he knows from personal experience when a text or email comes in as he uses an electronic gadget for his devotional time, he's tempted to switch over to see who it's from and what the content is. Clay says he is able to take a break from electronic devices, albeit not as frequently as he should. He touts the advantages of an occasional "digital detox" rather than being accessible 24 hours a day, seven days a week.
"There is a calming rest when not distracted from the vibration of an incoming text or the ding of an incoming message," Clay says. "I have discovered the joy of recalibrating and taking a break from constantly being online and accessible."
The reasons people are all but tethered to their phones and tablets vary, but fear of missing out is clearly one of the primary culprits. Yet in some church settings, some attendees are so engrossed in electronic communication that they don't hear spiritual insights being preached.
Samuel Rodriguez, president of the National Hispanic Christian Leadership Conference, the nation's largest Hispanic evangelical organization, says Christians need to be careful not to depend too much on external and artificial elements, especially pertaining to social media.
Rodriguez, who also is an ordained Assemblies of God pastor of New Season Christian Worship Center in Sacramento, California, and a member of the NAE board, exhorts Christians to engage in a daily one-hour "fast," preferably at dinner time, when electronic devices are shut off.
"In addition, we should practice within the confines of a weekly Sabbath, a day of absolute rest, during which electronic devices are prohibited," says Rodriguez, 48. He says his wife, Eva, also an ordained AG pastor, keeps him accountable on daily and Sabbath restrictions.
NAE President Leith Anderson, 73, says many evangelical leaders are serious about abstaining temporarily from electronic communications devices, yet others don't think they can go without them at any waking hour.
"In the 1900s, we talked about the addiction to work and called for Christians to trust God and avoid becoming workaholics," Anderson says. "In the 2000s we seldom hear about workaholics but know all about 'digitaholics.' It's time to trust God enough to look up to Him more than down to a phone."