Reaching Hispanic Residents in Utah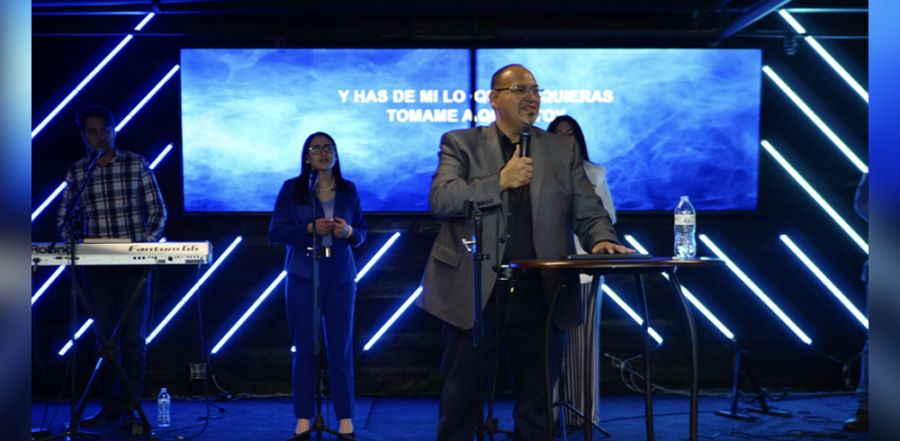 Don't miss any stories. Follow AG News!
Oscar Guerrero sat in a Corpus Christi, Texas, hospital bed at 18, his eyes swollen shut because of a traumatic sinus infection. At the request of Guerrero's grandmother, Assemblies of God pastor Salvador de la Rosa, then pastor of Templo Jerusalem in Robstown, Texas, visited Guerrero and prayed over him.
Healed immediately, Guerrero surrendered his life to Jesus and he began reading the Gospel of Matthew. The next day, when he came across the Great Commission in
Matthew 28:18-20
, Guerrero sensed God calling him to the mission field.
De la Rosa, who has three sons in full-time ministry — including
Eddie de la Rosa
, superintendent of the AG's
Texas Gulf Hispanic District
— suggested Guerrero enroll in the
AG's Instituto Biblico Magdiel
, located in Matamoros, Tamaulipas, Mexico. Within a couple of months, Guerrero moved south across the border.
"I didn't know any Spanish or anything about the Bible," Guerrero recalls. "But I did know that God healed me, God saved me, and God called me."
For three years at the school, Guerrero learned the Scriptures and the new language simultaneously. He also met his Mexican-born future wife, Lucila. They graduated and wed in 1995.
Right out of Bible school, the couple began working with AG
U.S. missionary
Janie Wead-Mobley
, facilitating church plants in Arkansas.
Later, while pastoring First Assembly of God in his hometown of Robstown, Texas, Guerrero sensed a calling to the mission field, which led him to Provo, Utah, the densest concentration of members of the Church of Jesus Christ of Latter-day Saints in the U.S. Nine years ago, he became pastor of a newly planted struggling Hispanic church with 40 congregants.
Iglesia Emanuel Asambleas de Dios
now attracts 250 attendees on a weekly basis.
"I didn't know how much of a mission field it was until after I arrived," says Guerrero, 48. Mormonism is a religion founded in 1830 by Joseph Smith that follows extrabiblical texts. Smith claimed that God and Jesus appeared to him and implored him to start a new faith because all existing ones were an abomination.
According to the
Association of Religion Data Archives
, in Utah County — where Provo is located — only 43 of the 1,340 congregations are not Mormon. Likewise, only 11,814 of the 457,999 churchgoers don't attend an LDS church. The Public Religion Research Institute reports that Utah County has the heaviest concentration of Mormons in the nation, with 72% of residents
identifying with the religion
. Nationwide, Latter-day Saints comprise 1% of the population.
Provo is steeped in Mormon tradition and teachings. The city is the site of Brigham Young University, where 33,600 Mormon students are enrolled. In addition, Provo is the location of the LDS Church Missionary Training Center, where around 475 of the religion's faithful move each week for short-term training before departing for mission assignments around the globe.
Many immigrants, often with LDS connections, are drawn to Provo. Most Iglesia Emanuel adherents are first-generation, Spanish-speaking immigrants. The housing market in Provo, which has a population of 116,582, is booming, drawing immigrants to work in the construction industry. According to the
U.S. Census Bureau
, 11.2% of Provo's residents are foreign-born.
Guerrero isn't deterred by the reality that nearly the entire local population identifies as Mormon, or that Provo is one of the
whitest cities
in the country. He says the church is growing because of a focus on personal evangelism and discipleship. Iglesia Emanuel is one-third Mexican, but also includes large contingents of Dominicans, Colombians, Argentines, and Venezuelans. Most adherents have been Mormon or Catholic in the past.
"We just want to share the gospel in an area that is heavily religious, but where people have not heard the good news," says Guerrero, who has two daughters, Genesis West, 25, and Elena, 13. "Provo is unique in that it is the most religious city in America, but also the least evangelized."
Indeed, a Gallup analytics report labeled Provo as America's
most religious city
. Other research indicates Provo is the
least religiously diverse city
and the
least evangelical city
in the country.
The primary challenge for Guerrero now is ministering in too small a church building. The sanctuary seats 180, so there are two Spanish-language services.
"Our main thrust is equipping leaders to stay on missions to reach the lost," Guerrero says. "There are countless numbers of people in the area who need to be saved."
Andy W. Smith, secretary-treasurer for the AG's Denver-based
Central District
, one of the AG's 13 Hispanic districts in the U.S., commends Guerrero for persevering in an environment as a religious minority.
"The church leaders aren't intimidated by what seems to be implausible," says Smith, 41. "They are not afraid of taking on things that are difficult in a county that is almost exclusively Mormon."
Smith knows the challenges of being a Pentecostal pastor in the Beehive State. He earlier spent a decade pastoring
Mount Calvary Family Worship Center
in metro Salt Lake City, which is headquarters for the LDS Church.
"Oscar and the leadership team are mobilizing people to go out and impact neighbors and co-workers, to be light in darkness," Smith says. "There is a real intention in the church to win the lost and expand the Kingdom, despite the hurdles they face."