Regional Benefactors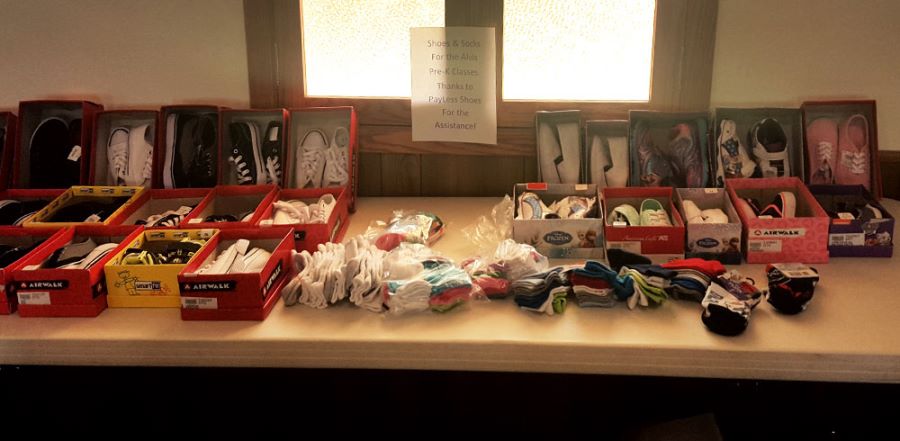 Don't miss any stories. Follow AG News!
Clayton Assembly of God, nicknamed the Church for the Rest of Us, is a small northeastern New Mexico congregation that has connected with Rural Compassion to show kindheartedness in a big way.

On a regular basis, Pastor Randall Floyd and many of the 40 regulars at the church support the faculty, staff, and students of six surrounding school districts (Clayton, Des Moines, Roy, and Mosquero, New Mexico; Felt, Oklahoma; and Texline, Texas). At least every month and a half, Floyd and various members visit one of the half-dozen school districts in the area, bringing snacks and various resources for teachers to use in their classrooms.

Congregants gave 350 children name-brand shoes during giveaways at two of the districts. They also distributed over 400 backpacks at all the locations. Last Christmas, each teacher in each district received a gift bag from the church.
A "kite string ministry" began at Clayton AG after Kim and Laurel Harvey, appointed U.S. missionaries with Missionary Church Planters & Developers, invited Floyd to attend a Rural Compassion event in 2015. There, Floyd heard the story of how the first bridge across Niagara Gorge began with a competition to see who could fly a kite across the river without breaking the kite string. Floyd caught the vision for flying kite strings into gap areas in order to build bridges to the community.
"God has blessed us with resources and we have to steward them well," says Floyd, 54.
The kite string ministry has resulted in an openness to the church in the community of 2,600. One local school has begun to use the church building for events such as the high school band awards banquet and the National Honors Society induction.

"Every time we run across a teacher or administrator, they thank us," says Charlie Winters, a member of Clayton AG. "Teachers and students are amazed that anyone is thinking of them."
During a shoe giveaway at Texline, Floyd and the congregation expected to purchase footwear out of pocket for kindergartners through 12th graders. However, the school counselor recruited the dozen seniors in the school to help.
"They each took the name of one student and bought each one a brand-new pair of shoes and a pair of socks," Floyd says. "In smaller areas like this, a lot of people are willing to take, but they were willing to help us to give."