Relief Supplies Arrive to Help Combat Ebola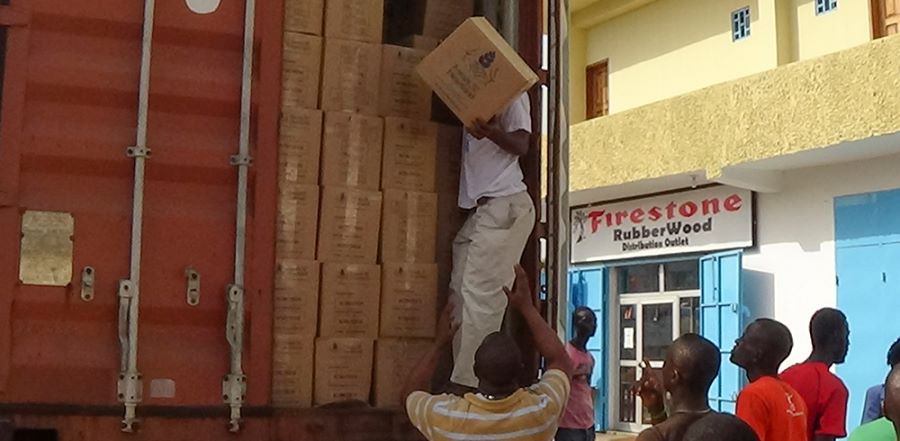 Don't miss any stories. Follow AG News!
The first four shipping containers in a major relief project of
Assemblies of God World Missions
and
Convoy of Hope
have arrived in Sierra Leone and Liberia, two of three West African nations hardest hit by the continuing Ebola virus outbreak. Convoy of Hope has procured emergency meals and medical supplies, and AGWM is funding the shipping and distribution of these critically needed items.
"The Ebola crisis in West Africa is exceptionally tragic," says Greg Mundis, AG World Missions executive director. "But even with the seemingly insurmountable challenges, AG churches in Liberia and Sierra Leone are valiantly reaching out to the suffering with desperately needed resources acquired with this COH/AGWM partnership and through the generosity of AG churches in America."
The Convoy of Hope/AGWM partnership creates a financially efficient and effective relief effort. AG churches in the region ensure relief supplies are distributed to those who need it most, and people are connected with the gospel and a community of believers.
"Thanks to our longstanding partnership, Convoy of Hope and AG World Missions are able to resource African churches to minister to the suffering of their communities," says Hal Donaldson, president and co-founder of Convoy of Hope. "We are grateful to corporate donors who have contributed supplies and to AG World Missions for covering the shipping costs of 30 containers to West Africa. The number of lives that can be given care is incalculable."
Missionary Gaylord Brown says the children of Liberia are some of the hardest hit among Ebola victims. Besides those who die from the disease, many others are orphaned by the pandemic. Without parents to care for them, they face separation, hunger and stigma.
Brown describes one young man at the Good Samaritan Orphanage in the capital city, Monrovia, who received food from a distribution team after two containers reached Liberia. The youth was so traumatized, he could no longer remember his own name.
"He had not eaten anything for two days," Brown says. "He told the team leader he had prayed for two days, begging God to send him food. That day his prayer was answered."
In neighboring Sierra Leone, relief supplies from the other two containers are being stored at Evangel Bible College in the capital city, Freetown, as the shipping containers clear customs. Like all other schools in the region, EBC has been closed due to the Ebola outbreak.
AG leaders in Sierra Leone have expressed their gratitude for the supplies, as well as for emergency funds sent to assist with relief in remote areas in eastern Sierra Leone most impacted by the outbreak. The Ebola epidemic first reached Sierra Leone in the eastern village of Koindu, where an AG Bible school is located.
Supplies from the first two containers are scheduled for distribution in the towns of Bo, Kenema and Koindu along a national road traversing southern Sierra Leone, as well as Makeni and Kono along a central west/east corridor.
To give an offering online click on "Ebola Crisis" at
giving.ag.org
or call 877.840.4800 (9 a.m.-4 p.m. CST) or 866.470.9514 (24/7). You can also mail your gift to AG World Missions / 1445 N. Boonville Ave. / Springfield, MO 65802. Please designate "Ebola Crisis — AGWM Crisis Response Account #891167 (46)" in the memo line of your check. Every dollar contributed covers the shipping and distribution costs of 30 donated meals to people in West Africa's hardest hit communities.