Rescued from the Brink of Suicide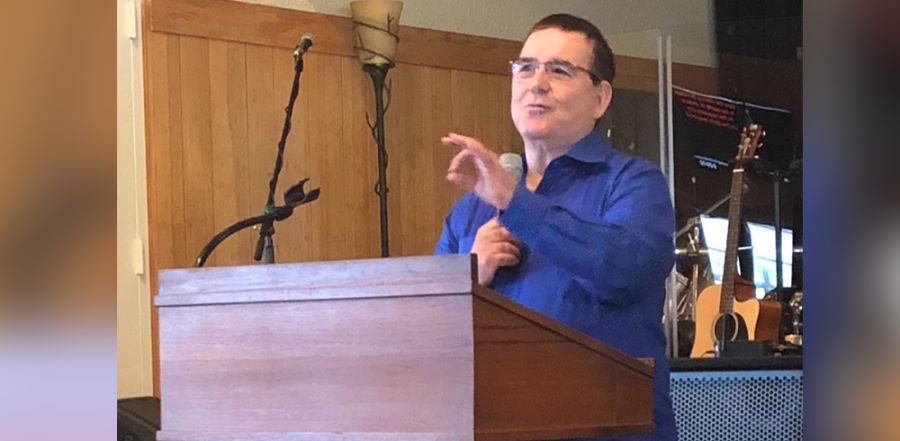 Don't miss any stories. Follow AG News!
Richard D. Mangone, handcuffed and guarded by U.S. marshals, entered the federal correction institution in Ray Brook, New York, on Nov. 9, 1995, to begin a 24-year sentence without parole for bank fraud and money laundering.
"I was 51 then and thought I would end up dying in prison," recalls Mangone.
Mangone connected with Myron Walen, endorsed chaplain with U.S. Missions, who served in the facility until 1999. Mangone told the chaplain how he had accepted Jesus as Savior — before surrendering to the FBI after hiding as a fugitive for 18 months.
"Richard realized that he had done wrong and had a repentant heart," recalls Walen, now retired from the U.S. Bureau of Prisons.
Runaway greed and the love of money had ruled Mangone. He lived in a 9,000 square-foot mansion and paraded a small fleet of luxury vehicles worth over $1 million.
"I owned properties valued at $20 million, but with all that money I was still empty inside," he admits. "I was always looking for the next score or hit."
As president of the Digital Employees Federal Credit Union in Marlborough, Massachusetts, and co-founder of the now-defunct Barnstable Federal Credit Union in Hyannis, Mangone and several cohorts obtained fraudulent loans to bankroll massive investments in Cape Cod real estate. They all did prison time, but Mangone received the longest sentence ever for a white-collar crime in Massachusetts. The court also ordered him to pay $41.8 million in restitution to the National Credit Union Administration.
Instead of appearing in court for sentencing on Feb. 15, 1994, Mangone fled. He cut the electronic monitoring bracelet from his ankle before boarding a plane with $130,000 in cash taped around his body. In the process, he forfeited his bail bond of $50,000.
Mangone's stretch on the run earned him a spot on the U.S. marshals' most-wanted fugitives list. Ending up in Tennessee, Mangone lived high until his money stream dried up from crashing stock market investments. Alone in a dreary motel room, he decided to kill himself the next morning by guzzling a bottle of wine and piping carbon monoxide exhaust gas into his sealed SUV.
"I felt trapped like a roach in a corner," he remembers.
While surfing TV programs during the night before his planned suicide, he spotted an evangelist preaching about Jesus on the Cross. Mangone placed his hands on the TV set and repeated a prayer along with the preacher. The next day he found a Christian bookstore and bought a Bible and teaching tapes.
For several months, he devoured Scriptures while living in a trailer in Tennessee's hill country, but could not rouse the willpower to surrender to authorities. He even visited Burristown Assembly of God in Gainesboro, yet never spoke to the pastor. Finally, on July 4, 1995, he confessed his fugitive status to a priest in Bowling Green, Kentucky, who called police.
Mangone's lengthy prison sentence saved his life and strengthened his faith.
"My first day in the chapel felt like a sanctuary and it was a blessing to be mentored by Chaplain Walen," Mangone says. The chaplain introduced him to Global University and Mangone completed 18 of the distance-education school's classes, along with numerous other studies.
"Those courses were instrumental in giving me a foundation to my faith and encouraging me to share it with other inmates," Mangone says.
Mangone submerged himself studying Scripture, attended every chapel service, and memorized 2,000 Bible verses. He mentored inmates and won the respect of prison officials as a role model.
His nephew, Lawrence Mangone Jr., pastor of Radiant Christian Assembly of God, in Warren, Rhode Island, encouraged him with congregational prayer, visits, and mailed Christian literature and teaching CDs.
"I am so happy to see my uncle growing in the Lord," the pastor says. "His faith is strong."
Mangone earned early release in 2013. His daughter Jessica and sister Donna drove him to a halfway house in Boston, where he lived for one year. His first wife, Mary, died during his years behind bars. He serves the Lord with his new wife, Rosana, whom he married in 2015.
At 73, Mangone volunteers with the U.S. Probation and Pretrial Services System, counseling men in federal prisons and jails.
"Jesus has changed my life and given me new purpose," says Mangone, who is making a small dent in the court-mandated restitution by paying a portion from each Social Security check. "My future is in Christ to minister to many people in the prison environment, especially white-collar criminals who are so susceptible to attempting suicide."