Resiliency from Woundedness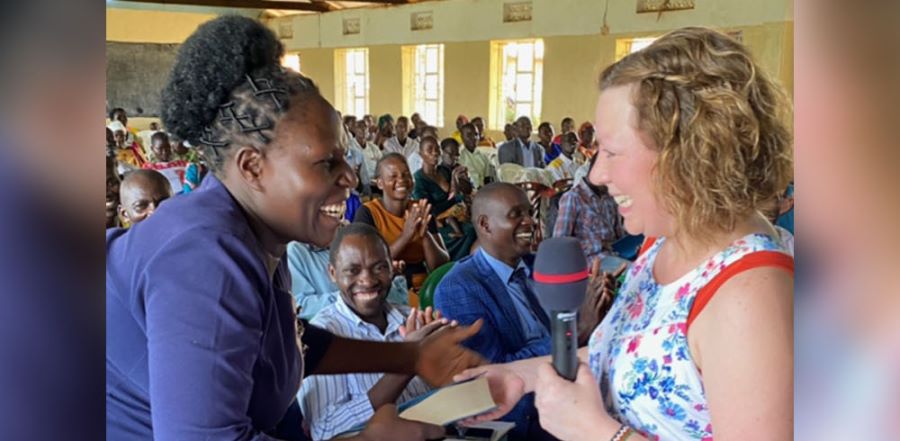 Don't miss any stories. Follow AG News!
Joyful ordained Assemblies of God evangelist Deedra A. Shilliday is an encourager and an equipper, a remarkable feat given her traumatic childhood.

Shilliday, 51, grew up in the projects in Akron and Canton, Ohio, as the child of an unmarried mom. Even before puberty, she endured sequences of sexual abuse from the revolving door of boyfriends her mother allowed into the home. By the age of 8, she already had been plied steadily with alcohol and marijuana.

However, also at the age of 8, she found salvation on a Baptist church bus. Initially, a quest for spiritual matters didn't top her list of needs. She boarded the bus because of hunger pangs; she knew she would receive a free meal at the church. Even though she never divulged her home circumstances to anyone at church, her consistent attendance led to the foundation of a solid faith.

At 17, while attending a nondenominational church, Deedra was baptized in the Holy Spirit. That gave her a better understanding of the Heavenly Father who cared for her. She anticipated escaping her home environment, and realized higher education could be the key to a better life. The Lord provided miraculously for her to finish college with no financial obligations. Following graduation, she became a special education teacher.

In 1993, she married her husband, Steven. Trained as an Air Force navigator in San Antonio, Steven spent much of his career at Offutt Air Force Base in Bellevue, Nebraska. He often left for a month at a time, eventually visiting 50 countries in conjunction with his Air Force duties.

In retrospect, Shilliday views her mother, a Korean War orphan who immigrated to the U.S., with sadness. Her mother ended up committing suicide at 65.
Despite — or perhaps because of — her mother's experience, Shilliday decided to become an adoptive parent herself. She and Steven adopted three children, starting with newborn Madison in 1996. After a two-year legal imbroglio, the couple finally adopted brothers Steven and Parker, then 6 and 4, from a Haiti orphanage. The Shillidays actually rescued the boys just before the nation's 2004 coup.
"Orphans need a sense of belonging," she says.
At the age of 35, Deedra gave birth to her only biological child, Aiden, now 16.
Deedra has filled a plethora of ministry needs over the years. That included working as administrative assistant for pastor Gary L. Hoyt at Bellevue Christian Center; serving as discipleship pastor at a church plant in Omaha; and teaching as assistant professor at Trinity Bible College & Graduate School in Ellensdale, North Dakota.

Shilliday did all this while pursuing further academic opportunities and raising four children — often alone for lengthy stretches as Steven traveled far and wide in the military. In the process, she earned a pair of master's degrees in counseling and practical theology.

Steven separated from active duty and shifted to the Air National Guard as the Shillidays moved back to Ohio in 2004. But Steven, a lieutenant colonel, has been activated as a reservist multiple times, including last year to Afghanistan.
In 2019, Shilliday became the first female graduate of Southeastern University's Doctor of Ministry degree. Because of Steven's sufficient salary, Deedra has been able to pursue various ministry options and start her own nonprofit. She is an area missions director with the AG's Ohio Ministry Network (OMN).
OVERSEAS MINISTRY
While a stay-at-home mother, Deedra began to sense a calling as an evangelist. She has trained and/or led teams to Tanzania, Uganda, Jamaica, Mexico, Nicaragua, and Kenya (three times).

Josh S. Willaford, OMN executive secretary and leader development director, went on the trip to Tanzania with over 40 Ohio ministry leaders, including Shilliday. Willaford says he has witnessed Shilliday flourish while finding her place in helping to equip ministry leaders.
"She helps others unlock the tools they need to effectively share the gospel," says Willaford, 38. "She has a passion to reach the lost, and she is multiplying her influence."
"I especially want to encourage laypeople to discover their ministry giftings and empower them to fulfill their spiritual purpose," says Shilliday, who also teaches practical ministry classes at Southeastern's Ohio regional campus.
Willaford notes that as executive director of Love INC of Greater Mansfield, Shilliday heartily led the compassion nonprofit in an economically challenged area of Ohio.

"Deedra has the ability and God-give gift to quickly connect with people," Willaford says. "She intuitively senses the needs of others in a way that is persistent, but not obnoxious."

These days, through Uniquely You, Shilliday helps adherents understand how they fit into the Kingdom. The faith-based organization helps Christians discover their giftedness through personality type assessment from a biblical perspective.

"A large percentage of people don't know what their spiritual gifts are, let alone their personality type," Shilliday says.

Another of Shilliday's ministry goals is to assist Maasai girls in Kenya who have faced abuse from genital mutilation. She has started a fair trade business, On the Map Boutique, that sells products ranging from globes to dresses that supports the girls.

Shilliday believes it's especially important for females to know they can be evangelists, or pastors, or professors. At first glance, some people mistakenly expect Shilliday, who stands 5 feet tall, to be demure rather than fiery.
She is one of 131 female evangelists among the AG's 617 credentialed evangelists.