Responding to Evacuees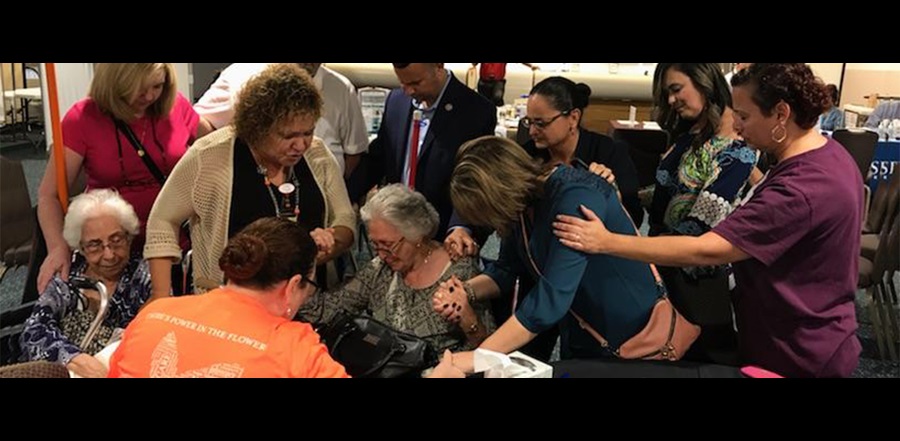 Don't miss any stories. Follow AG News!
Even though Hurricane Maria devastated Puerto Rico more than two months ago, many residents of the U.S. territory still without restored electricity and running water have fled the island for the mainland.
In the aftermath of the Sept. 20 category 4 hurricane, an estimated 100,000 Puerto Ricans have moved to Florida, and state officials believe that number could reach 300,000 by the end of the year.
Calvario City Church in Orlando is helping to fill the astronomical need for temporary housing, food, and clothing assistance, language translation, and employment aid.
Associate Senior Pastors Gabriel and Jeanette Salguero are leading the church of 3,500 in heroic efforts to provide relief and support to Puerto Rican evacuees. Calvario's relief efforts begin the moment dislocated Puerto Ricans step off the plane.
After arriving at the airport, evacuees are greeted by youth volunteers, organized by Edgar Rivera, youth director of the Assemblies of God Florida Multicultural District and a member of Calvario City Church. The youth assist evacuees in reaching the Office of Emergency Management at the airport. Within the Office of Emergency Management, Calvario has set up a comprehensive welcome center, consisting of pastors, case managers, and other resource providers who greet Puerto Ricans with care packages and Federal Emergency Management Agency assistance. Evacuees soon are helped in gaining access to appropriate vaccinations and guidance for developing résumés, searching for jobs, and enrolling kids in school.
"We are taking a comprehensive and holistic approach," says Jeanette Salguero. "We have to meet needs long term." The Florida Multicultural District has become a supporter of the welcome center and provides weekly donations of diapers, bottled water, and medicine.
Calvario City has made such an impact at the airport that the church is now listed within the complex as a service provider.
Within its own walls, Calvario initiated and hosted a meeting of faith-based leaders, national FEMA representatives, and administrators of local schools and universities to prepare the influx of families. Other efforts within the church include grocery assistance to 150 families on a weekly basis and temporary housing assistance.
"Church members who work for hotels have made temporary housing available to evacuees, and the church itself has also made housing available as it is able," Salguero says. She also notes that Calvario City Church has started offering English as a second language classes to help bridge language barriers.
"We have three classes in progress right now and they are packed full," she says. "We have been asked to open more."
The operations taken on by the church require thousands of hours per week from the 215 volunteers who are dedicated to helping these vulnerable families.
Not only is Calvario City Church meeting the needs of evacuees to the U.S., the church has partnered with the National Latino Evangelical Coalition and congregations across the country to adopt 10 Puerto Rico cities that will receive donations on a regular basis.
Gabriel Salguero is president of the National Latino Evangelical Coalition, a consortium of over 3,000 churches. Under the coalition's Nehemiah Project, efforts are underway to "provide relief, receive those who have been dislocated, and rebuild the island of Puerto Rico," according to Salguero. Through this project, churches are sending supplies, medical teams, and carpenters to the island to provide relief and to help rebuild what has been destroyed.
Subsequently, the National Latino Evangelical Coalition became the first Hispanic evangelical network recognized by FEMA and is listed as a faith partner in Puerto Rico.
"The purpose of tapping into this resource is to commit ourselves to the long-term efforts that will be necessary for a total rebuild," Gabriel Salguero says. "There is still going to be a lot to do and we, the Church, will be there."