Restoring Historic Glad Tidings Tabernacle as Church-Planting Beacon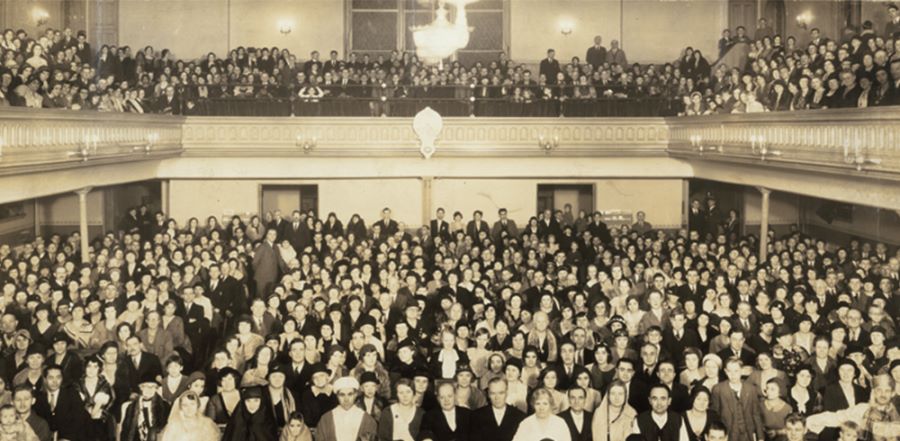 Don't miss any stories. Follow AG News!
The Assemblies of God New York District is partnering with Trinity Church in Miami to revitalize the former Glad Tidings Tabernacle in Harlem. Currently under New York District supervision, the once flagship church had fallen on serious difficulties relating to pastoral, financial, and congressional losses.
Rich Wilkerson, senior pastor of Trinity Church and his co-pastor wife, Robyn, are leading a team from the Miami church in prelaunch activities during the next nine months. Their son Taylor, a student at Princeton Theological Seminary, and his wife, Kristen, are moving to Harlem along with other Trinity members to put spiritual boots on the ground.
The church building, purchased about five years ago, will seat up to 300 worshippers when finally renovated. Bearing a rough past, it was once a nightclub called Zip Code owned by retired heavyweight boxing world champion Mike Tyson. Bullet holes still scar its air conditioning equipment.
"While establishing Glad Tidings as a ongoing ministry, we will also zero in on planting new AG churches in Manhattan," Rich Wilkerson says. He says he has a heart for the city, where his cousins David and Don Wilkerson co-founded Brooklyn Teen Challenge and Times Square Church.
Trinity's initial strategy covers nurturing a core group of 10 to 20 local Christians who meet weekly at Glad Tidings. Rich Wilkerson will broadcast Sunday sermons to the group online from Miami and visit New York and the church in Harlem once monthly. His team also will begin providing free social services in the neighborhood, such as food distribution, along with teeth cleaning and mammograms by volunteer dental and medical professionals.
The AG New York District welcomes Wilkerson's vision for planting churches and restoring Glad Tidings.
"We could handle 100 to 200 new AG churches in New York City and not scratch the surface," says District Superintendent Duane P. Durst. Durst and other district leaders anticipate the church emerging from district supervision within 18 to 24 months. 
Glad Tidings' rich history tracks the 1906 Azusa Street Pentecostal revival in Los Angeles. During that time, 26-year-old Marie Burgess received the baptism in the Holy Spirit in her hometown, Zion, Illinois. She began preaching about her experience in the Midwest before accepting an invitation to conduct meetings in Manhattan. God led her to open a storefront mission. She married Robert Brown, a lay minister and civil engineer, who shared her vision for souls. The congregation multiplied and needed more space. Eventually the mission became Glad Tidings Tabernacle and purchased a former Baptist church in midtown Manhattan in 1921. The building was sold in 2007 to make room for a hotel.
The church prospered as a Pentecostal lighthouse into the late 1960s and beyond, encouraging the planting of AG churches and ministries such as Teen Challenge. The 3,600-member Korean Full Gospel New York Church pastored by AG Executive Presbyter Nam Soo Kim first met in Glad Tidings. For years, Glad Tidings was the AG's top world missions-giving church and known for Marie Brown's fiery sermons at packed Sunday afternoon revival services.
Sadly, Glad Tidings allowed a racially charged incident in 1915 to sully its stellar record. Two young black women who accepted Christ as Savior during revival meetings were denied membership because of their color. But God intervened through a compassionate white woman who discipled the teenage converts in Harlem. Weekly home meetings followed, which led to founding Bethel Gospel Assembly, a 1,200-member United Pentecostal Church of the Assemblies of God (cooperatively affiliated with New York District) that now occupies a square city block. The two churches reconciled in a special service in 2003. Showing true Christian forgiveness, Bethel currently helps with maintenance and security at the Glad Tidings Harlem building. 
Rich Wilkerson digs a deep well of compassion for urban ministries that keeps flowing.  He is launching a new satellite, Vous Church (Rendezvous Church), in Miami Beach this month. 
"It's a godless area packed with people who desperately need Jesus," Rich Sr. says.  In addition, Wilkerson has taken on the responsibility of revitalizing The Connection Church in Poway California, a suburb of San Diego.
Wilkerson and the AG New York District are committed to seeing Glad Tidings rising again as a gospel-preaching beacon and church-planting engine.
"A dream deferred is not a dream denied," Durst says. "If God puts a vision in your heart it will eventually come to past."
Photo courtesy of Flower Pentecostal Heritage Center