Revitalizing in the Palmetto State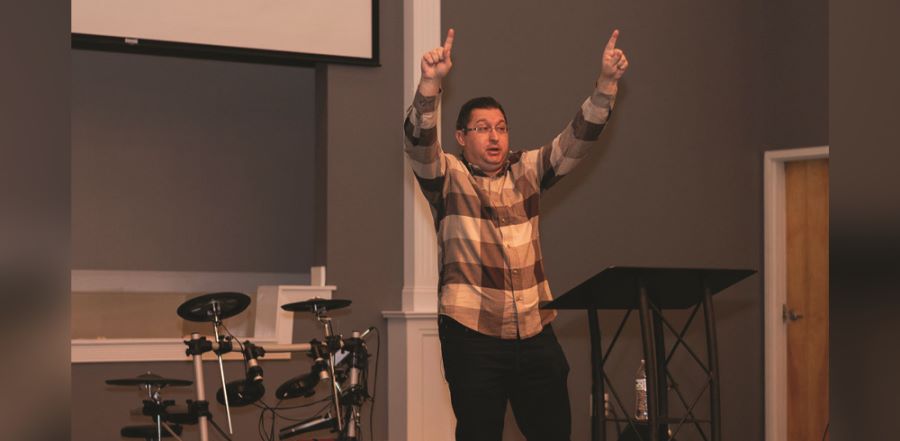 Don't miss any stories. Follow AG News!
Dustin J. Wright's call to revitalize a 35-year-old South Carolina church started with a vision. A year before he became the pastor of
Loris First Assembly
in August 2019, Wright says the Lord showed him a spot just across the boundary line from North Carolina. A
U.S. missionary
then with
Intercultural Ministries
, he taught at
Native American Bible College
(NABC) in Shannon.
When Wright contacted the AG
South Carolina District
, he learned one of only two openings was in nearby Loris, located about 30 miles north of Myrtle Beach. On his first, unannounced visit, Wright sensed the Holy Spirit saying he would be sent there with his wife, Amanda, to become co-pastors.
After Wright, who now is with
U.S. Mission America Placement Service
, preached there a few times, Loris First Assembly extended a call, with a board member telling him the church needed a leader to help them grow.
The congregation had been through tough times, especially after Hurricane Matthew (2016) and Hurricane Florence (2018). Flash flooding touched off by the first storm caused $120,000 in damages. While volunteers and newly obtained flood insurance helped lower repair costs after the second, the temporary nature of meeting quarters and heavy financial obligations prompted some adherents to leave.
When Dustin, Amanda, and their four daughters (ages 4 to 14) arrived, attendance had dipped from its historic high of 120 to around 35. It has since risen to 55, but for Wright, 38, the more encouraging sign is a rebound in donations despite COVID-19.
Adherents also have also embraced Amanda, 35, as co-pastor. She leads the Wednesday night children's program and fills in for the worship leader occasionally.
Robert T. Hayes, the state's sectional presbyter, says the church is blessed to have Wright as its pastor. Hayes says Wright's background as a missionary in intercultural Ministries and now with U.S. Missions Church Development qualify him to lead a larger congregation.
"I read his résumé and thought, I'd love to get this guy but he's not going to be interested in this little old church," says Hayes, who pastors
South Strand Assembly of God
in Murrells Inlet. "He's put his heart into pastoring the church."
Right now, that is a full-time call, because Wright has taken a year off from
NABC
. The school is a fit for Wright because of his Native American heritage. As is the case with many native Oklahomans, Wright has a mix of tribes and ethnicities in his background.
Despite his leave, he may return next year as an adjunct faculty member. He also sees future speaking and internship opportunities for
NABC students
at Loris First.
However, his primary goal is to help the church grow. With Horry County being the nation's sixth fastest-growing among counties of 100,000 or fewer residents, Wright says the church has all kinds of potential.