Revive Us Again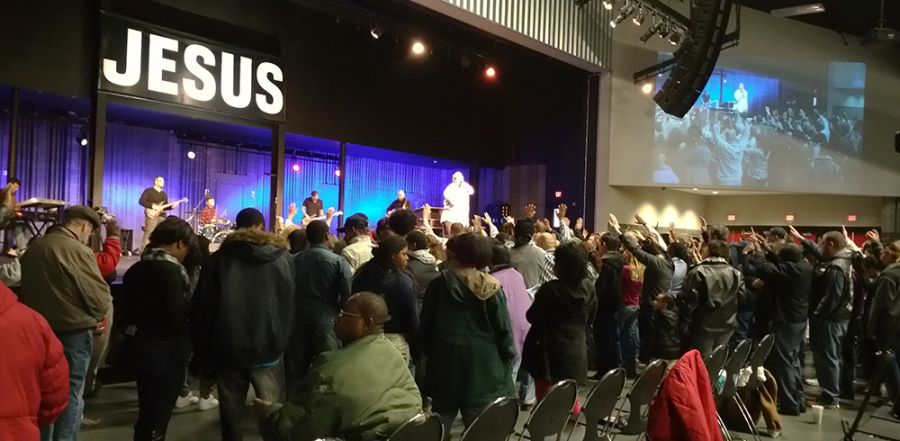 Don't miss any stories. Follow AG News!
While revival services aren't nearly as abundant as in the 20th century, various U.S. Assemblies of God evangelists believe the state of world events is bringing a newfound receptivity to their message.
Certainly there aren't many public evangelistic campaigns as a century or even 50 years ago. And opportunities to minister at churches have declined because of a decrease in the frequency of regular service times.
Yet evangelists are finding novel ways to adapt to cultural changes while still providing relevant teaching.
"There is a huge upsurge among people now for a move of God," says H. Dean Caldwell, an AG evangelist based in Pottsville, Arkansas. "People are scared, shaken. They see the moral condition of the world. We're pulling in a lot of visitors."
Caldwell and Peggy, his wife of 40 years, are booked two years in advance. Part of the attraction is that they have their own accommodations, living in a travel trailer they park next to the church.
Caldwell, 60, says he believes that churches are emerging from a lethargic state.
"People are carrying a lot of baggage," says Caldwell, who has been preaching since the age of 14. "If they don't deal scripturally with that baggage, such as fear and doubt, they're not going to experience a move of God."
Officially, there are 945 AG evangelists in the U.S., down from a zenith of 2,148 in 1989, just after the televangelists scandals hit. Marshall Windsor, national evangelist representative for the AG, says only about 20 percent of AG evangelists are traveling full time. Windsor, who is based in Tyler, Texas, diligently strives to connect church leaders with AG evangelists for a positive ministry experience. He also hosts seminars to ensure that budding evangelists seeking mentoring are truly called to ministry. He notes that 2.6 percent of all U.S. AG ministers are classified as evangelists. Many of the full-time evangelists are booked well in advance.
Following the demise of mass crusades, AG evangelists are tailoring their outreaches for specific niches. Ministry emphases include healing, ventriloquism, prophecy, clowning, personal evangelism training, sports evangelism, bilingual ministry, children's ministry, stewardship, and recovery/restoration.
While revivals don't carry on for weeks as in the early 20th century, Windsor notes that special services lasting anywhere from one to four days can be impacting. He also notes a trend of evangelists cooperating with parachurch ministries.
"Evangelists are moving away from a superstar mentality to a team-effort ministry," says Windsor, 53. "Today's evangelists are working with Convoy of Hope, Rural Compassion, AG World Missions, and AG U.S. Missions. Evangelists are trying to be a resource, whether that's inside or outside the walls of the church."
Gerald Mayhan is among those serving as a "staff evangelist" at a local church. Roughly one week a month he is on staff at First Assembly in Alexandria, Virginia. Otherwise, he is likely to be found preaching revival services Sundays through Wednesdays in churches or prisons, conducting outreaches, or heading up overseas missions trips.
Mayhan sees as many opportunities to reach non-Christians as when he started evangelistic services 24 years ago.
"There is a hunger today and we must preach the Word of God," says Mayhan, 65. "I see the Church excited about reaching the lost."
Mayhan occasionally incorporates his testimony into services -- how he became hooked on drugs despite winning two Purple Hearts as a soldier in Vietnam; how he accepted Jesus as Savior at a Teen Challenge detoxification center and was delivered from 18 years of addiction; how he has been married to Phyllis for 46 years, and how God restored their relationship despite a 3½-year marital separation in the midst of his turmoil.
Robert W. Martin III preaches cross-generationally and internationally, from youth camps and men's conferences, to camp meetings and crusades, in more than 20 countries around the world. At each gathering, priority is given for ministering on baptism in the Holy Spirit. The 31-year-old Martin says he continually runs into people -- from passionate college students to broken elders -- who crave more challenging preaching.
"I feel a burden for churches to be revived beyond casual Christianity," says Martin, who lives in Orlando, Florida. "Pentecostals don't do well as coasting Christians. Our strength is the fullness of the Holy Spirit. Wherever there is a burden for the lost and a love for the Word, there will always be room for the evangelist."
Martha Tennison is among the 17 percent of AG U.S. evangelists who are women. She has preached in 49 states in the past 27 years. In the early days, she traveled 48 weeks a year. At 73, she is down to about 30 engagements annually, primarily short-term church revivals or women's retreats. Tennison plans to keep going until the invitations stop coming.
"I can't go everywhere we're called because I don't have the energy," says Tennison, who is usually accompanied by her 78-year-old ordained husband Don. "I've found it's easier for a woman to be accepted as a preacher if her husband is a preacher."
Increasingly her theme these days is faith, encouragement, and preparing for eternity.
"When we started, all churches seemed to have revivals," says Tennison, who lives in Lake Ozark, Missouri. "Many churches still want revivals, but not nearly as many as before."
AG evangelist Tim Enloe is hopeful because of unprecedented salvation responses and Holy Spirit baptisms in the services he conducts.
"A growing number of churches are departing from a more performance-driven model and returning to the more interactive model of Pentecost," says Enloe, who has been an evangelist for 23 years. "There is a great awakening of spiritual hunger and prayer across America."
While short church services leave no time for corporate prayer or altar times, the 44-year-old Enloe, who is based in Wichita, Kansas, says more pastors are allowing for extended periods during meetings in which the Holy Spirit can move.
Wives of married male evangelists often act as crucial ministry partners, taking care of scheduling and finances. Rochelle Enloe is no exception, sharing in speaking, music, and prayer ministry.
As he travels to 33 states and four foreign nations this year, Enloe is encouraged by the number of young church planters engaged in extended teaching times that incorporate lengthy worship sessions.
"People come to church because they want to meet with God," Enloe says. "They don't care how slick the presentation is. By allowing for extra time to seek God, there will be an outpouring of the Holy Spirit and people will be blessed."