Reviving Happy Camp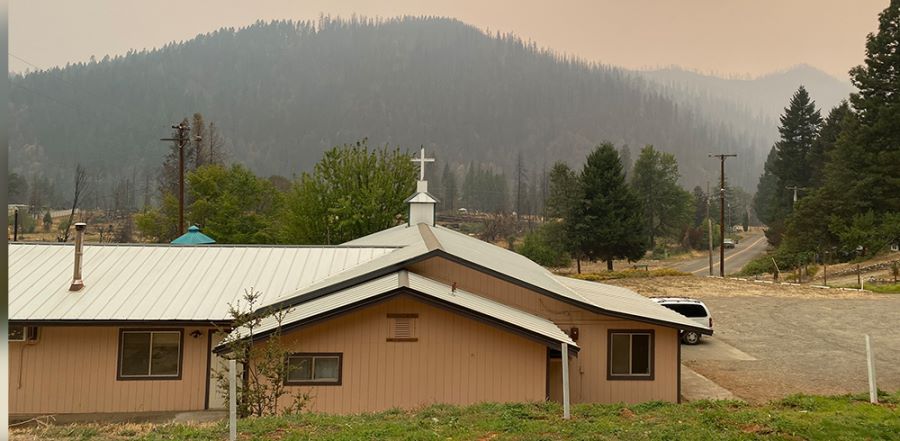 Don't miss any stories. Follow AG News!
When the Slater Fire tore through the remote northern California mountain town of Happy Camp in September 2020, it destroyed nearly 200 homes — many of them adjacent to Happy Camp Assembly of God. Today, the church's 2.5-acre property has become a hub for volunteers who are rebuilding homes with the Hope Crisis Response Network, a disaster response and recovery nonprofit organization.

"It's very ambitious," says U.S. missionary chaplain James R. Uhey, who has been pastoring the church and coordinating on-site efforts with Kevin and Valerie Cox of the Hope Crisis Response Network. "The church should be the focal point of recovery."

Happy Camp sits along the Klamath River, an hour and a half from the nearest major shopping area in Yreka (which is on Interstate 5 near the Oregon border). Like a number of northern California mountain towns, Happy Camp's population and industry rose and fell with the lumber industry. At one time it boasted four sawmills, but when the last one closed in 1994, it left the little burg high and dry.

Happy Camp AG opened as an Indian mission in 1958 to reach the Karuk Tribe, which is headquartered there. The church survived the 2020 fire, which came within 30 feet of the parsonage, but burned nothing on the property — a clear sign to the Coxes that God had plans for it.

"One challenge is to find a place to house volunteers near our work areas," says Valerie Cox, community outreach director for Hope Crisis. "When we see a church property that survived a fire, we believe it was saved for a reason and has a purpose to serve in that community."

The AG Northern California & Nevada District agreed, and leased the site, which dwindled in attendance during COVID-19 lockdowns. Hope Crisis renovated part of the church, installed a new kitchen and dining room area for the volunteers, and is presently renovating another building to house more volunteers. From that base, teams from across America, and from numerous denominations, civic groups, and companies, are working to rebuild dwellings in the town, which counted 900 residents before the fire.

"Teams are often a mix of very skilled and unskilled workers," says Cox. "The skilled team members train the unskilled. We have staff at each project and tool trailers on site with all the construction tools they'll need."

Subcontractors pour a home's foundation and install electrical equipment, plumbing and heating, ventilation, and air conditioning systems. Volunteers do the framing, roofing, siding, painting, drywall, interior, setting cabinets, flooring, trim, and door installation.

So far, around 50 volunteers have made their way to Happy Camp to assist with efforts. The plan is to build five houses per year for a total of 20. Convoy of Hope, an AG international disaster relief ministry, also provided a truckload of food for distribution in the aftermath of the fire.

CRISIS RESPONDER
Jim Uhey has long been a calming presence in the aftermath of California wildfires. He helped coordinate relief efforts after the Camp Fire in northern California in 2018, the deadliest fire in state history, claiming 86 lives. He also came after the Tubbs Fire, which destroyed more than 2,000 homes across three northern California counties in 2017.

Uhey and wife, Julie, have committed to the project, which includes a long-term vision to recruit a new pastor and rebuild Happy Camp AG's congregation. Uhey has served as interim pastor at nine churches in the past 15 years, but the couple's primary ministry is to provide support and care for people traumatized by crises, fires and otherwise. Uhey became one of the first to respond to the 2017 shooting massacre in Las Vegas that left 58 people dead. He also assisted Highpoint Church following the shooting at an Aurora, Colorado, theater that claimed a dozen lives in 2012.

Before shifting into disaster relief and care, Uhey served as senior pastor at First Assembly of God in San Jose from 1995 to 2005, then at Aptos Christian Fellowship. He now serves as chairman of NorCal Volunteer Organizations Active in Disaster, covering the northern 48 counties of California. He helps focus the efforts of coalitions of churches, community groups, and nongovernmental organizations which come together after disasters to deliver aid and comfort.

In his AG role, Uhey serves as chairman of the disaster relief task force for the Northern California & Nevada District and on the district's men's ministries leadership team.

Today, Happy Camp AG looks out on homes that are no longer there, but its campus provides the means for restoration of families to their homes. Hope Crisis Response Network has responded to more than 60 fires in California since 2015 and is the only full-time volunteer organization rebuilding homes in the state, Valerie says. The organization is funded completely by grants and donations and does not receive federal or state money for its efforts.

To people who lost homes in fires, Hope Crisis offers two fixed floor plans to choose from. Owners pay $140,00-160,000, which covers the costs of materials, and this money is often subsidized by grants and loans from the Federal Emergency Management Agency and the Small Business Administration. Labor is provided without charge by volunteers with the Hope Crisis Response Network.

"This is how we show the love of Christ in the community — by working and serving," says Valerie.