Riding the Wave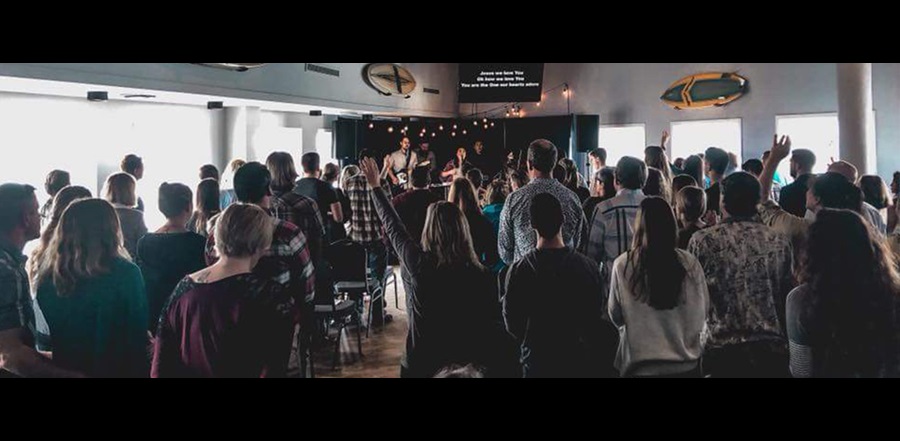 Don't miss any stories. Follow AG News!
A beach setting is usually associated with a fun-in-the-sand culture. But
Upper Room Church
in Pensacola Beach, Florida, has used sand and surf as a springboard for a thriving Pentecostal congregation.
Nathan F. Pooley and his wife, Kaitlyn, started a beach outreach to surfers in October 2012 to create an avenue to reach people who did not fit the traditional church model. The gathering evolved into a church. Today, Upper Room, which still meets in its original former restaurant venue, offers two services on Sundays and averages 300 regulars in worship.
"Many people would say that the beach culture is not conducive to a Pentecostal church, but Upper Room is proving that to not be the case," says
West Florida District
Superintendent Tommy L. Moore. "They proclaim the life-changing gospel to a unique demographic."
The meeting place for Upper Room has been remodeled to accommodate more worshippers, as well as to add a children's area and coffee shop. The congregation consists mostly of millennials and young families.
The 31-year-old Pooley, who previously served as youth pastor in several churches along the Florida Gulf Coast, says more than 100 people have made salvation decisions since the church started.
"We have seen drug addicts delivered, marriages restored, and people find their God-given purpose," Pooley says. "The biggest miracle we have seen is the harvest."
About five years ago, Christina Neat and her family moved to the Pensacola area and began attending Upper Room. Her eldest son, Aleric, has cystic fibrosis and needed medical treatments. She found those at the church to be compassionate to her plight.
"The people that fill Upper Room don't just want a topical relationship, we want the real stuff," Neat says.
Sam Germann, his wife, Jen, and their three children, Abby, Andrew, and Anna, are all surfers. They started attending Upper Room four years ago. The family has changed from Sunday morning attendance only to making church a priority.
Germann recalls a Thursday evening when everyone in the family surfed on the waves. But Andrew and Abby both noted the time for a service approached and said they didn't want to be late.
"Surfing kids were willing to give up waves and the girls were willing to go to the service with wet hair," Germann says. "My wife and I knew that a genuine and personal relationship with Jesus was happening in their lives."
Pooley, who became a Christian at 17, often visited the beach and loved to surf while growing up.
"I remember watching the more experienced surfers and wishing I could just speak to them," Pooley says. "Now, I have the privilege of not only surfing and being friends with these people, but also serving them."
Those in the congregation are praying for a more permanent and larger venue in Pensacola Beach.