Rivera Wows Crowd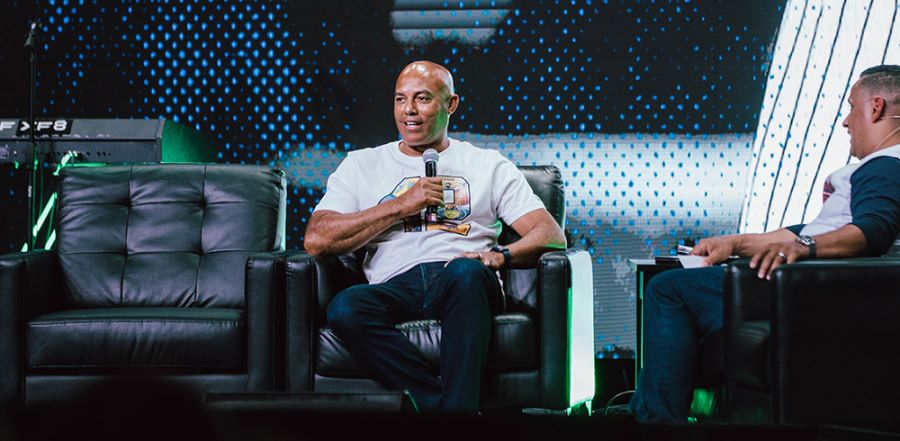 Don't miss any stories. Follow AG News!
ORLANDO, Florida — More than 20,000 men have played Major League Baseball in 150 years of the sport. Only 263 of those have received its highest honor: election to the
Baseball Hall of Fame
in Cooperstown, New York.
Of that select group, just one player has been
elected unanimously
. Not Babe Ruth. Not Hank Aaron. Not Cy Young. Not Ty Cobb. Only Mariano Rivera, a relief pitcher who spent his entire 19-year career with the New York Yankees.
Rivera
, 51, went into the Hall of Fame in 2019, elected on all 425 ballots. He retired in 2013, with a locker full of awards and achievements. Backed by his signature pitch, the cut fastball, Rivera is the
all-time saves leader
, with 652.
But it's the outstanding postseason performances that set the composed Rivera apart from other relievers. He set records likely never to be broken: 42 postseason saves and a miniscule 0.70 earned run average over 96 games. During his tenure, the Yankees won the World Series five times, with Rivera being named the most valuable player of the 1999 fall classic. He played in 13 All-Star games. In 2019, President Trump awarded him the Presidential Medal of Freedom.
But apart from all the baseball accolades, the Panama native is most known these days as a Pentecostal follower of Christ.
Clara
, his wife of 30 years, is the pastor of Refugio de Esperanza (Refuge of Hope) in New Rochelle, New York. As such, Rivera
sometimes connects
with Assemblies of God pastors and ministries such as
Adult & Teen Challenge
. Mariano met Clara during elementary school in Panama.
Monday night, Rivera spoke at a pre-General Council fundraising dinner attended by several hundred people — many wearing jerseys of their favorite baseball team or player — in Orlando. Still sporting a winning smile and a fit 6-foot, 2-inch frame, he contends the Lord gave him the cutter pitch in 1997 as a way for God to be glorified. Rivera became the Yankees closer the same season.
"The Lord knew I needed something different to do my job," the personable Rivera told the crowd. "When He calls you, He equips you."
Assemblies of God General Treasurer
Choco De Jesús
and General Superintendent
Doug Clay
interviewed Rivera on stage, interspersed with video clip highlights of the pitcher's career.
The Yankees made the postseason a remarkable 16 times in the 19 seasons Rivera, nicknamed "Mo" and "Sandman," pitched. His microscopic 0.32 earned run average in 16 American League Division Series is unmatched.
At the dinner, Rivera recounted how he surrendered his life to the Lord in Tampa, Florida, in 1990, after his cousin Vidal evangelized him. Rivera had just signed with the Yankees and reported to the club's Rookie League affiliate. When he signed with the New York organization, Rivera spoke no English and had never been outside Panama. The son of a poor fisherman, Rivera used a milk carton as a glove during childhood. The nonprofit
Mariano Rivera Foundation
pays for impoverished youth to receive an education.
Unlike most relievers, the athletic Rivera proved remarkably consistent year after year, never really having a subpar year. He is the last player to ever wear the number 42 in major league baseball. The sport retired the number in 1997 in honor of Jackie Robinson, the Brooklyn Dodger who wore the number and broke the color barrier 50 years earlier.
In a surprise to the crowd — as well as to Rivera — retired baseball star
Darryl Strawberry
appeared from behind the curtain near the end of the event.
Strawberry, 59, played 17 seasons in the major leagues, primarily with the New York Mets and New York Yankees. He won the Rookie of the Year award in 1983, went to the All Star Game the following seven seasons, and was a World Series champion four times, three of those seasons with Rivera.
But drug abuse, sex addiction, and jail time derailed his life. He has been sober since marrying
Tracy
in 2006 and t
urning his life over to God
. He is an ordained minister leading an
addiction recovery ministry
. Strawberry, a colon cancer survivor, said God can mightily use those who let Him crush their ego.
Strawberry said as an evangelist he sees much brokenness while traveling across the nation.
"We need to be bold in preaching the gospel in these times," said Strawberry, who stands 6 feet, 6 inches.