SEU Baseball to Face Detroit Tigers During Spring Training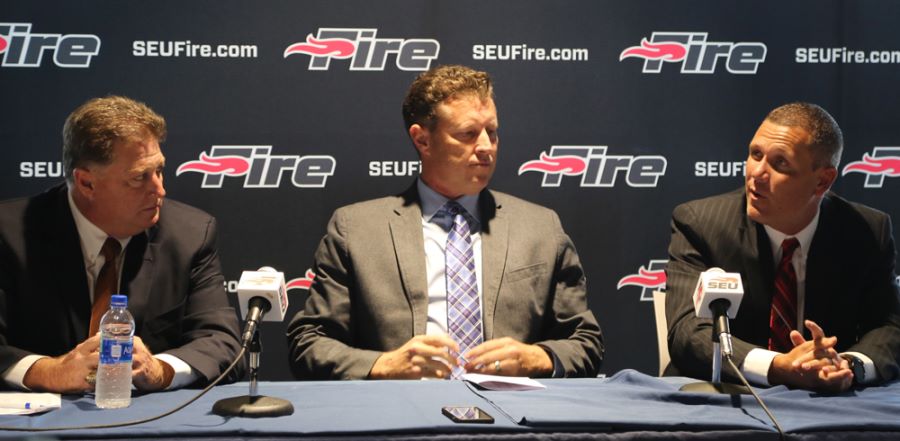 Don't miss any stories. Follow AG News!
Southeastern University's (SEU) baseball team, the defending Avista-NAIA World Series champions, will be taking on its toughest opponent yet this spring. The team will face the Detroit Tigers on Feb. 22, at Publix Field at Joker Marchant in Lakeland, Florida, for the first game of the 2019 spring training season. This marks the first time the Fire will face a major league club.

When Southeastern takes on the Tigers, they will be returning to the university's first home in Lakeland. When Southeastern moved to Florida in 1946, the campus shared classroom space with the Tigers at the current stadium location, what was then Lodwick School of Aeronautics.

"We're blessed just to get the opportunity to get out there and play," said SEU baseball coach Adrian Dinkel. "A lot of our guys have hopes and dreams to play at that level and they'll get to see first-hand what that's like. It's something they'll remember for the rest of their lives, and it'll be exciting for our coaching staff and our student body as well."

This marks SEU's first game at Joker Marchant Stadium since a 2-1 win over the Lakeland Flying Tigers on April 4, 2012. The Fire also faced the Tigers A-Advanced affiliate in 2010 and 2011.

For the past 19 seasons, the Tigers had opened their Lakeland schedule with Florida Southern College. In 2018, just six collegiate programs, all of which are NCAA members had the opportunity to face a Major League Baseball team during spring training.

"At Southeastern, one of our values is community," said Southeastern Director of Athletics Drew Watson. "Being in the Lakeland community and building relationships within that community, this opportunity for our university is incredible."

The 2019 spring training will mark the 83rd season for the Tigers in Lakeland, and the 55th at Joker Marchant Stadium.

"On the schedules that were announced, only two teams are playing college baseball teams during the exhibition season," said Ron Meyers, director of Florida Operations for the Tigers. "Winning a national championship is a memory you'll never forget, but I promise you, when you step on this field and go against the Detroit Tigers, your knees are going to be shaking, your heart is going to be pumping, and you're going to have a lot of fun."

Southeastern went 59-7 last season, going 8-0 in the NAIA postseason to claim the first NAIA national championship in any sport in school history.

"We try to do this so we are engaged in the Lakeland community, our players get excited by the college players' energy, and we're very excited because of what Southeastern's student body brings to the table," said Meyers.
Photo: (Left to right): Ron Meyers, director of Florida Operations for the Tigers; Drew Watson, SEU director of Athletics; Adrian Dinkel, SEU baseball coach.