SEU Wins NAIA Baseball National Championship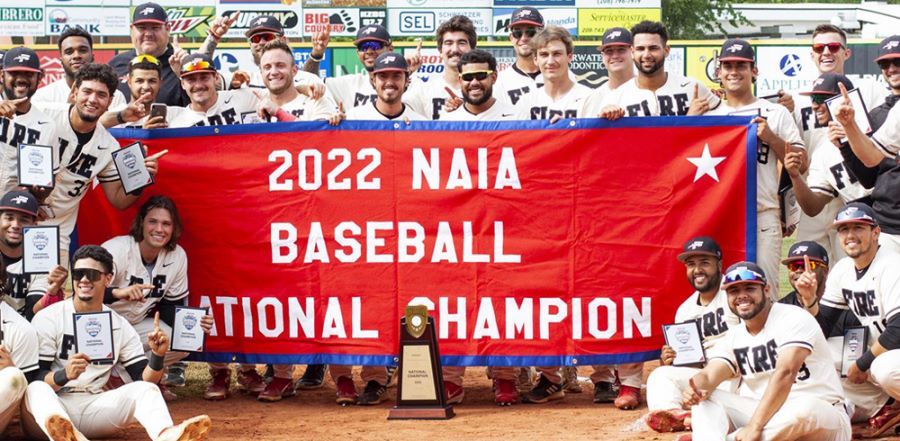 Don't miss any stories. Follow AG News!
LEWISTON, Idaho — Southeastern University (
SEU
), Lakeland, Florida, was able to pick up Friday morning, June 2, where it left off the night before after lightning suspended play in the winner-take-all Avista NAIA World Series championship game.
The Fire (59-4) generated six runs in the bottom of the seventh, five coming during Friday's play, to come away with an 11-5 victory over Lewis-Clark State College of Lewiston, Idaho, to claim the program's second national title in five years.
"I told our guys that I'm not sure if the first one or second one feels better, but I feel like this justifies that this is the best team in NAIA history," said coach Adrian Dinkel.
The game restarted, with SEU leading 6-5, bases loaded, nobody out in the bottom of the seventh. Zach Diewart reached on an error to bring home Sam Faith. Shamir Morales improved the lead to three with an RBI single to right field to bring home Isaac Nunez.
The lead grew to five on a fielder's choice by Thomas Broyles when a throw to the plate was wild and allowed Diewart and Jose Marcano to come home. An Abdel Guadalupe sacrifice fly brought Adrian Mella home after courtesy running for Morales.
"These guys made my job really easy this year, we just put it out in front of them and they went and did it," said Dinkel. "I think that's why we have success . . . we have guys that take it upon themselves to get it done."
Damien Torres picked up the win after getting the final out in the top of the seventh on Thursday and working a clean eighth, getting a strikeout and two flyouts while allowing just one hit.
"I told our coaches I wanted this game, get another shutdown inning for the boys and help us win the national championship," said Torres. "I just wanted to get out there, pound the zone, and throw strikes."
The Warriors (58-7) tried to make a run in the ninth, getting two on with hit by pitches, but Ronnie Voacolo closed the door with two strikeouts and a flyout to end the game.
Before the game was paused Thursday night, Nunez singled to center field to break a 5-5 tie. The Fire led 4-0 after the third on solo homers by Gary Lora and Guadalupe in the second and third innings. Faith added a two-run double later in the third. LCSC (58-6) plated five in the fifth, sending all nine to the plate to take the lead.
Faith hit a two-out single up the middle in the bottom half of the inning to score Guadalupe to tie the game.
Lora finished the game 4-for-5 with three runs scored and Faith was 3-for-5 with three RBIs. Nunez and Morales had two hits each.
Brian Fuentes was named the Tournament MVP, posting a .391 average over six games with five home runs, seven RBIs, and drew five walks.
"My mentality was to do everything I can and give it all to win the title and I'm glad I did," said Fuentes. "Without my teammates, I wouldn't be here."
SEU was ranked No. 1 in the nation throughout the regular season in the NAIA. Lewis-Clark State had defeated SEU 10-9 earlier on Thursday to force a deciding second game. For game statistics, including box score and game leaders
click here
.