SEU to add Bass Fishing as Newest Team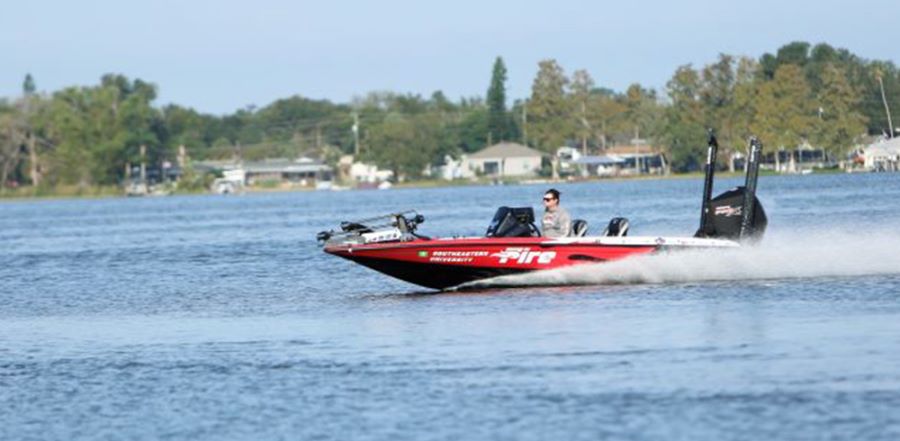 Don't miss any stories. Follow AG News!
Southeastern University
(SEU) in Lakeland, Florida, will launch its 20th athletic program when bass fishing begins its inaugural season this coming fall.
The Fire will compete in the Bassmaster College Series and Major League Fishing's Abu Garcia College Fishing Series where boats of two anglers each will fish in a tournament on a given weekend with each boat weighing in its five best fish.
Several donors, including Mark Overstreet and Pete Frantzis, got behind the program early on to help with its launch and encourage others to give.
"I have been bass fishing all of my life," said Overstreet, an avid outdoorsman who was paralyzed from the waist down at the age of 19. "Fishing is my passion. It has given me great freedom and it is my stress relief."
"We are very grateful for the generosity of Mark, Pete and all of those that gave to start the program," said Executive Vice President Dr. Chris Owen.
SEU will travel across the south to compete in various tournaments from the Harris Chain of Lakes in Leesburg, Florida, to the Sam Rayburn Reservoir in Brookeland, Texas, to Lake Hartwell in Anderson, South Carolina.
"The addition of a fishing program brings one of the fastest growing sports to Fire Athletics," said Director of Athletics Drew Watson. "It's no secret that bass fishing has taken the intercollegiate athletic world by storm, and this goes a long way towards expanding our brand into a new and exciting demographic of intercollegiate athletics."
SEU graduate Weston Marsh will serve as the program's first head coach and is currently in the process of gathering sponsors and his first roster of 10 anglers to begin competition in August of 2023. Anglers participating will earn scholarships to participate on the team and will have their travel expenses and tournament entry fees covered by the program.
"Marsh brings a unique mix of strengths and experience into his role of head coach," said Watson. "First off, he is an SEU alumnus who knows our campus and culture and has the unique ability to recruit mission-fit student-athletes who are accomplished anglers. Add to that his skill as an angler and the wealth of knowledge of the industry and you have what is a great fit for the person to lead our program."
Marsh returns to Lakeland to start the Fire Fishing program after working as a homebuilder in Charleston, South Carolina. He has a passion for the outdoors and boasts a very successful tournament fishing resume.
"I feel super privileged and very honored to have the opportunity to come back to SEU, do what I love doing, and do it at a university that I believe in," said Marsh. "SEU absolutely changed my life in the four years that I was here and having the opportunity to come back and provide the same opportunity for anglers is an honor."