STL Seeing Prophetic Word Fulfilled as Decades-Old Record Falls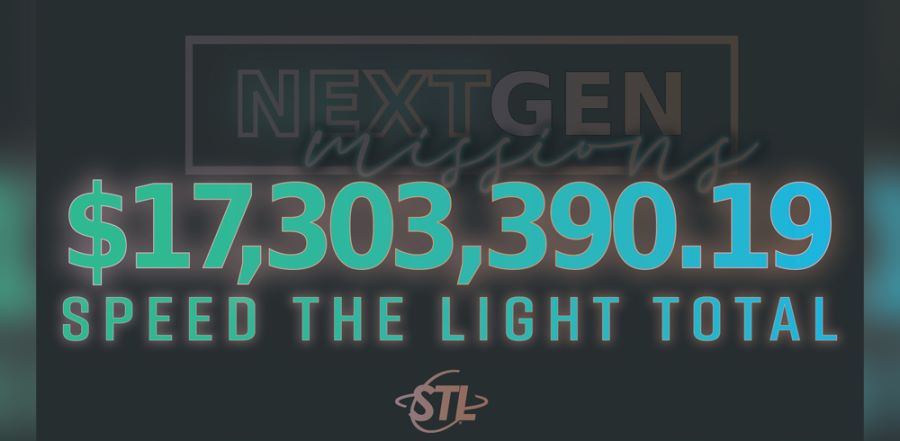 Don't miss any stories. Follow AG News!
There's beating a record and then there's what Assemblies of God youth and churches accomplished for
Speed the Light
(STL) in 2021 — blowing a decades-old record out of the water! According to Speed the Light National Director Eric Hoffman, giving to STL in 2021 topped $17.3 million — over $5 million more than the previous giving record set in 2000!
Speed the Light, the youth missions-giving program that purchases essential transportation and communication equipment for AG missionaries, had seen giving to STL fall off since the breakthrough year in 2000. However, Hoffman says that over the last several years, a prophetic word given at the 2018 National Youth Convention has not only inspired him, but has proven to be a catalyst to seeing the Holy Spirit work in and through the lives of a generation of young people.
Hoffman recalls how a young woman who was 18 years old at the time, " . . . came forward to the altar and said she believed God had a word for her to share with the convention . . . God then used her obedience to speak a word of prophecy over her generation."
The prophetic message spoke of a fresh move of the Holy Spirit, proclaiming,
"Youth, do not fight the plan that I have for your life. Because an unconventional generation can only be reached with an unconventional anointing and outpouring of my Spirit."
Since that time, Hoffman has been sharing that prophetic message wherever he goes and this past year, he says he has seen that message beginning to be fulfilled.
"God's hand and favor is upon this generation of students," he says. "[Those prophetic words] are happening now and flowing with continuity through the generations — from
kids' record-giving
for BGMC to students' record-support of Speed the Light, the growth in the missional arm of young people, in my opinion, is the greatest thing that has happened to the Assemblies of God in decades!"
Hoffman notes that whereas in 2017, a church giving $37,000 to Speed the Light would have made the "Top 20" list, this year, every church in the Top 20 gave $100,000 or more to STL, with Alabama and Arkansas districts both exceeding $1 million in giving and the Minnesota district setting an all-time giving record in excess of $2.8 million.
"Over the past several years, we have seen our giving increase from $900,000 to $1.1 million, then $1.6, $1.8 and now $2.8 million," says Kirby St. John, Minnesota district youth director (DYD). "It's a culture of giving that has been built over the years. Mark Dean (former DYD), now the district superintendent, instilled that culture in our students — now it's in our district."
St. John says that in addition to youth and churches inspiring each other to believe God for bigger things when it comes to the Great Commission and missions, one of the biggest impacts on missions giving has been an unconventional effort to not only see every youth and senior pastor take missions trips, but every
student
take a missions trip before he or she graduates from high school.
"It's a lot easier for youth pastors to come home and share the need when they've been there," St. John says, "because then they can talk with authority about the need and what missions is doing to meet that need."
St. John says that same personal missions experience for students is inspiring their giving.
"Everyone should go [on a missions trip] . . . once you experience it, it transforms how you live," he states. St. John notes that the Minnesota district has 16 missions trips planned for 2022, with larger churches typically organizing their own missions trips as well.
Hoffman says he's seeing the same type of focus and growing response to missions across the country.
"What God is doing through Next Gen missions is what we need to talk about because it's happening," Hoffman says. "Compassion, generosity, and support of missions is a byproduct of what God is doing in the hearts of children and our youth."
St. John provides a few examples of the type of giving taking place in his district.
"We have a 6-year-old church plant that raised $75,000 for Speed the light, a 2-year-old church that gave $10,000, and a church in a town of 4,000 that gave over $400,000," says St. John. "And some churches that excite me the most are our inner-city churches — one gave over $2,000 and another over $1,000 — that's from kids who literally have nothing!"
On an individual basis, St. John says hundreds of kids from around the district have given $1,000 or significantly more. Some do fundraiser challenges, others work odd jobs, one sold the truck he had saved three years to buy in order to give the money to STL.
"I have story after story about churches and kids who have given sacrificially . . . Kids want to be a part of something that impacts the world." St. John says. "(When setting a goal) we ask them to pray and hear from God — let Him tell them what He is wanting them to do. When kids hear from God, then see God show up in miraculous ways (to meet and often exceed their goals), it all ties in together . . . kids will remember as adults how God spoke to them as a teen and how He showed up."
Hoffman, who gives God the glory for everything taking place, but believes God has even bigger things in store for the future, says he has the best position in world.
"I get to travel and tell churches what God is doing in the hearts and lives of our students," he says, "and then explain how the greatest missional movement to ever happen in our Fellowship is taking place right now and it's happening through Gen Z."